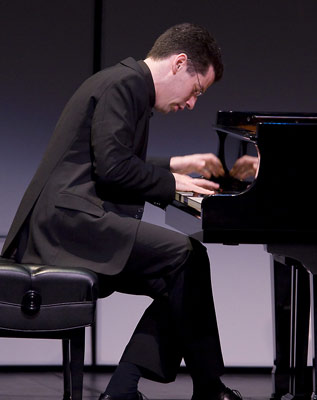 The trick to programming a successful piano recital is all in how the more demanding and traditional pieces are set up. For this wonderful and stimulating concert, the young pianist Jonathan Biss, who performed here last spring with the Pittsburgh Symphony Orchestra, used Arnold Schnberg and LeoÅ¡ Jan¡Äek to clear the way for Beethoven and Schubert. The piece by Jan¡Äek, called 1.X.1905, From the Street, was written in response to an act of violence and follows the trajectory of the incident, from an opening section of "Presentment" to a finale of "Death," expressing sadness and sorrow. The work allowed Biss to establish early in the performance his characteristic way of bringing song-like textures to middle-register melodies without becoming cloying or bombastic.
The next work, Six Little Piano Pieces by Schnberg, was even more dramatically 20th-century in its contours. The composer's signature sonorities were identifiable within the first five bars. This music often explores the threshold between sound and silence, and Biss made each sound-event-whether it was loud, soft, or silent-equally intelligible. In his skinny black suit and black shirt, with only one daring hint of self-expression coming through in the suit's bright red lining, Biss was the picture of a modern avant-garde pianist, leaning thoughtfully into Schnberg's tense rests and explosive single notes.
What these two very different 20th-century works did for the rest of the concert was sensitize the audience to musical structure as expressed in dynamics of tempo and volume. Biss has spoken in interviews about the way his mother, violinist Miriam Fried, coached him as a young man to breathe with the music, finding the shape of the harmonic development and entering into it with his body by deepening and synchronizing his breath. This focused deep breathing could be heard on and off throughout the concert, never as a distraction, but rather as a reminder of the total commitment being made to the music. In Beethoven's Sonata No. 15 in D Major, Op. 28, the result was an exquisitely wrought build into an exceptionally balanced and integrated performance.
After the interval, Biss came back to play Franz Schubert's late Sonata in A Major, Op. Posth. D. 959. This was the highlight of the evening, and brought to mind Biss's splendid performance of Schumann with the Pittsburgh Symphony last year. Very few pianists of any age can carry the musical arguments of these complex works so gracefully.