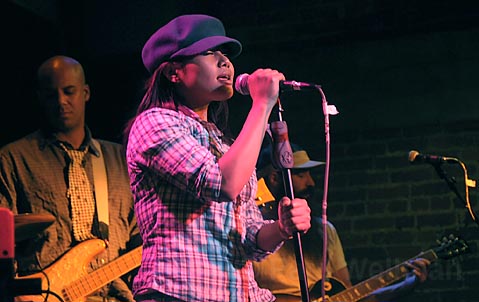 The indie-rock hipsters were out in full force last Thursday night to catch Dengue Fever. The L.A.-based sextet took the stage with little fanfare and launched into Ros Sereysothea's "Shave Your Beard," a '60s Cambodian hit about a jealous woman suspicious of her man's newly grown facial hair. Throughout the song, charismatic chanteuse Chhom Nimol threw playfully vixenish glances in the direction of guitarist Zac Holtzman, who sports an expansive biblical beard himself.
Dengue's esoteric catalog, sung in Khmer and English, consists of a mix of originals and covers inspired by Sereysothea, Sinn Sisamouth, and other Cambodian stars of the '60s and '70s, whose compositions were indelibly influenced by Armed Forces Radio during the Vietnam War. Western influences from Motown to surf guitar were blended with local idioms and rhythms before such music was brutally dismantled by Pol Pot's despotic Khmer Rouge regime. Dengue's fusion of vintage Cambodian pop rhythms with Ethiopian lounge sax and spaghetti western-style guitars reflects those influences with a sound that's both fresh and familiar.
A large part of the band's quirky appeal, beyond the melding of familiar rhythms and unfamiliar lyrics, was the fascinatingly incongruous combination of the decidedly quirky American bandmates and their glittering Cambodian frontwoman. Despite her sequined mini-dress, high heels, and troweled-on makeup, the charismatic songstress exuded a sweetly seductive innocence, charming the audience with her limited English and traditional Khmer court dancing hand gestures.
Although the bulk of Dengue's lyrics are in Khmer, a few songs had English choruses, and a handful of duets with Holtzman were sung entirely in English. But even in Khmer, Nimol's high-pitched, nasal-yet-melodic vocals and emotive abilities transcended the language barrier. The appreciative crowd relished Dengue's eccentric cultural mash-up of hypnotic psychedelia, post-punk surf rock, upbeat Bollywood soundtracks, and traditional influences.
Though enthusiastically swaying along to Dengue's rhythms, the audience was fairly sedate for the first half of the set. The sultry sax, spooky instrumentals, and Nimol's Khmer rapping on "Sni Bong" finally got the crowd jumping, and chaotic grooves-such as the synthesized, frenetic spy-movie-surf-sound of "One Thousand Tears of a Tarantula"-kept them moving. With their faithful interpretation of Cambodian pop's invigorating instrumentals and crazy twists and turns, Dengue Fever proved infectious indeed.