Business
Prop 98 Targets Mobile Homes
On the Take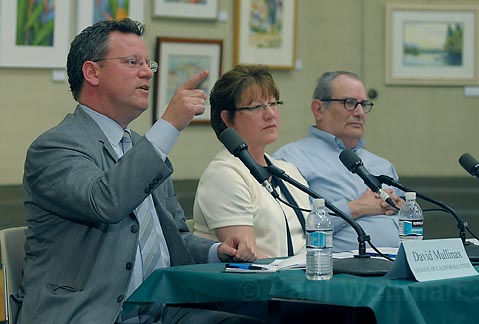 Current and former city and county officials appearing at an admittedly one-sided panel discussion blasted Proposition 98 as a plague upon community planning. On the ballot in June, this proposed amendment to the California Constitution claims to reform the use of eminent domain-the government's power to take private property, with compensation, but not necessarily with the owner's consent-for the public benefit.
According to the arguments of its proponents, Proposition 98, called the California Homeowners and Farmland Protection Act, protects governmental authority to take property for schools, parks, or freeways, according to its proponents, but bars governments from taking property from one private party to benefit a different private party. Written by the Howard Jarvis Taxpayers Association and funded heavily by the Mobile Home Parks Association and apartment building owners, the initiative specifically targets rent control as an impermissible transference of property value. In Santa Barbara County, rent control's eradication would affect thousands of mobile home park residents.
People who have lived in their mobile homes since January 1, 2007, or before, would continue to have rent control until they move out, but they would lose a substantial part of the resale value of the mobile home when it's no longer on a rent-controlled property.
Sitting on the panel at the Santa Barbara Public Library on Friday evening, April 25, were former county counsel Shane Stark, Santa Barbara City Councilmember Iya Falcone, and David Mullinax, a public affairs manager for the League of California Cities, which has a competing measure on the June ballot, Proposition 99. The panelists alleged that Prop. 98 menaces zoning laws and environmental preservation. Mullinax said it would invite innumerable lawsuits challenging regulation of private property use, if it could be argued that the regulation transferred economic benefit to other private parties. "That could be zoning, height, setbacks, [noise] curfews," said Starke. Mullinax added to the list viewsheds, traffic, and affordable housing. Falcone said Prop. 98 would put up barriers to requiring the transfer of property into the stewardship of private nonprofits, such as the Santa Barbara Land Trust.
Joe Armendariz-executive director of the conservative Santa Barbara Taxpayers Association (SBTA), a likely South County source of support for such a pro-property rights initiative-was lukewarm about Proposition 98. Though the SBTA won't take an official position until its May 8 meeting, and therefore declined its invitation to take part in the panel discussion, Armendariz called it "unfortunate" that the proposition included provisions to gut mobile home park rent control. "Philosophically I understand the connection," said Armendariz, "but in Carpinteria and Goleta and Santa Maria a lot of vulnerable residents of mobile home parks, like the elderly, depend on rent control."
The alternative measure, Proposition 99, placed on the ballot days after Prop. 98 was introduced, contains a poison pill provision: If it gets more votes, Prop. 99 would kill Prop. 98 entirely. Like 98, Prop. 99 is a Constitutional amendment, but it pays homage to the headlines and popular outrage provoked by the 2005 Supreme Court case Kelo v. the City of New London. In that case, the court allowed the city to oust unwilling homeowners in an older Connecticut neighborhood so it could replace them with more revenue-generating development. Prop. 99, known as the Homeowners' Protection Act, would "prohibit the government from using eminent domain to take a home to transfer to a private developer" if the home has been owner-occupied for at least one year. The panelists at the library claimed that California law already provides ample protections for homeowners. "You don't need Proposition 99 either," said Starke, "but unlike 98 it does directly address Kelo. So if your bell is rung by the Kelo decision, it probably deserves a yes vote."