News
Holocaust Survivors Remember
Yom Ha'Shoah - Worldwide, It's a Day to Look Back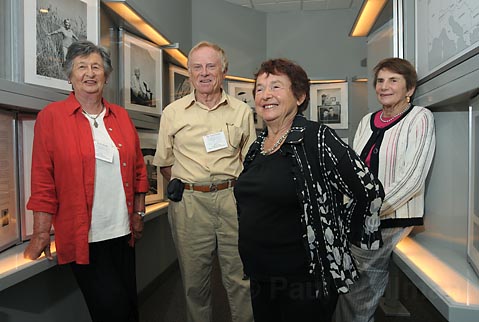 Since 1959, every year on May 2 – a day known to the Hebrew-speaking world as Yom Ha'Shoah – the entire nation of Israel stands still for two minutes to commemorate those who perished in the Holocaust, and to honor the survivors. Members of Santa Barbara's Jewish community came together at the Jewish Community Center this morning not just to remember the Holocaust, but to examine the lessons to be learned from it. Poems were read by survivors, and ceremonial candles lit by Rabbi Allison Conyer.
A panel of Holocaust survivors – all Santa Barbara residents – assembled to tell their stories, answer questions, and share the education program they are involved with through the Jewish Federation of Greater Santa Barbara. Dubbed Portraits of Survival, the program includes educational outreach and a gallery with many World War II-era photographs and the harrowing personal histories of individual survivors. A film about some area Holocaust survivors and their experiences-Video Portraits of Survival-has been included in the Santa Barbara International Film Festival every year since 2006.
According to the Jewish Community Center's staff, over 5,000 junior high and high school students have been though the exhibit, and the federation works with local law enforcement to offer presentations to kids involved in gangs. "What they gain from the presentation is not how [the survivors] suffered, but how they survived and started new families and careers," said Ross Payson, the Federation's Educational Outreach Coordinator. "These people went through hell and they survived and flourished. It gives people strength to learn about that."
Dr. Stan Ostern, who has lived in Santa Barbara for the past 42 years, grew up in the Polish town of Stryj. Its population at one point being one-third Jewish, Stryj was under Russian occupation at the start of the war. Germans invaded in 1941 and began deporting Jews. Having anticipated their arrival, a local builder had built a bunker beneath a bakery shop for people to hide in. For the next two years, Ostern and over 30 other people lived in the bunker-which was designed to accommodate 15-with little food, an open cesspool for a toilet, and nothing to do but wait. "We played with the rats," he said. "We spent so much time with them that they actually became tame."
Ostern and his family emigrated to the U.S., and he eventually become a doctor and served in the U.S. Air Force. His father Henry, who had been conscripted into the Red Army, wasn't heard from until after the war. Having thought his wife and son were dead, he fathered a son-Marek-with a Polish woman during the war. It wasn't until after the war that he was able to rejoin his wife and son in New York, where he practiced medicine for many years. Years later, Marek's son did a google search for his grandfather's name, and found information about Stan Ostern's participation in Portraits of Survival, which eventually led to the two half brothers-Stan and Marek-meeting for the first time. Last month, Ostern was contacted by the grandson of the builder who constructed the bunker. The man's mother had lived there with Ostern. Now 95 years old, she lives in Haifa, Israel.
Smuggled out of the Warsaw Ghetto to the village where she grew up, Maria Segal lived as a pasture girl on a Polish farm near Okuniew, eventually immigrating to France, French Canada, and finally the U.S. Segal was one of the many Polish Jews who converted to Catholicism during this time, although she has now returned to her Jewish roots. She hadn't spoken about her Holocaust experiences in 50 years, but when the U.S. Holocaust Memorial Museum opened in Washington, D.C. in 1993, the museum staff asked her to speak as a survivor of the Warsaw Ghetto experience. "It was hard to tell the story at first," she said. "I spoke in from of about 1,500 people and I broke down a lot, but it gets easier every time. It's very therapeutic."
"We hope that history doesn't repeat itself," said Erika Kahn. "We're talking to the kids over here in schools, and even if we reach one [student], we've made a difference." Kahn grew up in Berlin during Hitler's rise to power, and remembers being made a captive in her own hometown by the ever increasing limitations put upon Jewish people by the Nazi government. Her grandparents, who were turned in by some neighbors, died at Auschwitz in 1942. Kahn's family didn't even find out what had happened to them until they were notified by the Red Cross in 1951. She and the rest of her family escaped to England, and then migrated to the U.S. in 1939, settling in the Santa Barbara area about seven years ago.
Juliane Heyman, one of the exhibit's docents, told an amazing tale of perseverance, relating her family's arduous journey from their home in Danzig to their eventual destination in New York City. None of them had passports or travel documents, as it was impossible for Jews to procure them at the time. She, her parents, and her brother walked through France and over the Pyrenees Mountains into Spain. Riding a train illegally through Spain and Portugal, they caught one of the last ships to New York before the U.S. entered the war in 1941. After the U.S. declared war on the Axis Powers, there were no more ships to America. Becoming an international development consultant, she spent her life traveling around the world, and, in 1961, she became the first ever female training officer for the Peace Corps.
In addition to the Portraits for Survival exhibit and educational outreach program, the Jewish Federation offers a range of other services including family social services, a library, and social programs for young adults. They are also partnering with Catholic Charities to run the Center for Successful Aging, which offers services for the elderly. Recognizing the recent influx of Ethiopian refugees into Israel as a major issue, the Federation is instrumental in fundraising efforts in support of the refugees. "I think the most important thing we can give is that Portraits of Survival isn't about history-it's not even a Jewish exhibit," said Shelly Katz, the Federation's executive director. "It is to teach people that when they see something wrong in the world, it is their responsibility to do something about it."
As the last poem was read and the last candle lit in memory of holocaust survivors and the friends and family they lost, Conyer offered a final message. "Let's take a moment of silence to think about this and how it inspires us to move forward."
This permanent exhibit can be visited at the Jewish Community Center [524 Chapala Street] Monday through Thursday 9:00 a.m. to 5:00 p.m., and Friday 9:00 a.m. to 3:00 p.m. Call (805) 957-1115 to arrange a docent-led tour.