Living
Ground Breaking Construction at Live Oak
Goleta Unitarian Church Makes Room for Growing Congregation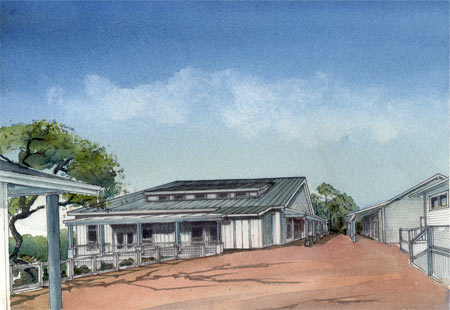 (Pictured above: The proposed design for revised worship center.)
Many congregations, like many non-profit organizations and other community groups, struggle along for years using facilities that aren't ideal, simply because the funds aren't there for improvement. One Goleta church, the Live Oak Unitarian Universalist Congregation , has recently made an exciting change: they've broken ground for a new sanctuary, to replace the one they've been using for fourteen years. The sanctuary, or the gathering place for Unitarian worship, was originally designed as space for education and schooling. Now that Live Oak has the opportunity to construct a new building, the old sanctuary will be returned to its original purpose and used for religious education.
While parts of the new building have already been constructed, the groundbreaking ceremony that took place in April is the official start of the building's completion, and represents an enormous move forward for the congregation. The old sanctuary, with a maximum capacity to seat 100 worshippers, was barely enough to seat the current congregation, let alone guests.
As a very important aspect of Unitarian belief revolves around welcoming any and all who wish to be a part of the church, the lack of room for guests had begun to be a problem. Therefore, the doubled seating area of the new sanctuary will be a welcome change, and provide both more comfort for congregation members and plenty of space for increased attendance.
The new sanctuary, in addition to doubling the congregation's available space, will be almost entirely green – figuratively, rather than literally. The design incorporates, among other features, permeable materials used in the construction of the parking area. This prevents run-off, and instead allows rain to go through the surface and into the ground below.
Reverend Erika Hewitt, who has served the congregation as its pastor since 2005, is delighted to be carrying out plans made partially by Reverend Bets Wienecke, the congregation's pastor before her. The project is expected to be completed in about eight months, and Live Oak will gladly welcome questions and visitors.
Live Oak Unitarian Universalist Congregation of Goleta is located at 820 N. Fairview Ave. in Goleta. They can be reached at (805) 967-7867, or visit them on the web at liveoakgoleta.org.