Opinion
Feeling Lucky?
Feel Like Someone's Watching You? Don't Worry, They Are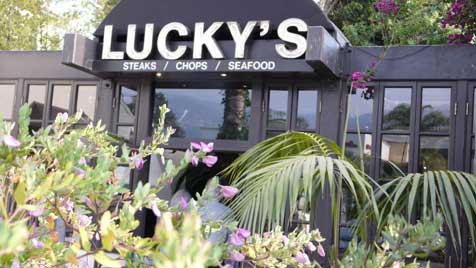 You're on Lucky's Camera: If you're planning to have a drink at Lucky's on Coast Village Road or a meal, you might find yourself on camera.
The upscale restaurant has several video cameras placed in strategic spots, like the bar, the kitchen, and in the dining room aimed at the wine room, an employee told me, confirming reports around town. They're mostly for surveillance of employees, the worker said, and as a taped record in case of an incident.
A manager I also talked to said the security cameras run 24 hours a day. "They are not about the customers," he said. (I'm glad I left a decent tip when I dropped in for coffee.)
Recall in Carpinteria: It appears that vociferous opponents of the Carpinteria Unified School District board's decision to remove Native American images at the high school have a big enough head of steam to recall the three board members who voted in the majority of a 3-2 decision. Unless at least one of the three trustees who voted April 22 to ban the images changes her vote at next Tuesday night's board meeting, recall seems almost certain, sources close to the district tell me. And so far none of the trio, Beverly Grant, Leslie Deardorff, and Amrita Salm, has indicated any intention to change what the three consider a reasoned decision in line with racially sensitive 21st Century thinking. A recall petition reportedly is being circulated, and two of the leaders of the drive are said to be anxious to use the opportunity to be elected to the board. A separate recall election would cost the district an estimated $150,000. "I didn't realize that the jocks had taken over the school system," one resident in favor of the image ban told me.
Sex, Sex, Sex: Hillary Andrews, former KEYT meteorologist who went to The Weather Channel, has won her sexual harassment lawsuit against the cable network. She claimed that she was subjected to unrelenting abuse from a sex-obsessed male co-anchor. You can read the sordid details on thesmokinggun.com.
Ad Couple Quit the NP: Jeremy Bradfield, national advertising manager at the News-Press, and his wife Christina Bradfield, who was real estate director and put out the Sunday real estate section, have resigned, according to blogger Craig Smith. The paper reportedly doesn't plan to replace Christina, so that should further lighten owner Wendy McCaw's payroll, which was cut last week when 10 employees were laid off. (Will the last person to leave the paper please turn off the lights?)
Judge Lodge Stories: "Sorry to hear that my old friend Joe Lodge has taken the last boat west," observed former county supervisor Frank Frost. Superior Court Judge Lodge died at the age of 76 on Monday, May 5, half a century after being elected to the Goleta Justice Court. He was the longest serving judge in California.
"When Phil Regan approached me in late 1972, just after I'd been elected First District Supervisor, we felt sure he was offering a bribe," Frost recalled to me. Regan, a former actor and longtime figure in show business, was pushing a development on More Mesa, which was up for approval by the Board of Supervisors. "After the bribe was actually offered, to my friend Ken Palmer, we wondered who we could tell. The sheriff [John Carpenter] was brand new." Frost had questions about District Attorney Dave Minier. "So we went to Joe, an old friend. Joe reassured us that Carpenter was squeaky clean and that Minier would fall on Regan like an Assyrian horde. So he called everyone together and we nailed Regan." The supervisors then voted down the project, which reportedly had at least three votes in favor of it before Regan foolishly tried to make it a sure thing. Regan was convicted of bribery and served a year in prison.
"I met Joe soon after I came to Santa Barbara," Frost said. "I believe he was a sort of magistrate in Goleta, a position that at that time did not even require a law degree, so he had run for it and won. My memory tells me that Clyde 'Judge' Welch had served in that position, minus degree. Welch was the vice prez of the local musicians' union. The president of the union when I joined was Harry Chanson, who had been president since 1943 and remained president for the next 66 years, possibly the longest serving union president in U.S. history. Harry personally welcomed me into the musicians' union in October, 1953, when I joined." (The late Chanson's In Memoriam appears on page 17 of this week's Independent. Chanson also built the city's first marina.)
News-Press Negotiations: "We've been at the bargaining table for six months, with no tangible results," former reporter Melinda Burns says of efforts by newsroom employees to negotiate a labor contract with NP owner Wendy McCaw. But, she added, "We're not going to give up." Burns and four other former News-Pressers, Melissa Evans, Anna Davison, Jane Hulse and Dawn Hobbs, were honored Wednesday, May 7, at the Canary Hotel by the local chapter of the Association of Women in Communications for their journalistic integrity. "This is a landmark case," Hobbs told the group. "We absolutely refuse to back down." McCaw, she said, had violated the law and used the paper to "vindictively attack" those on her enemies list. About 10,000 subscribers have canceled, she said, urging current readers to cancel and advertisers to drop their ads until McCaw signs "a fair contract."
Teamsters attorney Ira Gottlieb, who represents the newsroom union, said he had filed a recent unfair labor practice complaint with the federal government because some workers had not received evaluations by NP management, a change in policy not allowed unless discussed with the union first.
Craig McCaw: Wendy's ex, now a Santa Barbara property owner and owner of Clearwire Corp, has teamed up with Sprint Nextel in a $12 billion wireless venture funded by Google and others, according to the L.A. Times. The combo would create the world's fastest nationwide wireless network for laptops, smart phones, and other mobile devices, as well as desktop computers and in-home electronics, the Los Angeles Times said. McCaw is married to Susan Rasinski McCaw, former U.S. ambassador to Austria.