Opinion
Spitting Nickels
Barney Stands by Chicago Roots Story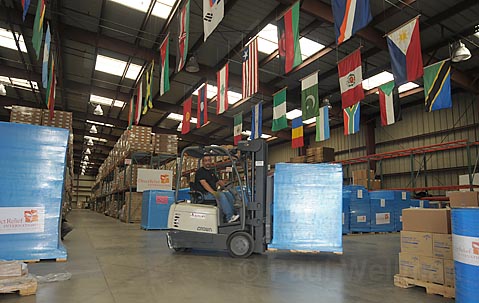 Deal for Neverland? The big question being debated around town is why Santa Barbara billionaire Tom Barrack bought Michael Jackson's Neverland Ranch loan.
Would you loan Jackson money after he nearly lost the 2,600-acre Santa Ynez Valley ranch to foreclosure? Actually, according to a source in real estate, Barrack, one of the world's biggest developers, "can't lose."
Barrack's company Colony Capital saved the entertainer's bacon by buying the $23.5 million loan days before the Fortress Investment Group was to foreclose. Now, my source said, Barrack has the option of earning a tidy sum if Jackson makes payments on the loan. (Is that likely in light of the entertainer's leaky wallet?) But wait. If Jackson defaults, Barrack owns a prize property worth far more than a mere $23.5 mil. The entertainer and Barrack's people are said to be talking. So what kind of a deal are they cooking up?
Carpinteria Warriors: The award-winning documentary In Whose Honor?, looking at the sports tradition of using Indian logos, nicknames and mascots, will be shown at the Carpinteria Valley Arts Center on Friday, May 16, at 8:15 p.m. The sponsoring Carpinterians for Peace & Justice said filmmaker Jay Rosenstein focuses on Charlene Teters, a Native American graduate student at the University of Illinois, and her struggle to ban the university's revered mascot, Chief Illiniwek, a fictitious head of the Illini tribe. Teters has taken her cause nationwide to ban such imagery from all sports. Faviana Hirsch-Dubin, UCSB professor in the Chicana and Chicano Studies and Education Departments, as well as representatives from Just Communities of the Central Coast, will moderate a discussion after the film.
DRI Aiding Myanmar: After a week of trying to get aid to storm-ravaged Myanmar, Santa Barbara's Direct Relief International sent its first trucks off to LAX Monday. Because medical supplies must be put in the hands of 15 trusted clinics, DRI had to work out arrangements to assure that the supplies would get to the clinics without being diverted, according to DRI spokesman Jim Prosser. Myanmar officials have been reluctant to allow in personnel from foreign nonprofits. Meanwhile, reports I've received from the former Burma have told of mass destruction, power outages in the city of Yangon (formerly Rangoon), skyrocketing prices of diesel used for emergency generators, and no Internet communication.
Casinos and Poli-tricks: Tom Morey was reading my column about my first and probably last visit to the Chumash Casino (Sue and I are not gamblers) when Tom stopped short.
"I was smiling and chuckling when I was reading Barney Brantingham's column, with great empathy, almost all the way through, when suddenly–WHOA!
"When my sister (also from Chicago) was visiting here some years ago, we went to the (old) Chumash Casino with the intent of feeding a few nickels into the slots and pulling down the sidearm, waiting for the clanking of coins as we won our nickels back, until the inevitable.
"But the Chumash had already started using new machines: no nickels, no arms to pull, no clanking jackpots. Just buy and insert a credit card and push a button. That didn't seem like much fun to us (we had both grown up pulling the slots at church carnivals, and at corner bookies), so we left without doing anything and had lunch in Solvang.
"So I was smiling along, empathizing, as I read Barney's account, until I got to his paragraph: 'My parents, who'd struggled through the Depression by pinching pennies, told horror stories about people who lost everything on the nags at the racetrack. They weren't religious fanatics, but made it clear that gambling was foolish, if not evil, right up there with voting Democratic.'
"Whoa! I thought. We were Depression kids too! Penny pinchers. Shoe menders. Knee-patch wearers. But, the Mortal Sin in our household was voting Republican! I was born on Nov. 3, 1932. The day FDR was elected. I was almost named Franklin Delano Rank. FDR. (But my mother vetoed that; she thought Frank Rank sounded too harsh.) But FDR was our household saint: He saved the country, later he saved the world.
Where, in Chicago, did Barney get infected with the GOP? Sounds like he was raised on a farm or in a small town."
Dear Tom: For the record, I was born and raised in Chicago, not the bucolic hinterlands. True, Chicago in those days was solid Dem, and still is. But my parents moved there from Iowa, GOP heartland. They grew up pre-Depression, after which the country went Democratic and elected Franklin D. Roosevelt. They stuck to their roots and remained Republicans and never had anything good to say about the Democrats. My mother took me to meet Ike at a downtown Chicago hotel reception in 1952. But along came John F. Kennedy in 1960 and I became a JFK Democrat. My father was dead by then and I doubt if he would have minded. Mom still carried the GOP flag but my defection never seemed to bother her. She was far more interested in her grandchildren. A few years ago, disgusted by the lunacy in Sacramento, I registered as a Green in hopes to getting someone different elected up there. It hasn't worked. One downside was that I wasn't able to cast a vote in California's primary battle between Barack Obama and Hillary Clinton. But although registered as a Green I am not a member of the party, so don't blame me for Ralph Nader (nadir?), Florida 2000 and all that.