Living
Give Plants to Remind Your Friends of You
Lingering Flora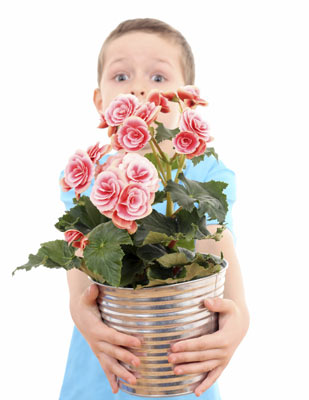 I was watering my outdoor potted plants the other day and enjoying a particularly lovely cymbidium that is still in full bloom after at least two months. I got the plant as a hostess gift a year ago and was pleased to see that it was even fuller and had one more flower spike than last year. It was pleasant to remember the person who had given it to me, too. As I went around the patio from plant to plant, I realized that almost all of my favorites had a memory of another person associated with them. There are the two fuchsias that I adopted when my coworker moved away, a hoya vine a little old lady could no longer take care of, two more orchids that friends had gifted me with, a potted aloe that was a table decoration at my niece's wedding, a philodendron I started from a cutting given me by some friends who sold their house and moved far away with the mother plant, a cutting now grown into a monster Christmas cactus from my ex's great aunt, the grown-up begonia from her sister, a dear friend's Boston fern that she couldn't take with her, my grandpa's cactus that my brother rescued and then passed some of to me; well, you get the idea. Nearly every plant had some good memory attached to it.
So, if you need a hostess gift, think plants. If you need to decorate for a special dinner, think plants that live on after they leave with the honored guests. If you want to keep the young members of your extended family connected to their greats and grands, propagate that cactus or begonia and pass it along. Welcome a new friend to the community, commemorate a significant date, even dedicate a street or park tree by donating to the Santa Barbara Beautiful street tree fund. Plants as living beings have their own histories, but when you imbue them with their own personal history, they become a great way to ensure that the memory lingers on.
June Tips
• Mulch everything. Keep a 3- to 6-inch layer in place to conserve moisture and reduce weeds.
• To have pumpkins ready for Halloween, plant now.
• Control mosquitoes with fish in water gardens, or Bt "dunks" in smaller containers.
• Watch for giant whitefly outbreaks. Hose off and apply worm castings on the soil.