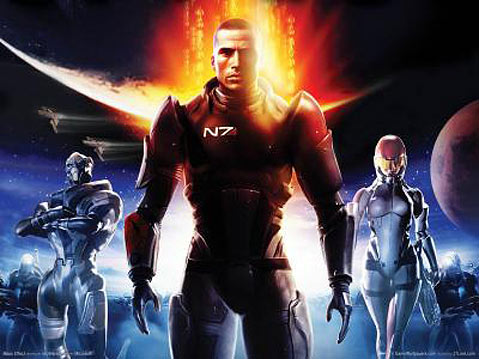 Platform(s): Xbox 360, PC
Original release date: November 20th, 2007 (Xbox 360)
PC release date: May 28th, 2008
Published by: Electronic Arts
Developed by: BioWare
ESRB: M (for mature)
Morality. It is an intrinsic facet of the human experience. One chooses a life path based on moral choices, good or bad. All of our favorite stories have many moral dilemmas, choices and consequences. Mass Effect is based on this most basic principle of the human psyche. I know it sounds a bit deep, but Mass Effect has the player choosing between good and evil and right and wrong all throughout the game. On certain missions and side-quests, the protagonists, known as Commander John Shepard, allows the player to speak to NPC's (Non-Player Characters) in two different ways in order to obtain information concerning the particular mission Shepard finds himself in. Shepard can choose to play nice or to rough-up the NPC to gather the information that will eventually lead him to his ultimate goal; to save the entire galaxy.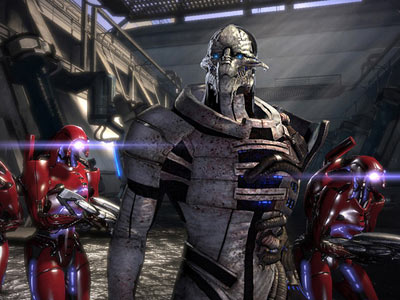 The game takes place in the year 2183 A.D. and humankind had previously discovered on Mars the remains of a mysterious ancient and highly advanced technological civilization. With the research of these "ruins," humankind finds out a way to travel faster than light, and thus begins to explore the universe. As the game progresses, Commander Shepard will meet various other characters, form a wide variety of alien species that will form his "party" of elite commandos. This party will travel across an expansive universe to piece the puzzle of ultimate destruction together. As they discover and explore the uncharted edges of the galaxy, they come closer to an overwhelming truth – learning that the placid and serene universe they know is about to come to a violent end and that they may be the only people who can stop it.
In the spirit of Star Wars: Knight of the Old Republic (also developed by BioWare) Mass Effect is considered by many to be a Space Opera in genre. I must agree due to many of the elements of the game that are directly borrowed from KOTOR. Unfortunately I believe that this is where the problems begin for Mass Effect. The game play and nature of missions and side-quests, are borrowed directly from the KOTOR handbook. It feels and looks very similar to one of the greatest RPG's of all-time. While the graphics and sound are nothing short of spectacular, and the controls for the PC version are intuitive and fairly easy to get into, I keep getting the feeling that I have played this game before. From the method of talking to NPC's, to the way Commander Shepard gathers his traveling companions, even the way Sheperd makes his moral decisions, smacks of a game that has already been done. In other words, if you played KOTOR or it's highly acclaimed sequel, there will be no surprises in store for you. If you haven't played the afore mentioned Star Wars titles, than yes, you will have a wonderful gaming experience.
For me, Mass Effect borrowed too many ideas from earlier BioWare titles and thus reflects on the re-playability of this game. Believe me when I say that I won't be playing it again. But for those of you looking for a decent action-oriented RPG, then Mass Effect is a suitable choice in the PC gaming market.
My say:
3 out of 5