TWENTY HARDY YEARS INTO IT: Fair warning to those first-timers heading to the Live Oak Music Festival this weekend: This event is seriously habit-forming. If your musical taste affinities are aligned correctly-as in fondness for the friendly cross-town musical traffic of folk music, bluegrass, so-called world music, singer/songwriter fare, jazz, blues, gospel, and the all-important "other" genre-and you enjoy basking in a weekend-long festival vibe, you may be one of us. The Live Oak will find its place on your annual calendar every Father's Day weekend. Consider, also, the prospect of hearing a willfully diversified list of performers in the natural, temporary Bedouin encampment of the Live Oak Camp (20 minutes from the 101 off Hwy. 154), and what's not to love? That could be this festival's ongoing mantra/musical question.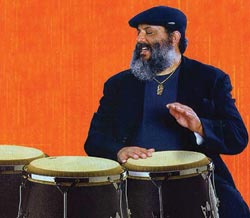 Some of the best ideas for nurturing and reflecting culture are mutant blends of radical thinking and common sense: The Live Oak Festival is a ripe case in point. Twenty years ago, it started out humbly but emboldened by passion, as a fundraising concept for the S.L.O.-based public radio station KCBX (89.5 FM). Logically enough, the festival's musical focus quickly came to reflect that station's organically eclectic programming-this before the concept of similar folk-meets-the-world festivals was any kind of tradition. The festival, partly made possible by its peaceable army of volunteers, is one of those ideas deserving to be stolen by other enterprising radio stations and organizations outside the commercial music box. Santa Barbara's own beloved KCSB (91.9 FM), for instance, recently put on a multi-band wingding in Ventura, a grand idea worthy of even grander form.
Thanks to its easy proximity, Live Oak can be done in various ways, whether in the full-weekend camping mode or the selective back-and-forth style, according to taste. Heading up the must-see list on this year's program are the great American singer/songwriter Nanci Griffith-too much a stranger in these parts-and mandolin wizard Mike Marshall's Choro Famoso, celebrating the Brazilian tradition of choro, and including cameos from Brazilian mandolin legends. R&B/blues singer Nappy Brown digs into the roots biz and the Gibson Brothers stoke up the all-important bluegrass niche at this fest.
From the talents-deserving-wider-recognition names on the docket, the wondrous Eilen Jewell returns to the area, after having dazzled a Lobero Theatre crowd in her Sings Like Hell opening set. The Nigerian Brothers serve up West African folk fare, and the wonderful and recently renascent "sacred steel" tradition (thank you, Robert Randolph) is represented by the Campbell Brothers. Latin jazz royalty Poncho Sanchez makes one of his regular, and always welcome, appearances in the area, and Dan Hicks & the Hot Licks bring Hicks's witty retro jazzy back porch vibe to the great outdoors.
The list goes on, as they say, and so does the song, 20 strong years into the adventure.
SHOW OF THE WEEK: She's considered primarily a jazz vocalist, but by any standard, Kate McGarry is one of the finest singers on any block. McGarry returns to SOhO on Monday at a time when her international reputation is slowly, steadily expanding, thanks to several compelling and creative albums for Palmetto. The N.Y.C.-based singer is a subtle and deeply musical phenomenon who has managed to glide neatly across the related-but-divided worlds of jazz and pop. She sings in Portuguese, impressively, and she lends pop songs new life and intelligence.
McGarry is well-known for rethinking and redressing songs (with help from her husband/guitarist Keith Ganz, a wonderful and flexible player), including tunes by Bob Dylan, CSN, and The Cars (!) on her forthcoming album, evocatively titled Less Is More : Nothing Is Everything. McGarry is a Buddhist, who spent a few years living in a northeastern ashram. For further listening, check out 2007's The Target, with its ear-opening new takes on jazz classics "Blue in Green" and "It Might as Well Be Spring." Be there.