Business
Smart Building
Santa Barbara's Built Green Expo
The idea of living in an eco-friendly house is no longer just the stuff of tree-hugger dreams. As environmental concerns and utility costs continue to rise, green building is quickly becoming a universal imperative. Our living and work spaces consume enormous quantities of the earth's resources in their construction and daily operation. Almost a quarter of our nation's total annual energy usage can be attributed to our households, a staggering statistic that comes with a sizeable and pricey carbon footprint. Beyond environmental and economic concerns, many of the places in which we dwell are built with materials that harbor nasty toxins and pollutants that can take a serious toll on our health.
The good news is that setting up shop in an off-the-grid, hemp-wrapped yurt is not the only option when it comes to creating an ecologically sound and healthy home. Whether you are constructing a new building, renovating an existing one, or looking to make a few changes in your living habits, you can incorporate features that support the conservation of the environment and improve your quality of life. Not sure where to start? Head over to this weekend's first annual Built Green Expo, Conference & Tour at Santa Barbara City College and hear from the experts about everything from installing solar panels to obtaining sustainable and toxin-free materials to putting the kibosh on those vampire electronics that suck energy even while turned off.
Over the course of two days, you can take your pick from a variety of free talks and workshops geared toward architects, builders, homeÂ-owners, and anyone looking to make some simple improvements. You can also explore a wide variety of green building materials, products, techniques, and enterprises by visiting some of the 60 exhibitors set up on the West Campus lawn. On Saturday, head off campus to tour five of Santa Barbara's very own green homes (and one commercial space) that will be opening up their doors so the public can see some of today's most innovative green materials and practices in action. Stroll through any of the featured houses to discover how stylish design and environmental responsibility are no longer mutually exclusive. Quite the contrary, these homes demonstrate how sustainability has inspired a new kind of innovative elegance in home design.
Karin Perissinotto, executive director of Built Green and the Santa Barbara Contractor's Association, is particularly excited about the green home tours and case study presentations being offered. "These case studies really demonstrate that it's not just about putting up four walls :" said Perissinotto, "It's about creating a whole integrated system that enables you to be environmentally efficient." For anyone seeking a little inspiration, Perissinotto suggests attending Friday night's keynote address by nationally acclaimed architects Michelle Kaufmann and John Picard-two green building gurus working to revolutionize the way we live.
A Prefab-ulous Innovator
Michelle Kaufmann
For many of us, the word "prefab" conjures images of flimsy, unsophisticated houses that sprout like weeds across the American landscape. But thanks to architects like Michelle Kauffman, the much maligned building technique is being reinvented as one of the most sustainable, affordable, and elegant building alternatives.
Shortly after leaving her job as an architect at Frank Gehry's firm, Kaufmann relocated to the Bay Area to start her own business (mkDesigns) and buy a home. Coming up empty-handed in her search for a house that was both ecologically sound and affordable, she decided to design one. Dubbed the GlideHouse because of the way the walls slide open on barn door tracks, her house was such a hit with friends that she decided to start manufacturing them as prefabricated modules. Since then, Kaufmann has continuously expanded her portfolio of modular designs for homes, hotels, and other kinds of communities. Constructed in high-efficiency factories and shipped to destinations throughout the western states, Kaufmann's prefabs are transportable, upgradeable, and capable of producing more energy than they consume. An immaculate merging of eco-friendly materials and modern design, these mass-produced homes could tempt even the most ardent individualist.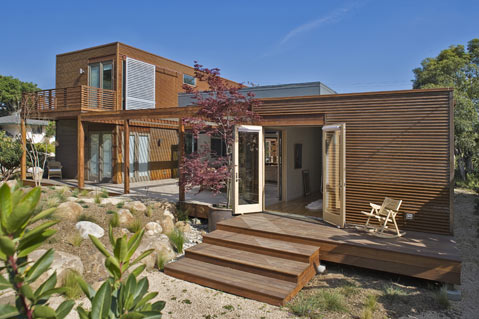 As part of the expo's green building tour, you can experience Kaufmann's Sunset Breezehouse, a customized prefab home recently delivered to a family in downtown Santa Barbara. A walk through the Breezehouse reveals Kaufman's signature style-a series of gardens and expandable spaces that blur the boundaries between interior and exterior, making the house feel larger than it is. If you stand in just the right spot, the breeze will blow away your preconceived notions about prefab-and recast it as an elegant solution that meets the demands of our modern lives.
A Green Visionary
John Picard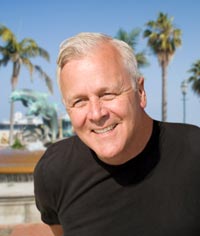 When the Clinton Administration decided it was time to green the Whitehouse, John Picard was one of the first people brought onboard. An architect, builder, and entrepreneur, Picard is the go-to guy for residential developers and major businesses interested in sustainable building. A visionary known for creating blueprints that integrate advances in energy utilization, technology, and communications systems, Picard has been quietly reshaping the way that corporate America functions over the past decade. His impressive client list includes companies like Sony, Ford, Gap, and others ready to reduce their ecological impacts-and take advantage of the direct correlation between increased environmental efficiency and profitability.
Picard is also one of the founding members of the U.S. Green Building Council (USGBC), a nonprofit group that provides tremendous support to organizations, companies, and individuals committed to sustainable building practices. The group is most widely known for initiating the LEED certification program (Leadership in Energy and Environmental Design), a rating system that has become the nationally accepted benchmark for the design, construction, and operation of high-performance buildings.
Despite Picard's many accomplishments, chances are you've never heard of him. But you will soon. He is going to be featured as the on-screen expert for Greensburg, a new series for Discovery's Planet Green Channel with Leonardo di Caprio as the executive producer. The show chronicles the rebuilding of Greensburg, Kansas; a town leveled by a hurricane in 2007 that has committed to going green from the ground up. Picard will be working with a team of other experts and community members to reinvent Greensburg as a model for sustainable communities everywhere.
Barkitecture Contest
Also on display at the expo will be the results of the American Institute of Architects (AIA) sponsored Barkitecture contest: a challenge put out to teams of contractors and architects to design environmentally sustainable doghouses. Fido will finally be able to sleep with a clear conscience.
4•1•1
The Built Green Expo takes place Fri.-Sat., June 13-14, at Santa Barbara City College. For a schedule of events and more info, visit builtgreenexpo.com.