News
Former Basketball Coach to Spend Seven Years Behind Bars
Nelson Gets Maximum Sentence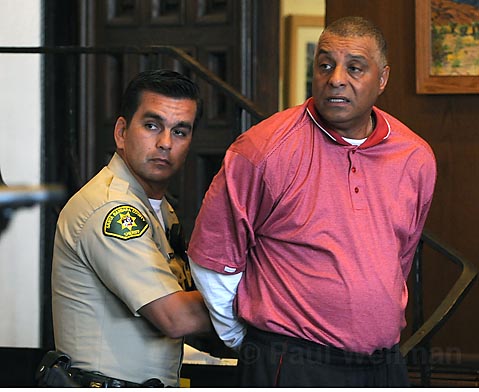 Emotions ran high in Santa Barbara Superior Court Judge Frank Ochoa's courtroom on Monday after Ochoa gave Bruce Nelson, a former Santa Barbara High boys basketball assistant coach, the maximum sentence-seven years in state prison-for committing lewd sexual acts against patients for whom he was acting as a caretaker. The courtroom scene showed the many lives affected by crime: on one side, the two victims and their families, and on the other a man with a long history in the Santa Barbara community, who had to say goodbye to his family and friends before being led in handcuffs to jail.
Following Ochoa's decision, Nelson turned in his chair to face family and friends sitting behind him. He began to blow kisses to them until he was told by bailiffs to turn around, which he did, putting his head down until he stood to be handcuffed. While being escorted away, Nelson mouthed "I love you" to his supporters. His son, a standout basketball player whom his father coached at Santa Barbara High, replied with the same. Supporters sitting in the back row cried as Nelson was taken away.
In March, a Santa Barbara jury found Nelson guilty of three felony counts of committing a sex act while in a caretaker role. Prosecutor Joyce Dudley had argued the crimes were committed under duress, but jurors apparently were split on the four remaining charges of lewd acts committed under duress. In an effort to avoid a retrial, Dudley offered Nelson the chance to plead guilty to the remaining charges with the element of duress removed. Nelson accepted. He incurred three years for one count, then eight months for each of the remaining six. He will also be responsible for fines up to $9,000.
The acts occurred while Nelson was an employee at Solutions, a brain rehabilitation center in Santa Barbara, where both women were patients suffering from brain damage. Jane Doe Number One, a 22-year-old former UCLA student, recounted five separate occasions on which Nelson committed sexual acts that she neither wanted nor invited, including using his tongue to kiss her, inserting his fingers into her vagina, touching her breasts, forcing her to touch his penis, and attempting to have intercourse with her. The other victim, a 43-year-old, described similar circumstances, both during and after her time in the center. Defense attorney Steve Balash argued during trial the contact was consensual.
During sentencing, after a series of motions, Balash asked the court to re-evaluate the evidence and argued Doe Number Two's testimony was not credible. Her story changed many times, Balash said, and when asked why she lied, the woman explained her father told her to. Dudley responded by arguing that the woman's brain injury amplified the stress that sexual abuse victims feel. Dudley also argued the victim was honest in everything she said. Balash said Nelson wrote a heartfelt letter of apology and called him a good family man, describing how he was an assistant coach for his son's basketball team. He also claimed Nelson, who also coached Dos Pueblos High School's boys basketball in the mid 1990s, wasn't a sex offender. But Dudley responded by calling Nelson the worst kind of predator there is. "The maximum sentence, seven years, quite frankly does not seem like enough," Dudley said.
The victims-who are undergoing counseling as a result of the incidents-and their families had strong words for Nelson. "I'm still mad at you and I don't forgive you," said Doe Number One. Her mother then went up to the podium to speak, but said only one sentence: "I expect the maximum sentence." Doe Number Two told the court that she "still feels victimized and hurt." Her father told the court Nelson is a "sex predator who preys on young women for his sexual satisfaction."