Food & Drink
The Quirky Cafe Quackenbush
Los Alamos's General Store and Restaurant
In 1998, Ralph QuackenÂ-bush saw charm and potential in an old building on Bell Street in Los Alamos that had once housed the town's General Store. A designated historical landmark, the 1880 structure was in dire need of refurbishing but began to shine as layers of paint, wallpaper, and wax were scraped away, original wood flooring was polished to a gloss, and high cathedral ceilings were revealed in all their grandeur. Before long, the old General Store emerged as a space of light and possibility where Quackenbush envisioned art, antiques, food, and a welcoming ambiance. The dream became real when he teamed up with John Morley and Chef Jesper Johansson; nine years later, Cafe Quackenbush isn't only the place to go when in Los Alamos, it may be reason enough to make the trip.
I admit that I am partial to Los Alamos, or "Lost Almost" as some of the locals affectionately dubbed it. Founded as a stagecoach stop in the 1870s, there's still something delightfully authentic about the place. It's a town that feels as though it's been overlooked somehow, but no one minds. Along Bell Street, there is an old post office, a saloon with swinging doors, the historic Union Hotel, antique stores, a couple of abandoned gas pumps whose per gallon price reads 37 cents, and a vintage motel with a faded green sign. The town is beginning to bloom but is still gritty at the edges; its appeal is unpretentiousness.
Yet even in this context, Cafe Quackenbush is quirky and unexpected, as attractive to the wine-tasting tourists passing through as to the ag workers who come in for breakfast in mud-caked boots. It opens onto a patio with outdoor seating on the wide vacant street, while the adjacent General Store, also part of the restaurant, includes the gallery, crafts, and antiques for sale, and a real estate office upstairs. Morley traces his inspiration back to the late Dr. Lou Netzer's well-loved Side Street Cafe in Los Olivos, which, in addition to being a restaurant, was a true community gathering place. Indeed, there is a neighborhood feeling at "the 'bush," and a small group of regulars who come as much to socialize as to eat.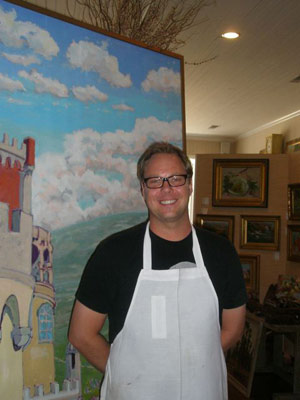 Chef Johansson, a native of Sweden and a graduate of the Santa Barbara Culinary Institute, describes the Quackenbush cuisine as "California, interpreted" and he doesn't mind tweaking things in response to customer suggestions. The menu features gourmet sandwiches and salads, European pastries, and, on weekends, breakfasts that range from chorizo scramble to brioche French toast or Dungeness crab omelet. There's also an array of coffee drinks, wines, and beer.
On my first visit, I ordered a lunch special of seared scallop salad with spicy chipotle dressing, and it was sublime. Next time-and everyone comes back-I could not resist the bacon-lettuce-tomato sandwich. I am fond of classic lunch-counter sandwiches, but this version was BLT squared: thick slabs of bacon, sweet ripe tomato slices, and fresh lettuce on substantial bread. A friend ordered the smoked pork loin with roasted peppers, goat cheese, and Dijon mustard; she pronounced it delicious and was planning to eat the second half for dinner.
An affable duo in motorcycle gear at a neighboring table told me that they ride in routinely from 30 miles away to satisfy their craving for the fish and chips: tender halibut encased in a light crispy crust served with malt vinegar and fries. It would be downright un-American, however, not to mention the eight-ounce hamburger that my husband ordered. Served with your choice of condiments, it's the kind of burger you might cook up at home-juicy and generous, meat for the week. But I was distracted by Jesper's spin on the fish taco, one of the specials that day; made with grilled swordfish, cabbage, and bits of mango, it is my current favorite Quackenbush dish.
After lunch at Cafe Q, it's worth a wander through the gallery to enjoy, among other offerings, eccentric pencil and ink drawings by Jonathan Winters, watercolors by Rick Faust, seascapes by Micah Wood, and the plein air landscapes of Ralph Quackenbush or Rupert Trinidad. The gallery also houses the curious legacy of "Old Man" Block, an early settler and village blacksmith of Solvang who took up the brush in his seventies and created more than 500 primitive paintings, some done on scraps of cardboard and wood. Also on display are handcrafted jewelry by Carol Kemp, dolls by Susan Sattler, wire and glass sculptures by Joel Helgesen, and the work of other local artisans.
4•1•1
Get lost almost at Cafe Quackenbush, located at 458 Bell Street in Los Alamos. Call 344-5181 (call ahead for fish and chips) or visit generalstoreca.com. The restaurant will be closed until July 5 for vacation (remember, quirky).