News
New Anti-Gang Effort Makes Debut
But Will One More Voice Urging Peace Make a Difference?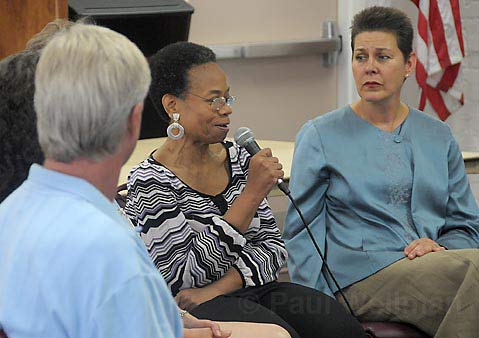 Last year's fatal stabbing of 15-year-old Luis Angel Linares during a State Street melee focused all of Santa Barbara's attention on its gang problem. Since that day, more people than ever before have vowed to help to prevent youth violence. One of the latest additions to the panoply of problem solvers is Audrey Addison Williams, who arrived in Santa Barbara in late 2007. Williams heads Healing Soul of America, which she described as a vision that came to her about 10 years ago. She recently announced that Santa Barbara is to be the organization's new headquarters.
The ardor Williams displayed during Healing Soul's public debut this past weekend in Santa Barbara seems consistent with her personal history. Williams said she grew up in the Southern Pentecostal church, the child of a circuit speaker who traveled around lecturing on behalf of the Republican Party. She has overcome alcoholism, diabetes, and alienation from a wayward son.
"I have had to redraw my map of the world many times," Williams told the crowd at a $150-a-head fundraiser at the Montecito estate of Patti DeDominic. Luminaries from the Santa Barbara civic, nonprofit, and arts scenes turned out. Mayor Marty Blum, who had just that day, at Williams's urging, issued a city proclamation declaring June 27 to be Diversity Day, said that she was "committed to doing whatever I can to help this group."
The buzzword of the evening was "co-create," which could partly explain why Healing Soul's plans seemed a little hazy as yet. "Even though we desire to change things, we can be part of the problem, and so we desire to co-create," said Williams, to cheers. "We must be humble enough to listen to the youth : There is not a human being alive who does not desire to create. There is not a human being who does not want what they bring to the table to be honored and to matter." Williams spoke of making a template in Santa Barbara for successful youth programs. In earlier interviews, she referred particularly to helping youth earn money through arts and entrepreneurship. However, she emphasized that it is not only the youth but the entire community that needs healing.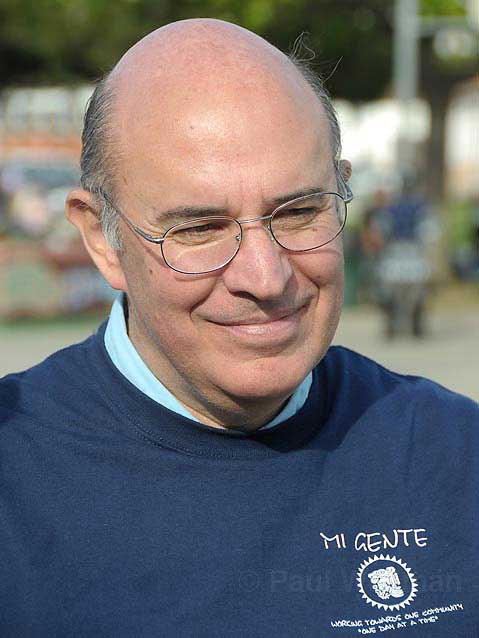 Among those supporting the new effort on Friday night was retired IBM executive Fernand Sarrat, another recent messiah in the anti-gang effort, who has poured an estimated $400,000 or more into the Collaborative Community Foundation (CCF) since founding it last year. Sarrat has said that he saw his native El Salvador destroyed by neighborhood gangs and didn't want the same thing to happen here.
After bursting on the scene last March with a three-weekend gang truce, the CCF mapped the city into segments of five to eight blocks each and sent out volunteer mentors to gather together small groups of kids. The kids are paid a stipend to do everything from helping tradespeople in the area or joining sports leagues to forming a debate team, according to the kids' preferences. Sarrat told the moving story of a woman running out of her house to hand him $5 when she saw him leading a crew of kids cleaning her neighborhood, while others offered sodas and food, so pleased were they that the kids were being helpful.
It's too early to tell what effect these efforts will have on Santa Barbara gangs, whose members, according to a June 16 Grand Jury report, number close to 800, most of them young Hispanic teenagers. That report also noted a lack of clear leadership and called for the City of Santa Barbara to establish a permanent commission or commissioner to oversee the anti-gang effort. As if to underscore the urgency, the weekend was also marked by the Saturday-night knife attack by two young men on a man sitting in his car at the beach.
It also remains to be seen what these new initiatives will mean to the vastly underfunded nonprofits that have been working in the realm for decades, some of whom were disappointed that CCF did not end up sending any funds their way. (The "collaborative" in the Collaborative Community Foundation name means "as distinct from oppositional," Sarrat explained, and does not refer to financial partnerships with other groups.)
Conspicuous in their absence from the weekend's events were the at-risk youth themselves. It had been hoped they would turn out for the speak-out that took place at the Louise Lowry Davis Center on Sunday. The only youth that showed up were members of Infoshop, a year-old organization run by radical youth (including some anarchists) who catered the weekend's events and sponsored an essay contest for the occasion that had writers postulating how they would fix the world, had they sufficient financial resources. But the Infoshop crew seemed more liable to be arrested for anti-war protesting than gang activity. Regardless, its members had a productive conversation with the adults there, including Blum and Judge Denise de Bellefeuille. They explained that it is easy to get kids involved in things they feel they can do something about, listened carefully to the urging by several older participants that Infoshop could obtain funding without compromising its values and independence, and scored free accounting lessons.
Also conspicuous in his absence was youth advocate and former city councilmember Babatunde Folayemi, though he was glowingly credited in the program notes for Saturday night's five-hour variety show. Rumor has it that Folayemi, now visiting family in New York, was forced to resign as a program director for CCF because Santa Barbara Police Chief Cam Sanchez said he could not work with Folayemi, who has clashed with police on a number of issues, including his insistence on working with groups of kids who are not supposed to associate with each other because they are on probation or parole. He has also criticized police targeting of gang leaders: Folayemi is interested in turning those same "shot callers" into leaders of gang peace movements. Sanchez did not return calls for comment, and Sarrat said that he and Folayemi simply had different opinions over the CCF's direction. Folayemi commented that he did not want the kids to worry about the programs' internal politics but to take whatever good is offered them. "Take it wherever it's coming from," he said.
The next Healing Soul event is a town hall meeting at the Karpeles Library on Thursday, July 3, 7 p.m.