Outdoors
Gap Fire Forces People, Possessions from Homes
Evacuees Face Stresses, But Have Shelter
As the Gap Fire has raged for the better part of the last week, many area residents have watched anxiously from their homes as smoke billowed down from the foothills and mountains. No houses have been claimed as of the posting of this article, but many evacuees saw the flames get dangerously close. All told, nearly 6,000 people were displaced from their homes, though many have been allowed to return. Beginning with Glen Annie and La Patera canyons, authorities quickly began evacuating large areas of Goleta, eventually ordering residents out of some mountain communities as the fire swept east toward Camino Cielo Road and Highway 154, and west to the Dos Pueblos and Santa Barbara ranches. Although some of the mandatory evacuation orders have been downgraded to warnings, residents of West Camino Cielo, the Windemere Tract, the Haney Tract, Kinevan Road, and the Trout Club remain unable to return home. Only the hard of heart would view the plight of these folks with anything less than compassion, but unless you are one of them, it is difficult to imagine the amount of stress that results from the possibility of losing everything.
Faced with having to leave everything you own in sometimes as little as 10 minutes, deciding what to bring is a major consideration for most people. The voice on the television always tells us to mind the three Ps – pets, papers and photographs – but when the chips are down, stress can play a big role in determining what stays and what goes. Stephanie Yelenik, a PhD candidate from UCSB who lives on Kinevan Road, was on Santa Cruz Island, conducting one of her regular studies of the native flora, when she first saw smoke on the horizon. "I checked my phone, which I don't usually do out there, and saw that I had a message from a friend," she said. "That's when I realized there was a fire." It didn't take long for her to learn that the fire was very close to her house, so she contacted her roommate and instructed her to grab the essentials-a Channel Islands fish, a wetsuit, and some clothes. Ben Colman and Corinne Williams, UCSB grad students who live on the ocean at the end of Del Playa Drive in Isla Vista, were more than happy to accommodate their friend. "I could tell she was upset when I talked to her, and could hear her crying," Williams said. "We couldn't be here when she arrived, but we called in reinforcements to take her out surfing when she got here." Yelenik had received offers of places to stay from about 10 other people, but preferred Colman and Williams' cramped seaside apartment to her own room in an empty apartment. "I wanted to be around people, not sitting in an apartment by myself thinking about my stuff burning up. Besides," she said with a grin, "this place is right next to my favorite surf spot."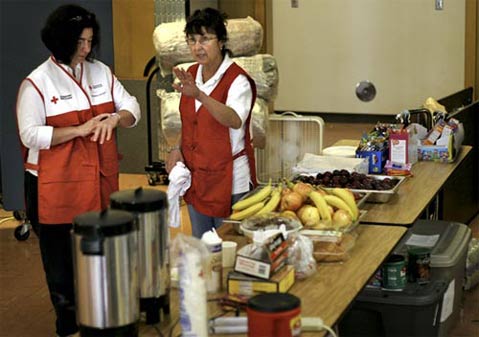 As in any situation, some are prepared for the worst to happen, and there are people whom it catches off guard. Most of the Gap Fire evacuees had someplace to go -often the homes of friends and relatives nearby – but those who didn't were able to stay at the shelter set up by the American Red Cross Disaster Relief team at San Marcos High School. The Santa Barbara Chapter of the Red Cross maintains a cadre of volunteers, who, during times of need, can be mobilized within hours. Kristiana Kocias, a public information officer with the Red Cross, said that the San Marcos evacuee shelter was operational within two hours of the call having gone out. Authorities began evacuating parts of Goleta on Wednesday, July 2 – only the second day of the fire – as it moved into Goleta's lemon orchards. The shelter only had one guest that first night, but already had several hundred cots set up in the high school's cafeteria and gymnasium, as well as an eating area and a place where pets could be kept. The shelter saw its peak occupancy the night of July 4, when most of the mandatory evacuation orders were handed down. Some 40 or 50 people stayed there that night, but countless others came in and out during the day to get information, mental health counseling, and meals. From the beginning, volunteers have staffed the shelter 24 hours per day to ensure that the needs of the evacuees are met, and Sheriff's Deputies have patrolled the area regularly for safety.
In any emergency, peoples' pets are often chief among their concerns. This was certainly the case for Patrice Rapose, a medical coder at Sansum Clinic in Goleta whose house on Camino Rio Verde was evacuated on Friday night. Just after the evacuation order was issued, she left her house with a friend to purchase a flashlight, wasn't able to find one, and then wasn't allowed back into her neighborhood to get her car and her two cats. "I had a minor breakdown in the car when I wasn't able to get my cats," she said. The Humane Society had volunteers working around the clock to help care for people's small pets, and one of them actually went past the police barricade to get Rapose's from her house. Seeing that her cats were scared, Rapose slept outside with them, as did many other pet owners. All of the cages were lined up in front of the library under an overhang, with peoples' cots next to them. "On Friday night, there were about 12 people out here sleeping with their pets. It was a little cold out, so I had seven blankets." Having been in the shelter for a few days, she was very grateful for the support she received, but ready to go home nonetheless. Other evacuees faces more serious problems regarding the care of elderly relatives, explained shelter manager Marion Cozort. "It was really upsetting to see how frustrating it was for these families to have to try and care for [them] without the resources they are used to at home," she said. Evacuees also had to endure sweltering heat in the high school cafeteria, which housed the majority of the cots, but this problem too was eliminated once Governor Arnold Schwarzenegger sent in fans to cool the building. Cozort said she was impressed with the quickness of the delivery of the fans, and noted that those staying at San Marcos seemed comfortable despite these difficulties.
Bob Muhr, a retired physical services employee at UCSB, was well prepared when he evacuated his home on Camino Cerralvo. He and his wife had just returned from a vacation visiting relatives in Seal Beach, so their car was already packed. "We had plenty of time, so we started by putting papers and documents in the car," he said. Then, there was still plenty of room, so we began throwing in anything that looked useful." They were evacuated by the National Guard on Friday evening. "Leaving the neighborhood, there was a lot of traffic," he said. "It was every man for himself. Now that I'm sure I haven't lost my house, this is an interesting thing to look at." Muhr said that his stay at the Red Cross shelter was comfortable, and that it enabled him to function and get to his part-time jobs at UCSB's Hazmat center and Path Point, a residential living center for disabled adults. "[The shelter] is well staffed and extremely organized. The fire chief and [Goleta Mayor Michael Bennett] even came down to make people feel better."
The Red Cross reports that it has had a total of 170 overnight stays since the fire began. There are currently no evacuees staying in the shelter, but it stays open to offer meals, information briefings – held daily at 11 a.m. – and mental health assistance to community members. County 2nd District Supervisor Janet Wolf has been making daily rounds there to check in on people. She and her family lost their house in the 1990 Painted Cave Fire, and were evacuated during this one, so she said she really identifies with what people are going through.
"We'll remain open until they ask us to leave," said Kocias of the San Marcos Shelter. "We've been very grateful to those who have helped out financially and with volunteer hours. They've really made a difference in our response." Three additional shelters-at Santa Ynez Valley High School, the Page Youth Center, and Santa Barbara High School-are on standby along with on call volunteers, ready to be assembled and operational within hours.
4•1•1
For more information, contact the Santa Barbara Chapter of the American Red Cross, at (805) 687-1331.