Living
Meet Colonel Buck, Our New Space Wing Commander
Vandenberg Air Force Base's New Leader Has Perfection at the Top of His List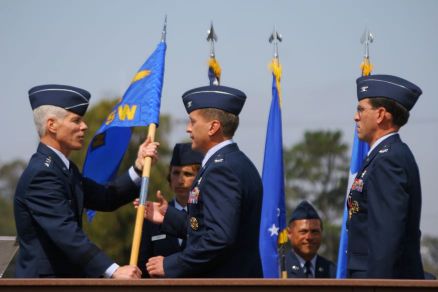 The new commander of Vandenberg Air Force Base, Colonel David Buck, is a very busy man.
On July 30 alone, he met with a delegation of officials from the Parliament of the Czech Republic concerning the missile defense sites that were recently slated for construction within that country's borders. Later that same day, Lompoc Mayor Dick DeWees came in for a meeting with the man whom many consider the mayor of Vandenberg. Clad in a green flight suit and flanked by a number of people needing his time, Buck wore a purposeful look on his face in between meetings as he strode down the corridors of the base's command center.
Despite his very busy schedule, Buck made time to talk to everyone that day, including this Indy staffer. He called the fast pace of being a wing commander energizing. "I wouldn't have it any other way," Buck said with a grin. "For my money, this is the command to get. It's a big base, a great mission – it doesn't get any more visible than putting satellites into orbit."
Having assumed command of Vandenberg's 30th Space Wing on July 27, Buck has inherited dominion over a long tradition of cutting edge space and missile technology. However, in the wake of the forced resignations of Air Force Chief of Staff General T. Michael Mosely, Air Force Secretary Michael Wynn, and, just last week, the resignation of the Air Force's logistics chief William Anderson due to some mishaps with the Air Force-handled component of the nuclear arsenal last year, Buck has made it clear that as the base commander, he will require the greatest attention to detail. "I expect everyone to do the best at every task they're given," he said. "In turn, my job is to make sure they're adequately trained and equipped."
Buck is adamant that the mission of the 30th Space Wing to provide space launch capabilities to the Air Force for military missions is paramount, but he also expressed excitement at being able to work with what he called a very supportive surrounding community. He is no stranger to the space-oriented Vandenberg, as his Air Force career has been entirely dedicated to space and missile operations.
From missile operations training as a second lieutenant to a stint with the 576th Flight Test Squadron from 1991 to 1993, Buck considers Vandenberg the crossroads of the space and missile community, and expressed appreciation for the bond shared with the local community. "One thing that hasn't changed [since then] is the community relationship," he said, noting that he was invited to participate in Lompoc's Flower Festival Parade the very day after he assumed command of the wing. "The community support here is through the roof."
Vandenberg and its associated contractors play a vital role in Santa Barbara County's economy. "From an economic perspective, I think we have a lot of impact on the surrounding community," he said. "But [our impact] isn't just economic, it has to do with responsibility and mutual protection."
Buck proudly referenced the fact that Vandenberg sent more than 30 of its firefighters to aid in fighting this year's Gap Fire. Although a number of civilian and NASA satellite launch operations are conducted at Vandenberg each year, the main mission of the 30th Space Wing, he said, is the launch of space vehicles in support of military objectives. "Every military asset we put up helps keep our airmen, soldiers, marines, and sailors out of harm's way." Buck cited improved communication among the benefits of military satellites.
One of Buck's main tasks as the commander of a base as large as Vandenberg – which, at 95,000 acres, is roughly the size of Guam – is providing infrastructure improvements and services for base personnel. "If you don't have a happy family, you're not going to have a productive airman deployed," he said, stating the need to keep deployed Air Force personnel in constant contact with their families while they are away, and to maintain a robust support network for those families.
Housing is another issue that will be addressed in the coming years, and new, better housing is slated for construction on base. The number of on-base houses will be reduced, however, from the current 1,100 units to approximately 800, but the reduction in housing roughly reflects the reduction in personnel on the base over the past several years, said Lieutenant Raymond Geoffroy, a public affairs officer at Vandenberg. Many of the base's personnel live off base in Lompoc and Santa Maria as well, but not much is known yet about how the influx of former South Coast residents coming to the North County in search of more affordable real estate will affect military personnel housed off base. According to data supplied by Vandenberg, more than 1,800 airmen – both officers and enlisted personnel – currently reside off base.
Natural and cultural resources are big assets at Vandenberg, and access to them is always a concern to people in Santa Barbara and surrounding counties. When the road to Point Sal – ownership of which has been a point of contention between base and county officials – opened after a year of closure, the Air Force has been committed to providing access to the park for visiting hikers. "We encourage people to check our Web site [to find out if the road is open] before they hike all the way out to the entrance and find out it's closed," said Buck. The road that runs across base property will be closed during launches and other range operations for safety reasons, and during times of heightened security.
The Air Force seems committed to reducing its environmental footprint at Vandenberg as well, and Buck said that a major study is underway to evaluate the base's wind resources, examining the viability of wind farms there. Currently, about half of the exterior lighting on base is composed of energy efficient LEDs, with complete conversion planned within the next year. "We're on board with being good stewards of the environment," Buck said. "We have the best recycling center I've ever seen on a base, and we have a top notch reclamation center for reusing concrete and asphalt."
Vandenberg's 50th anniversary is this year, and the base – which is the most ideally situated location in the U.S. for launching satellites into polar orbit – was established when the space and missile program was still in its infancy. Buck calls for continued innovation as the 30th Space Wing continues to provide space lift capabilities into the next 50 years.
"Vandenberg is the gateway to space," said the colonel, "and I want to take that next step to make sure that we have assured access to space in the future."