Opinion
Lyle Hillegas 1934-2008
Former Westmont College President and El Montecito Presbyterian Church Pastor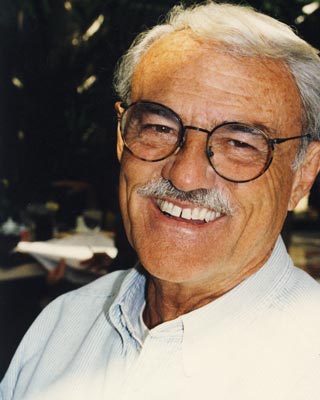 Lyle Hillegas has been celebrated as teacher, college president, pastor, and college ministry founder, but it was not these accomplishments that made him large, at least to me, and he would not want them rehearsed here. In his last days, as the tributes poured in, he repeatedly quoted the warning of Jesus to "beware when all men speak well of you." This was not false humility, but an earnest belief that the part he played in the enrichment of others was as a channel of Christ's love. To praise Lyle without Christ would be like telling what a great guy Bach was without reference to the music.
I am one of those enriched by this artist of the soul. Our association began 25 years ago as fellow religious professionals-Lyle ministering at El Montecito Presbyterian Church and me professing at Westmont. Our paths diverged in the '90s, when Lyle left Santa Barbara for several interim pastor positions. When he returned to initiate Front Porch, a ministry to help UCSB students integrate learning and faith, he encouraged me to become involved. I explained that I felt disqualified by recent personal failures and losses, but in the manner of Jesus, Lyle pronounced me forgiven, lifted me up, and pointed me outward. For me, Lyle was an embodiment of grace, reflecting light into my shadows.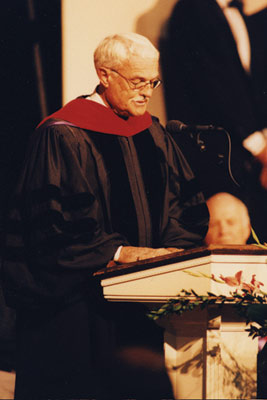 This spring, when Lyle's cancer became life threatening, we spoke frankly about mortality. He had no wish to prolong artificially a complete and abundant life, and he wanted his death to give glory to God. At the same time, Lyle disdained spiritual posturing and in fact, early in his long ordeal, he confessed to having no sense of God's presence. But he continued to seek God in prayer, to ponder the wisdom of saints gone before, and finally to conclude that God's silence does not imply God's absence. The outcome of his hard-fought spiritual battle was that Lyle lived his final days in childlike anticipation of eternity.
After months of hospital and convalescent care, Lyle came home on a Thursday to the loving care of his wife and sons-Melissa, Hunter-Scott, and Thatcher-and daughter-in-law Megan. Communication became difficult as Lyle's voice weakened, but his mind was clear. Saturday I asked him what he was thinking about death, whether he was experiencing any fear or longing. He paused briefly and whispered, "Euphoria." Then he asked me to carry him to his garden-a little corner of England nurtured by Lyle's own hand-and read to him.
Lyle's choice for his last story was J.R.R. Tolkien's "Leaf by Niggle," the tale of a modestly talented painter who wants to finish his large canvas of a grand tree but suspects he will not have time before his death. After he dies, Niggle finds himself in a kind of workhouse for a long time, but eventually he is released and given a bicycle. He pedals away into the countryside, marveling at the sunshine and green turf. With his eyes on the path, he suddenly encounters a great, green shadow. "Niggle looked up, and fell off his bicycle. Before him stood the Tree, his tree, finished. All the leaves he had ever painted were there, as he had imaged them rather than as he had made them; and there were others that had only budded in his mind, and many that might have budded, if only he had had time. He gazed at the Tree, and slowly he lifted his arms and opened them wide. 'It's a gift!' he said."
Lyle treasured this vision of completion beyond life, and it says much about him. It is an Anglophile's story, to be sure, with a green garden to fuss over and a house full of charming clutter. But more importantly, it affirms that our best efforts are neither more nor less than gifts, imperfect in our hands, incomplete in our understanding, waiting to be revealed and shaped by God, in this life or the next. As one "leaf by Lyle," I was touched by his grace-full artistry, and know the hope of a work in progress.
I saw Lyle delight in God's gifts to his earthly end. This, however, is not the end of his story.
Several months after I lost my daughter, I admitted to a former student, now a pastor, that I entertained some very earthly fantasies of an afterlife in which Susanna and I rollerblade along Cabrillo Boulevard, play Scrabble, or share a bag of Cheetos. My student responded, "Why not? If God is perfectly loving and creates us not only as spiritual but also as physical beings, why shouldn't the afterlife involve the best of this life and then some?"
So taught by my student, I now enjoy the image of my dear friend Lyle in the afterlife touring the stately rooms and wandering the private gardens of Buckingham Palace, perhaps rearranging a few knick-knacks. The Queen should be honored, for Lyle is a prince.