News
Are Sharks Really the Eating Machines We've Made Them Out to Be?
Taking a Bite Out of Science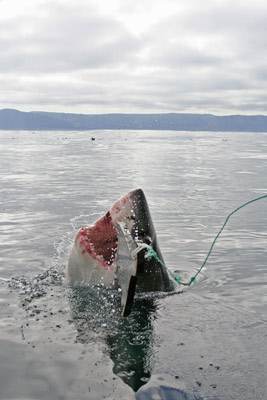 When a string of shark attacks plagued a particularly tourist-friendly stretch of mainland Mexico earlier this summer, it didn't take long for the slaughter to begin. In an all too familiar dance of death that has decimated shark populations the world over, practically any member of the shark family swimming in the waters near Acapulco-whether dangerous or not-was considered Public Enemy Number One. For days on end, looking to quell fears of further attacks, fishermen and government agencies hunted sharks of all sizes at an alarming rate.
This is nothing new for the some 360 species of sharks that swim the planet. Vilified by films, hunted for their many cosmetic, culinary, and medicinal uses, and often more feared than they are protected, it is believed that an excess of 50 million sharks are killed worldwide each year-a rate of death that has most species looking at a three-quarter population decline in the past four decades alone. Simply put, despite being some of the oldest, ecologically important, and most fascinating animals on the planet, it isn't easy being a shark these days.
"I've never seen anything more poorly understood than sharks," lamented Shell Beach-based biologist, underwater filmmaker, and longtime shark advocate Terry Lilley.
"I've never seen anything more poorly understood than sharks," lamented Shell Beach-based biologist, underwater filmmaker, and longtime shark advocate Terry Lilley. With literally thousands of hours spent underwater along the Central California coast, including hundreds of dives in the Santa Barbara Channel-one as recent as this month near Refugio Beach in Gaviota-Lilley has witnessed more than his fair share of sharks up close and personal, including one paint-soiling run in with a great white not too far from the Santa Barbara County border. "Virtually everything you hear about sharks is just so dramatically untrue," said Lilley. "Any great white or tiger shark could kill and eat a person every day at will if they actually wanted to. But the truth is they don't. We are all just suffering from Jaws syndrome."
First, most of the sharks that call Santa Barbara home aren't anything like the toothy predators of your nightmares. According to Dr. Chris Lowe, an often cited shark expert from California State University at Long Beach who actually grew up on the small East Coast island where Jaws was filmed, there are about 12 species of sharks that swim regularly in S.B. Channel waters, with a few others occasionally passing through depending on water temperatures and seasonal food supply. There are the "big five that get most of the attention"-the short-finned mako, blue sharks, thresher sharks, great white, and tigers. Then there are the rest-leopard, soupfin, angel, swell, basking, horn, the seven gill, and the occasional salmon and hammerhead. Of these, only the infamous great white and the tiger have the rare biting run-ins with swimmers while the rest are largely harmless. Further, and more importantly, the S.B. Channel, with its nutrient-rich upwelling, bulging seal populations, and strategic location just below the bite of California (no pun intended), is, as Lowe puts it, "the nursery of the eastern Pacific. These sharks belong here. It is their habitat."
For people like Lowe and Lilley, the media's obsession with sharks-specifically shark attacks-and pop culture's general view of sharks as human-eating machines, is a grossly misinformed state of affairs. In a recent interview, conducted just as the Discovery Channel's annual Shark Week programming kicked off late last month, Lowe was in a particularly myth-busting mood. "How many summers of the shark are there going to be?" he asked in a sarcastic tone before adding, "No matter what anybody tells you, we don't know why sharks attack people. There just isn't any sound scientific evidence."
The age-old "sharks like to bite at dusk or dawn" myth is "a statistical artifact," as Lowe put it, born out of the fact that most ocean-goers-surfers and swimmers-use the sea when wind conditions are best or when they're schedule allows it (i.e., before or after work/school). Then there is the belief that sharks bite us because they are hungry. "If that were true," said Lowe, "then Waikiki Beach in Hawai'i would be the best place in the world for sharks to live because they could eat five or six people-fat people-every day, but when we dive around there we don't see any sharks." Further, citing a statistic that claims almost 90 percent of shark bites don't result in any flesh actually being removed, Lowe asks the rhetorical, "If you were really hungry would you turn down even a crappy meal?"
As for the long popular rationalization that an attack is simply a painful form of mistaken identity, Lowe again calls BS, explaining the highly refined nature of sharks' sense of smell, hearing, and electroreception. After talking with Lowe, it seems there are more questions surrounding sharks than actual answers as even simple behaviors-like sleeping patterns, migratory practices, and reproduction habits-remain mostly unknown, despite decades of research. What is known, however, is that sharks are by and large apex predators, meaning that without them swimming in the sea, the water's ecosystem as we know it would cease to exist.
Ironically, shark research is a grossly underfunded endeavor according to Lowe. In fact, if it weren't for the efforts of Monterey Bay's shark research program, "We would still very much be in the dark ages about sharks." Besides being difficult subjects to study, both Lowe and Lilley feel it is the media's love affair with shark attacks and the perpetuation of mistruths surrounding these rare incidents that hamstring fundraising efforts for both shark protection and research. After all, it is hard to get people to put money toward better understanding a species that some probably wish didn't exist in the first place.
Referencing the now world famous Save the Whales campaign of the 1970s that helped the similarly long-hated and -hunted behemoths to become media darlings, Lowe was only half joking when he summed up the many problems facing sharks today: "The bottom line is, sharks just need better PR agents."