News
Runner Killed by Alleged DUI Driver
Deceased Was Raising Money for Cancer Research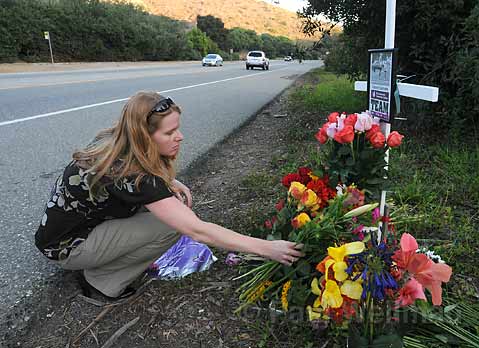 A66-year-old woman training for a run to raise money to support cancer research was killed when she was hit by a van driven by a 56-year-old man, whom police say was driving under the influence of alcohol and drugs on Las Positas Road the morning of Saturday, August 30.
Santa Barbara resident Carolyn Samuels was with a group of about 35 people at 7:35 a.m., running and walking northbound on Las Positas Road in the southbound bike lane. There are no sidewalks in that portion of the roadway, where the speed limit is 50 miles per hour. According to police, a white van driven southbound by Gregory Doan left its lane and hit Samuels, who was in the bike lane at the time, about 100 yards south of the Veronica Springs intersection. Many of the runners witnessed the event, according to police. The woman was taken to Santa Barbara Cottage Hospital, but eventually succumbed to her injuries. According to a report from police spokesperson Sgt. Lorenzo Duarte, the driver of the van appeared to be under the influence of both alcohol and drugs and was arrested on charges of felony driving under the influence of a controlled substance, driving while addicted to a drug, and murder.
Doan remains in County Jail with bail set at $1 million. According to Duarte, Doan had been arrested in the past on suspicion of driving under the influence, although Duarte didn't have the details available to him. The chief trial deputy at the District Attorney's office, Josh Lynn, said he wasn't going to comment on Doan's possible prior convictions, as he wasn't familiar with many of the details. A man who answered the phone at the records department of the Santa Barbara County Sheriff's Department said records of past bookings are sealed, and that, without a subpoena, he could only provide information on people currently incarcerated.
As of this article's deadline, no charges have been filed against Doan, as the District Attorney's office is still reviewing and "trying to shake out the details," said Lynn, who is overseeing the office's procedure. He said he expected charges to be filed by Wednesday afternoon's deadline to do so. Lynn didn't know if Doan had an attorney yet.
The group Samuels was running with was part of Team in Training, a Leukemia & Lymphoma Society endurance sports program-the largest of its kind anywhere in the world-in which participants run to raise funds that go toward helping find cures to leukemia, lymphoma, and myeloma. The group was training for an October women's marathon and half-marathon races in San Francisco.
Samuels is listed as a mentor on the Santa Barbara Team in Training Web site. One member of Team in Training, however, asked that a positive story be written about Samuels, describing her as "an incredible woman." Her friends and family said Samuels enjoyed traveling to foreign countries and even started a business with a friend, importing goods from South America. She also had recently run the Boston Marathon, and friends and family described running as an activity she loved.
Erin Pearson, the Santa Barbara campaign manager for Team in Training who was with Samuels in the ambulance to the hospital, said there weren't enough good things to say about Samuels. She raised more than $4,000 to fight leukemia and was involved in a lot of different groups. Samuels's daughter, Jane, said her mom was incredibly outgoing and made friends everywhere. She was slated to begin a stint with AmeriCorps in Santa Barbara this fall, and was really excited about it. She was "incredibly active as a mom," and was compassionate, regal, and a devoted grandmother.
A memorial service will be held at All Saints by the Sea on Saturday at 11 a.m.