News
Caught on the Web
Internet Used More and More Often in Criminal Investigations
MySpace.com took center stage a few weeks ago during the prosecution's examination of witnesses in the murder trial of 15-year-old Ricardo Juarez, who authorities say was an active participant in the Eastside gang and killed 15-year-old Luis Angel Linares in a gang brawl on March 14, 2007. MySpace, as most living in the digital age know by now, is one of a variety of social networking Web sites used by hundreds of millions of people around the world to keep connected with friends and relatives, share interests, and stay up-to-date on each others' lives.
But MySpace might have revealed a bit too much of what Juarez's life entailed as his attorneys attempt to disprove claims that he was an active Eastsider around the time the murder occurred. Photos culled from Jaurez's MySpace page show him flashing gang signs with his hands, wearing Eastside shirts, and hats that law enforcement claim are worn by gang bangers. Photos of Juarez flashing gang signs also came up on friends' pages.
There were also several bits of evidence beyond just photos on his page. In the "about me" and "interests" sections of his MySpace page, Juarez said he "don't watch TV, just gang bang," and his interests include "some gangsta ass shit" as well as music. In her cross-examination of Detective Mike Brown, who testified about the MySpace information, Deputy Public Defender Jennifer Archer attempted to point out to the jury that it is not illegal to make hand signals, have nicknames, wear baggy clothing, use MySpace, or take pride in one's neighborhood-all the things that the prosecution has been using to tie the defendant to a gang.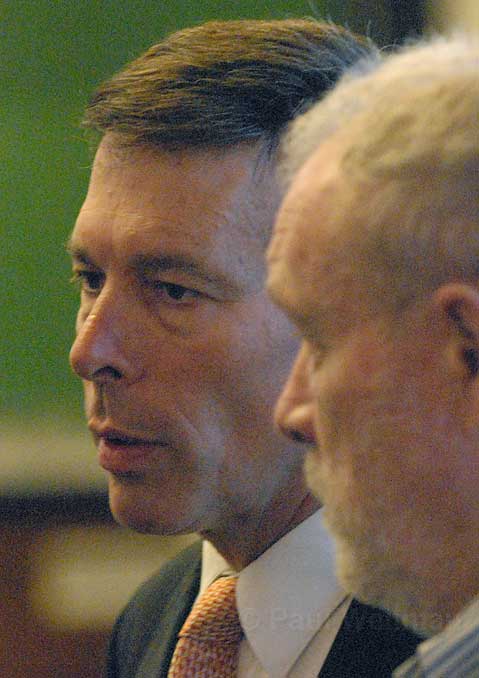 There have been three other prominent local cases-all involving young women in fatal drunk driving cases-where information on someone's MySpace page has come back to haunt them. In April 2007, Lara Buys was sentenced by Judge Clifford Anderson to two years in prison for driving under the influence and vehicular manslaughter. Her friend and passenger was killed when Buys lost control of the SUV she was driving. As prosecutor Darryl Perlin was preparing for the sentencing hearing, he heard from people in the Sacramento area – where Buys was then living – that she had been out partying and drinking. After hearing this, Perlin had an investigator look to see if Buys had a MySpace page. She did. And on her page was a photo of the then-22-year-old holding up a wine glass. In addition, comments on her page indicated she had been attending bars and parties where alcohol was present.
While normally such pictures wouldn't cause much stir, these were particularly "insensitive" and showed a lack of remorse on the defendant's part, Perlin said. "You have a sentence pending [in a drunk driving case] and you're out partying?" he asked. "You need to have some introspective view of how you lead your life and in particular how you portray it to the public." Buys was more than likely facing probation, but instead headed to state prison. "You have a whole generation of people who view MySpace and Facebook as something of no consequence that won't impact other parts of their life," Perlin said. "In the case of Lara Buys, there's no doubt she went to prison because of it."
Jessica Binkerd also didn't help her case with photos posted on her MySpace page. Binkerd, then 22, pled guilty to killing her passenger while driving drunk. On August 6, 2006, Binkerd, driving with her blood alcohol level in excess of 0.20, more than twice the legal limit, slammed her car into oncoming traffic on Highway 154. Largely as a result of photos posted to Binkerd's MySpace page after the incident that showed the defendant drinking and partying with friends, Judge Joseph Lodge sentenced the woman to five years and four months in prison. For a variety of reasons, the sentence was reduced by Judge Brian Hill to two years in state prison.
Another young woman, Heather Hulsey, had her bail raised in large part because of MySpace photos in circulation that showed her out drinking after she killed a person while driving drunk.
While Facebook officials never responded to emails seeking comment on the growing realm of fighting crime with social networking, a MySpace spokesperson said the site has a 24/7 law enforcement hotline where authorities can make emergency requests for information, and the company distributes a law enforcement guide to authorities. According to Sgt. Lorenzo Duarte of the Santa Barbara Police Department, which has a digital technology crimes investigation division, in order to obtain access or information from sites on the 'net beyond that which is open to the public, law enforcement need either to show a legal reason and obtain authority, or in other words, a search warrant or court order. While much of the information is out in the open for the world to see, authorities can seek a subpoena to open up a person's private messages on the Web site, or a private profile, for law enforcement to delve into. Last year, a Facebook conversation between convicted rapist Eric Frimpong and a fellow UCSB student who accused him of grabbing her rear end was used in court to provide color to the duo's subsequent relationship.
Law enforcement officers aren't the only ones using new technology – criminals also are using the Internet to pursue their wants. Last month federal agents arrested Santa Barbara resident Michael Patrick Mahoney before he boarded a flight to Thailand carrying children's stuffed animals, Disneyland shirts, and chocolates. He faces a charge of child sex tourism after an investigation showed Mahoney allegedly posted an ad on craigslist.org looking for a guide who would help him find children to have sex with in Thailand. According to authorities, an undercover agent posed as a travel guide offering to arrange meetings.
Senior Deputy District Attorney Joyce Dudley recalled an incident a few years ago where a UCSB student, 18-year-old Christian Covarrubias, allegedly went on Facebook to look at profiles. In one such profile the man apparently found a woman that he liked, and in the middle of the night, went to her Francisco Torres dorm room, got into bed with her, and fondled her breasts and genitals. The assailant, Dudley said, didn't know his victim, but saw her picture through another friend's profile, and got all of his victim's information via Facebook. The case was settled out of court and never went to trial.
It remains to be seen the effect the MySpace photos will have on the Santa Barbara jury that will decide Juarez's fate-a decision that won't come until the trial's conclusion next month-but people should be aware that what they put on their MySpace page is seen by the world, including authorities. And crime fighters will use that information to combat crime. "People don't appreciate the significance of needing to tell the world who they are," Perlin said.
Especially if they're doing something they shouldn't.