News
Growing Solutions
Aggies and Enviros Make Nice in Historic Alliance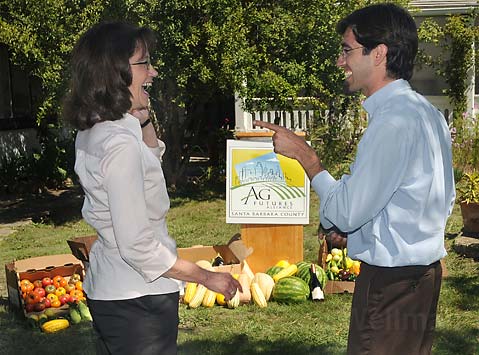 The battle lines are decades old, the rhetoric around them spoken on a nearly weekly basis at the Santa Barbara County Board of Supervisors – north versus south, progressives versus conservatives, agriculturists versus environmentalists, rural-dwellers versus urbanites. No matter what the specific debate is about, the discourse is often bitter, frequently heated, and almost always destructive to compromise. Simply put, when it comes to balancing Santa Barbara County's undeniably vital agricultural identity with environmental and social concerns, you can only count on one thing: conflict. That is, until now.
Gathered at the historic San Julian Ranch just south of Lompoc earlier this week, an unprecedented and highly unlikely union held their coming out party under bright blue skies on Monday afternoon. After 15 months of semi-secret meetings at the Alma Rosa Winery, a coalition of farmers, ranchers, environmentalists, and community activists officially announced the formation of Santa Barbara County's Ag Futures Alliance, an entity with a mission statement aimed specifically at keeping farmers in farming while also being eco-minded stewards of the land. "Farmers and environmentalists have spent a lot of time talking about each other and not much time talking to each other," explained Teri Bontrager, executive director of the Santa Barbara County Farm Bureau, arguably the most powerful ag-minded organization in the county. "That is exactly the sort of division we are trying to overcome : Continuing to argue won't get us anywhere."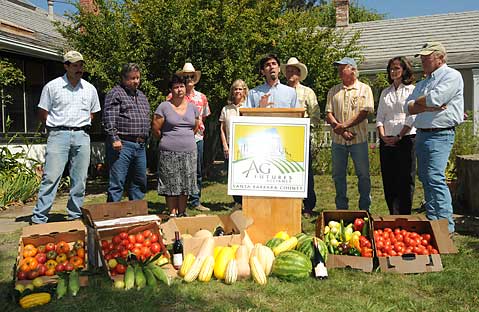 Though the concept of the alliance is nothing new-not only has Ventura County had one in place since 2000 but counties such as Yolo, Kern, and San Benito also have similar organizations-it has long been believed that such a group would never work here in Santa Barbara County, where the Santa Ynez Mountain range has long served as not only a geographic divide but also a social, political, and cultural barrier. However, early last summer, ironically just as the ag-versus-enviro rhetoric was disrupting the county's uniform rules update process-a group of residents from both sides of the mountains began meeting monthly at Alma Rosa, near Buellton, in hopes of finding a common ground despite years of mistrust.
With soaring fuel prices, a stalling economy, land-hungry developers circling, and the wildcard of weather, it's tough making a living from Santa Barbara County land. Add to that the projected consequences of climate change and you have a reality that requires adaptation by all parties involved if agriculture is going to remain environmentally and economically sustainable. As Eric Cardenas, Environmental Defense Center program director and founding alliance member, said, "These issues threaten to loom larger and of more significance than they ever have before. We simply cannot afford to operate in this county the way we have for the past 30 years."
To that end, in a rhetoric-busting union, Cardenas and Bontrager are joined in the alliance by, among others, Carlos Casteneda, head of farm worker organization Mission Labor; Deborah Brasket, executive director of Santa Barbara County Action Network; Kevin Merrill from the Central Coast Wine Growers Association; Larry Lahr from agriculture real estate firm Rincon Corp; lifelong Gaviota rancher Jim Poett, who is also the husband of Independent editor-in-chief Marianne Partridge; and Chris Thompson, the field manager for Givens Organic Farm.
Despite the kumbaya overtones of Monday's press conference, the newborn alliance is not without skeptics, as evidenced by Tuesday's county supervisors hearing. Merrill and Cardenas presented the board with copies of their constitution and announced their intentions to make headway on two long-standing hot potatoes in the local agriculture patch: farm worker housing and permanent ag land preservation measures. However, less than halfway through their presentation, 3rd District Supervisor Brooks Firestone, after explaining that farmers and ranchers don't have time for such collaboration and as such will ultimately be underrepresented in the alliance, interjected, "I am sure you mean well, but the inevitable end of this is going to be more of a intellectual exercise and less of a reality exercise : That's just the real world. The group will have the authority, it will have the title and it will have the prestige but it will not have the substance."
Merrill bristled at Firestone's forecast. "One of the problems with agriculture is that we don't take the time to tell people what's happening and it always comes back to get us : If agriculturists don't step up and tell their own story, who is going to do it for them?" In the end, a majority of the supes welcomed the group and even took their first public message to heart. At the request of the 1st District's county supervisor, Salud Carbajal, the board will have a fact-finding hearing in the coming months looking explicitly at issues and policies related to farm worker housing.