News
Our 2008 Endorsements
The Santa Barbara Independent Voters' Guide for the November Election
The voting season officially began this week when thousands of Santa Barbara voters began receiving their requested absentee ballots in the mail. This means that decisions will be made and ballots marked long before the polls open on November 4.
To help all voters better consider their decisions, we are offering the following endorsements. This online version contains the full endorsements, which were published in the printed edition in an abbreviated form.
No amount of hyperbole can do justice to the importance of this November's elections. From a national, state, county, and even international perspective, this one's for real.
Print out a Voter's Guide here (PDF).
United States
For President: Barack Obama
Senator Barack Obama has proven himself to be uncommonly suited to lead America through these dangerous times. Remarkably cool under fire, refreshingly articulate, and demonstratively intelligent, Obama has shown he has the necessary foresight, common sense, and charismatic leadership required for America's top job. His executive abilities are clear: just consider his breathtakingly well-executed campaign, which has repeatedly weathered blistering attacks and out-maneuvered more powerful opponents. His good judgment has been tested: From the beginning, he opposed entering the Iraq War and warned against diverting our military efforts away from Afghanistan. Two years ago, he began sounding the alarm about the sub-prime credit meltdown. Most recently, while his opponent, Senator John McCain, was rushing around threatening to fire people and otherwise behaving hysterically, Obama steadily, calmly put together sensible plans for repairing our economic fortunes, structuring a comprehensive medical insurance system, protecting Social Security, and rebuilding our military strength. None of this will be easy to achieve in the wake of the devastating past eight years. Our country is in for the long haul. But with Barack Obama as president we have an opportunity to regain our footing at home and abroad, to recapture our sense of national destiny, and to reclaim our fundamental principals of human dignity.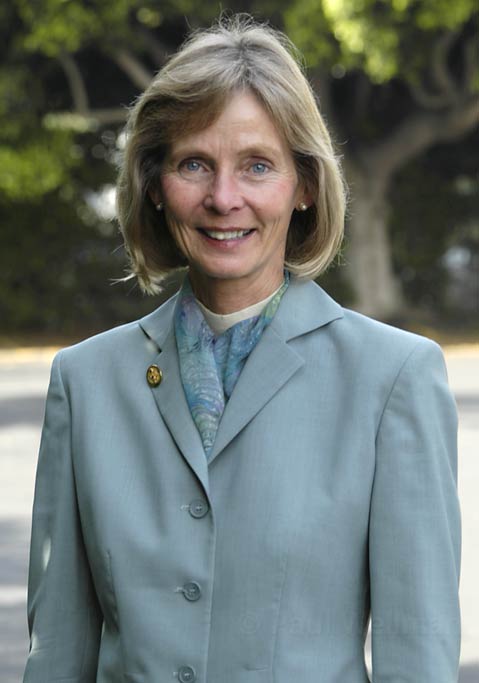 For 23rd Congressional District: Lois Capps
It's more than a little tempting to take Lois Capps for granted. But it would be a huge mistake. For 10 long years, she's represented Santa Barbara and San Luis Obispo in Congress-a Democrat trapped in a Republican world-consistently injecting her quiet, sane, and well-considered voice into the political screamfest of our nation's capitol. There, she's fought for environmental protection against offshore oil, to increase educational opportunities, and to secure health care for the most vulnerable. When her fellow Democrats caved and gave President Bush the authority to wage war against Iraq, Capps stood firm and cast one of the few dissenting votes. Through it all, she's managed to deliver constituent services, bring home the bacon, and remain accessible. During most of her tenure, Capps has labored as a member of the minority party. But with a Democrat now poised to win the White House-and the House controlled by Democrats-Capps and her 10 years of seniority are poised to deliver significant dividends for the district.
For 24th Congressional District: Marta Jorgensen
We don't pretend to know anything about Jorgensen, the Democrat running to represent much of Santa Barbara's non-coastal interior in Congress, other than she's not Elton Gallegly, the current office holder. During his many years in office, Gallegly has amassed one of the most consistently conservative, hawkish, and cold-hearted voting records in or out of Washington, D.C. He is also one of the least accessible both to the press and to his constituents. Given that Gallegly had to be all but dragged out of retirement the last time he ran, one wonders why he's running at all.
California Legislature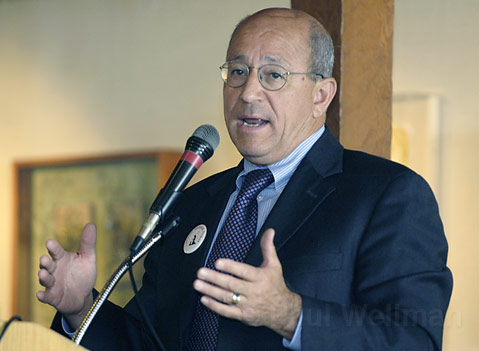 For 35th Assembly District: Pedro Nava
When natural disaster strikes, Assemblymember Pedro Nava is usually not far behind, making sure that the emergency appropriations are signed and the checks are delivered. While some local politicos privately chafe at Nava's penchant for publicity, the fact remains, he makes a difference. Such was definitely the case this year with efforts to rein in the petro-chemical outrages of Greka Energy, by far the dirtiest and most shameless oil operation within county lines. While many were involved in that campaign, Nava's contributions-both behind the scenes and in front of the cameras-kept the heat on when it was needed most. And after three tries, he finally got a bill passed limiting the use of lead ammunition in California condor country to protect these near-extinct pre-historic birds from the ravages of lead poisoning.
For 19th Senate District: Hannah-Beth Jackson
While Jackson frequently finds herself tagged as a speechifying firebrand, the fact is this South Coast Democrat is secretly much more pragmatic than many suspect. During her three-term stint in the Assembly, Jackson managed to finesse a deal both with Ventura environmentalists and the Ventura Farm Bureau-typically regarded as warring factions-to pass a bill limiting the pesticide drift from freshly sprayed fields to nearby schools and hospitals. With three terms under her belt-and a sharp focus on education, the environment, and the economy-Jackson will start the job fully plugged in. With new leadership poised to assume the Senate's helm, Jackson will also start the job with good friends in high places, all of which bodes extremely well for the district.
California Propositions
Prop. 1A: YES
Safe, Reliable High Speed Rail Passenger Train Bond Act: At this time, $9.95 billion might sound like a lot to spend on a high-speed rail system connecting Los Angeles and San Francisco, but a recent study indicates such a train would save $3 billion almost immediately by liberating millions of congestion-clogged motorists from the captivity of job-sucking gridlock. To invest in urgently needed transit improvements is hardly futuristic or utopian-it's common sense. In addition, it will stimulate the state's economy.
Prop. 2: YES
Standards for Confining Farm Animals Initiative: Cruelty begins in the kitchen and so does kindness. This measure would set new standards for the humane treatment of farm animals, requiring farmers to provide more space for pigs, veal cows, and egg-laying hens by the year 2015. You don't have to be a vegetarian to be appalled by some of the practices of industrialized agriculture. Beyond the obvious humanitarian concerns, this measure would indirectly mitigate some of the significant violence inflicted on California's waterways, ground water basins, and air quality by factory farming. Bottom line: Sick meat is not healthy for humans to eat, as the many recent meat recalls clearly attest.
Prop. 3: YES
Children's Hospital Bond Act: As California's population continues to explode, so too does the number of children and infants afflicted with serious and life-threatening diseases. The existing medical infrastructure to deal with this pediatric caseload is woefully inadequate, and this $980 million bond measure will go a long way toward breaching that gap. The funds will be used to expand, remodel, and refurbish existing hospitals to expand capacity and to purchase state-of-the-art diagnostic equipment to improve the odds of those struggling to just make it to adolescence.
Prop. 4: NO
Waiting Period and Parental Notification Before Termination of Minor's Pregnancy: The handiwork of dedicated anti-abortion rights advocates, this measure purports to make pregnant teens safer by amending the California Constitution to require doctors to notify the parents of all teens seeking abortions 48 hours prior to the performance of the procedure. While we profoundly and viscerally sympathize with the impulse of parents to know what's going on with their children, we don't believe such communication can or should be legislated. Nor do we believe the State Constitution should be changed to mandate it. The scary fact is that in a small but significant number of instances, it is the parents themselves that the pregnant teens need to be most protected from. And it is because of them that this measure should be rejected out of hand.
Prop. 5: YES
Nonviolent Drug Offenses. Sentencing Parole and Rehabilitation Initiative: Prop. 5 commits the state to spending an additional $460 million a year on addiction recovery and rehabilitation programs for those getting out of the state's criminally overcrowded system of 33 prisons. As such, it constitutes a very big step in the right direction. Long ago, the state's Department of Corrections all but abdicated outright on the charge of rehabilitation, and this is an attempt to put that right. Not only is it the right thing to do, but state fiscal analysts estimate it will save $1 billion a year by diverting nonviolent offenders out of prison, at a cost of $46,000 per inmate year, and into treatment programs. All told, the state estimates it could achieve a net savings of $2.5 billion from all the new lock-down facilities it won't have to build.
Prop. 6: NO
Police and Law Enforcement Funding. Criminal Penalties and Laws Initiative: At first blush, this measure would require the state to spend nearly a billion dollars a year to fund cash-strapped law enforcement agencies throughout California. That's nearly $400 million more than is currently spent. But the measure fails to provide a source for this new money, meaning that law enforcement can be augmented only by gutting existing state programs. That's a serious problem. More serious by far, however, are the 33 laws increasing the lengths of certain prison sentences or the admissibility of hearsay evidence in court hearings, always controversial in the extreme and for good reason. With a prison system bursting at the seams, does it really make sense to re-categorize simple meth possession as a felony? Currently, the same crime can be prosecuted as either felony or misdemeanor. Little wonder state fiscal analysts worry that Prop. 6 would cost the taxpayers $500 million in one-time prison construction costs and another $500 million a year in incarceration costs.
Prop 7: YES
Renewable Energy Generation Initiative: Hatched and pushed by Santa Barbara resident Peter Sperling, Prop. 7 would require that all utility companies-private and public-produce fully 50 percent of their power from renewable energy sources by the year 2025. Longer with the carrot than with the stick, Prop. 7 provides several significant new incentives designed to get California's power generators to take renewable energy more seriously than they currently do. Until we take a few bold steps, we can't expect to achieve energy independence of any kind. The utility companies are resisting with a $20 million ad campaign and have enlisted several environmental organizations to their cause. But Prop 7. has been endorsed by Santa Barbara's solar energy gurus professors Walter Kohn and Alan Heeger as well as the Community Environmental Council. Prop. 7 isn't perfect, but we're confident it will be good for the environment, create jobs, and stimulate the state's troubled economy.
Prop. 8: NO
Eliminates Right of Same Sex Couples to Marry: We are still awaiting the first documented instance of a single heterosexual marriage imperiled because the California Supreme Court afforded gays and lesbians the same constitutional rights to love and to marry as everyone else. Barring the provision of such evidence, Prop. 8 should be treated as a calculated misadventure in bigotry, fear, and hate-mongering concocted to bring conservatives to the polls. A no vote is an affirmation of love, liberty, and equality, all of which are struggling to secure a toehold in our current political reality.
Prop. 9: NO
Criminal Justice System. Victims' Rights: The most noteworthy aspect of this ill-considered, get-tough-on-crime measure is that its author, Broadcom founder Henry Nicholas, was just indicted for cocaine trafficking and wholesale stock fraud. Nicholas's measure would reduce the number of parole hearings California inmates can receive in hopes of keeping prisoners behind bars for a longer period of time. In addition, this measure stiffens the notification requirement for crime victims that their assailant is up for parole. It also would require county jail administrators to hold prisoners for their full term and prohibit any possibility of early release. Given that the state's prison population is at 171,000 – for a system with a carrying capacity of 100,000 – this is the wrong reform at the wrong time. This would exacerbate the problem of prison overcrowding for both the state and for California's 58 counties. To the extent the parole system needs reform, such a fix will require more thought and consideration than this. Prop. 9 would cost the state "hundreds of millions of dollars" to implement, say analysts. Given that the state is looking for a federal bailout, it's not clear where that money would come from.
Prop. 10: NO
Alternative Fuel Vehicles and Renewable Technology: Texas oil tycoon T. Boone Pickens has seen the future and it is green. But he's hoping that California voters will approve $5 billion in green-in the form of a general obligation bond-to subsidize the purchase and manufacture of alternative fuel vehicles. Maybe if the state weren't in such desperate fiscal shape, we'd be more receptive. But this seems designed to kick-start too narrow a segment of the green energy industry. Besides, Pickens has enough money to achieve the same ends through the private sector.
Prop. 11: YES
Redistricting: No single thing can fix what ails Sacramento, but Prop. 11 will go a long way toward helping. This measure will remove the power to redraw the political district maps for the Assembly, the Senate, and the Boards of Equalization-as part of the redistricting that takes place every 10 years-and give it to a special 14-member commission of citizen appointees made up of five Democrats, five Republicans, and four others. The state's most recent redistricting effort was gleefully corrupt, as leaders of both major parties conspired to redraw the district boundaries with the exclusive objective being incumbent protection. It worked. In the interim, not one Assembly, Senate, or Congressional seat throughout California has experienced a change of party representation. At the risk of sounding hysterical, elected officials in California are more beholden to their party bosses than to the voters. California, now paralyzed by gridlock, is all but ungovernable. Santa Barbara got especially screwed, having our traditional Senate District so drastically redrawn that we effectively have no State Senator in Sacramento. Technically, we find ourselves represented by Republican Tom McClintock, an outspoken arch-conservative whose core political beliefs are diametrically opposed to Santa Barbara's traditional values. Naturally, leaders of the Democratic Party-who control both houses in Sacramento-oppose Prop. 11, as have their allies in the union movement. For all you yellow-dog Democrats out there, resist their entreaties to stick with the status quo. It ain't working. Vote yes on Prop. 11.
Prop. 12: YES
Veterans' Bond Act of 2008: This would raise $900 million in bonds to help military veterans purchase homes, farms, and mobile homes. Given our troubled economic times, we'd normally urge caution. But veterans have more than earned special consideration by placing themselves in harm's way. More than altruism is at play. Past efforts to boost the veterans' buying power in the real estate market have proven a major boon for the economy, both nationally and throughout California. By passing Prop. 12, we can help ourselves by helping those who serve.
Santa Barbara County
For 3rd District Supervisor: Doreen Farr
Santa Barbara's 3rd Supervisorial District-with all its many contradictory personality disorders-is the political equivalent of nitroglycerine. Given that it happens to be home to some of the most spectacularly unique ecosystems on the planet, to some of the most densely packed urban populations in the county, and to the largest farms and ranches on the South Coast, it must be handled with great care. Only Doreen Farr, a soft-spoken planning wonk and community activist with family roots in agriculture, has the breadth of life perspective, knowledge, and actual political experience to be entrusted with so tricky a balancing act.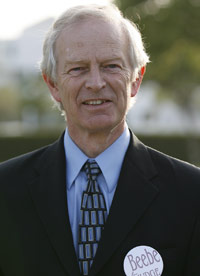 For Judge: Jed Beebe
With two appealing candidates vying for the seat, this one's close. Prosecuting attorney John MacKinnon really impressed us with his passion and commitment for keeping addicts in treatment rather than behind bars. But we ultimately concluded that the breadth and depth of Jed Beebe's considerable legal experience-coupled with his low-key, even-keel demeanor-made him the stronger candidate, While McKinnon has spent the past 13 years as a prosecuting attorney, Beebe has spent the past 33 as a lawyer, the last 18 working for the North County judges as the court researcher, which entails a wide array of legal legwork under tight time constraints to ensure the judges' rulings are firmly rooted in the law. In addition, Beebe has already served as judge pro-tem in small claims, juvenile, and traffic courts.
Measure A2008: YES
If Measure A fails, we'd all better learn to fly. Measure A extends an existing half-cent sales tax surcharge for another 30 years and the billion dollars raised will be spent on a wide variety of urgently needed road repairs, bridge replacements, alternative transit programs, and regional projects, such as the Highway 101 freeway widening between Milpas Street and the Ventura County line. With California's finances now so precarious that Governor Arnold Schwarzenegger finds himself forced to ask the federal government for a $7 billion loan, the clear message is that heaven helps those who help themselves. If Santa Barbarans want these projects-and we surely need them-we'd better be willing to pay for them ourselves. If Measure A-the child of genuinely painful political compromise-passes, the county could stand to receive $520 million more in matching state and federal grants. But it needs a two-thirds majority to pass. If it doesn't, learn to love where you are. Because you won't be going anywhere soon.
City of Santa Barbara
Measure G: YES:
City of Santa Barbara's Utility User Tax: This tax, which has been on the books for roughly 40 years, raises about $4 million a year for the City of Santa Barbara, by imposing a 6 percent levy on city residents' telephone bills. Measure G is on the ballot as a necessary antidote to pending litigation that could invalidate the city's telephone tax. As a gimmicky sweetener for voters, City Hall is offering to drop the tax from 6 percent to 5.75 percent. But the real sweetener should be what happens if the money goes away. Two million dollars a year of phone tax money is now spent on road repairs. Although the rest goes into the general fund, most is spent on police and fire protection. Throughout the county, only the City of Santa Barbara has such a tax. It's also one of the few taxes that state bean counters haven't figured out how to snag. As such, it provides the city an exceptionally stable and enviable revenue source, and given the fiscal madness surrounding us, we'd be fools to give it away.
Santa Barbara School District
Measures H and I: YES
Too often, the Russian roulette system adopted by Californians to finance their K-12 public schools yields drastic funding shortages and, almost always, funding unpredictability. In the past two years alone, the Santa Barbara School District has confronted multi-million dollar shortfalls, inflicting cuts to all but the most basic programs. Seeking some modicum of stability, school administrators are asking voters-through Measure H and I-to approve property tax increases of $27 and $23 respectively for the high school and elementary districts. Combined, these new taxes would generate $1.6 million a year to help undo the damage done in prior years to math, science, computer arts, music, and theater programs. Given the high price inflicted by educational neglect, this is a bargain at twice the price.
For School Board: Susan Christol Deacon, Jacqueline Inda, Annette Cordero, and Charlotte Ware
With a school system plagued by chronic fiscal instability, a race-based achievement gap, and a steady rise in gang violence, these four candidates (with only three seats available) bring the best combination of background, talent, and temperament to the stiff challenges confronting the South Coast's largest educational system. As a parent, Deacon helped spearhead a $2 million fundraising effort to buy and build Dos Pueblos High School's new swimming pool. Inda helped start Esperanza, a new parents group dedicated to combating gang violence, and she has long worked to create meaningful alternatives to the gang lifestyle. And Cordero, with one term under her belt, adds much needed continuity to a school board and school system always in a state of perpetual transition. Meanwhile, Ware, with 15 straight years of on-campus volunteer work in the district including the past two at the helm of the Dos Pueblos' Parent-Teacher-Student Association, has a much-needed in-the-trenches knowledge of the way the district operates.
Goleta
For City Council: Margaret Connell and Ed Easton
If the citizens of Goleta are suffering a collective case of whiplash these days, it's been caused by all the political backlash they've endured in recent years. First there was the just-say-no NIMBYism of the original council. Then, last election, the Bacara and various business interests nakedly bought themselves a new council majority. While such herky-jerky makes for good headlines, it makes for bad politics and even worse government. We're confident that Margaret Connell-a longtime resident and former councilmember (and, full disclosure, former Independent columnist) -and planner Ed Easton bring to the fore the requisite temperament, respect, and skill sets to turn the volume down. Goletans are facing some real tough choices-they'd be helped with the addition of these two, who know that listening is often more important than talking.
For Goleta Water Board: Lauren Hanson and Bill Rosen
Goleta's land use wars over growth and development are now threatening to engulf the proceedings of the Goleta Water Board, which in recent years have grown far more acrimonious, contentious, and just plain nasty. The underlying issue, of course, is just how much water the district actually has, how much it can sell-in the form new meters-and whether it's giving away too much to developers. Lauren Hanson-a relative newcomer to Goleta community involvement-and Bill Rosen, a transplanted attorney from upstate New York, are running to shed more light than heat on these difficult and polarizing questions. We're confident that they will go the extra mile in terms of increased accountability, transparency, and professionalism. If nothing else, they should eliminate some of the personal antagonism now running rampant at Water Board meetings.
Carpinteria
For City Council: Chuck McQuary and Kathleen Reddington
The big boogeyman looming nine stories and 200 feet over Carpinteria these days is Venoco pil's proposed Paredon project, which, if built, would industrialize one of Southern California's last remaining genuine beach towns. While none of the candidates can say definitely where they stand on Paredon-without fear of having to recuse themselves if and when it comes to an actual vote-we're confident that Chuck McQuary and Kathleen Reddington will be most vigilant and cautious in the face of Venoco's big-money campaign and rose-colored claims. McQuary is a true gem, a moderate Republican with gobs of experience while on the city's Planning Commission and a track record of getting things done as a transit consultant and an employee of the Metropolitan Transit District. Given Carpinteria's hellacious traffic congestion, McQuary's transit expertise will be a true plus. Reddington brings with her a fresh gust of community activism, having moved from Los Angeles 10 years ago and remaining intoxicated by what makes Carpinteria special. While we disagree too often with Councilmember Joe Armendariz to endorse him, he has brought a degree of intelligence, civility, good faith, and common sense to the council proceedings that surprised us given his established propensity for political pugnacity.
Buellton
Urban Growth Initiatives: Measure E: YES; Measure F: NO
Can Buellton expand to the tune of 2,000 additional acres and 30,000 extra people-as has been suggested-and still maintain its enviable small town charm and character? Can it do so without cannibalizing valuable agriculture lands nearby? We think the answer to both these questions is clearly "no," and strongly support Measure E, which seeks to keep the urban sprawl genie corked firmly in the bottle. (And don't be fooled by Measure F, a Trojan horse concocted by the real estate interests to compete with Measure E.)