Food & Drink
opal restaurant and bar
Review of This Consistently Comfortable, Creatively Innovative Restaurant near the Arlington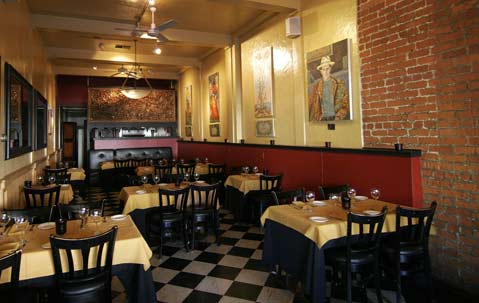 Where: 1325 State St., 966-9676; opalrestaurantandbar.com
What: Comfortable and innovative at the same time, opal succeeds with consistency, charm, and warmth.
How much: Gourmet pizzas $12.95-$14.95, dinner entrees $13.95-$24.95, lunch sandwiches $8.95
The dish: Formerly known as Brigitte's, opal restaurant and bar exudes casual sophistication in a centrally located space next door to the historic Arlington Theatre. Twinkling white lights on the black awnings frame a bustling and warmly inviting dining room. The menu's eclectic cuisine comes from the culinary creativity made possible by the contemporary fusion of cultures. Owners Richard Yates and Tina Takaya took over in 2000 and aim to provide a venue where regulars can enjoy their favorite dishes prepared the same way every time while setting the bar high for friendly and accessible service. Enjoy gourmet pizzas from the wood-burning oven, a delicious vegetable Napoleon stacked high with freshly grilled veggies and polenta, or an array of fish and meat dishes each with their own colorful twists and flairs. Lemon Grass Crusted Salmon and a Chile Crusted Filet Mignon are favorites, while nightly specials are always available to mix things up. A full bar serves specialty martinis and the Wine Spectator award-winning wine list has 40 wines by the glass to pair with each course.