News
Another Cold Spring Bridge Suicide
56-Year-Old Man from Santa Barbara Jumps on November 6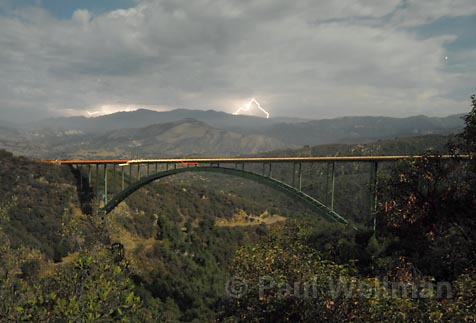 A 56-year-old man committed suicide by jumping from the Cold Spring Bridge Thursday morning, the fourth person in 2008 to jump from the landmark structure.
The Sheriff's Department hasn't released the name of the victim, who parked his vehicle nearby and then jumped just before 8:30 a.m. this morning. With this suicide, 2008 is tied for the highest number of suicide fatalities since the bridge was built in 1963. Since then, 46 people have jumped off the bridge, making it the spot with the highest number of fatalities in the Caltrans district.
UPDATE: The victim's name is Gregory Allen Pitts.
"We extend our sympathy to the family of the victim," Sheriff Bill Brown said in a statement. "This latest incident underscores once again the need for a barrier on Cold Spring Bridge to safeguard the lives of citizens and first responders alike."
Brown is one of several community leaders who are calling for the installation of a barrier on the bridge by Caltrans. The move has caused significant controversy and public discussion. In mid-October, the Santa Barbara County Association of Governments voted unanimously to support the planned barrier.
Leading the barrier charge is the Glendon Association. The association's education and research director Dr. Lisa Firestone said on Thursday that the bridge's current condition "constitutes a safety hazard for our local law enforcement and safety personnel who patrol the area." Forcing a delay in being able to act on suicidal thoughts gives time for the person to rethink his or her actions, or for others to intervene. "Suicidal individuals are ambivalent. Part of them wants to die and part of them wants to live," Firestone explained in a press release. "When you put time between a suicidal person and their suicide attempt, they can likely stay alive. The temporary nature of suicidal crisis dictates that, given a delay, a life can be spared."
She continued, "Building the barriers on the Cold Spring Arch Bridge is a safety project that will reduce deaths at the Cold Spring Bridge, which is currently the most lethal spot of road in five counties. There is no singular safety project that will save more lives in our community."