Opinion
Vincent Vito Falcone 1943-2008
Democratic Party Activist
"Himself" wwas atterm of endearment that Iya Falcone often used to refer to her love, her husband Vince. It was a fitting term for the way Vince lived his life because it conveyed a certain royalty that he constantly exuded-Prince of Sicily that he was, or at least fancied himself to be.
But "Himself" was a fitting term of endearment for Vince in another, more important way, because more than perhaps anyone I have known, Vince was just that-he was himself.
It is often said that nobody is perfect, a phrase typically used to excuse mistakes or mitigate regrets. In reality, though, it is our imperfections that make us perfectly human. It is what we do with those imperfections, how we make use of and celebrate them in ourselves and others, which in many ways defines who we are.
It was in this way that Vince Falcone was a perfect man.
Describing Vince as a "perfect man," I imagine him instantly conjuring numerous one-liners, either making fun of me or highlighting his own abilities in often unmentionable areas. He would have kept those words, "perfect man," in the back of his mind to pull out, perhaps years later, to rub in my face when it needed rubbing.
Yes, Vince was a perfect man. He was perfectly annoying, putting me in my place but only when I deserved it. He was perfectly insightful, helping me to recognize my own youthful weaknesses of inexperience and naivete. He was perfectly forgiving, suggesting I look past the betrayal of others who had, in fact, betrayed him as well. He was perfectly sweet, tearing up over a lost dog, or when talking about his one true love, Iya.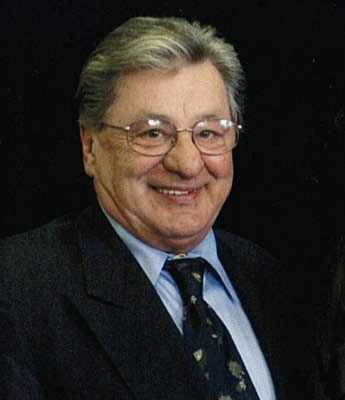 Vince had worked in the casino industry, and real estate, and he was a self-trained graphic design and data management guru. He and I were business partners of sorts, having worked together on more than a dozen political campaigns. I recall arriving at the Falcone home many an early morning to work on our latest project. Vince would appear, big smile and coffee cup in hand, an oversized, tattered, awkwardly fitting robe dangling from his body. Clearly that robe was among the most comfortable things in the world for Vince, but it did not make me feel comfortable at all.
Yes, he was in all his glory, Himself.
On those cool mornings that so characterize Santa Barbara's Mesa, Vince would pour me a cup and fill me in on the lives of his kids and grandkids whose images covered the refrigerator door. I knew his daughter Niki well, but had never met his sons John and Tony. I was amused at how Vince would talk about them as if I knew them as well as he did. Now with a daughter of my own, I realize that Vince loved them all so much that he assumed the whole world would know instantly how amazing they are, and were to him.
Always celebrating his Italian heritage, Vince was a leader and officer in the local Italian Boot Club and UNICO. His storytelling prowess was second to none, and he often regaled those around him with tales of his boyhood in Chicago, his days as a casino bartender in the 1980s heyday of Lake Tahoe, Nevada. His typical greeting for those he cared for most was an all-encompassing embrace and a kiss on each cheek. Friends could always count on classic Italian music bringing sentimental evenings at the Falcone residence to a close. When asked why he served, for many years, on the board and as vice chair of the Hispanic Chamber of Commerce even though he was not Hispanic, Vince's response was, "What do you mean? I'm Latin."
A proud American, Vince's activism in the Democratic Party had roots in his commitment to the equality and importance of all people, regardless of their income, gender, the color of their skin, or whom they happened to love. He was a vigorous and strident opponent of those who would challenge these core values. But Vince also was refreshingly uncomfortable with the oft-employed, but lazy and intellectually bankrupt, approach of using fear and divisiveness as a means to achieve a political position.
Through it all, though, Vince's defining characteristic was his loyalty. If you were worthy of trust, you could trust in Vince, and there simply is nothing more important than that.
The thousands of us who knew and loved you, Vince, thank you so much for the way you lived your life, and the commitment you always had to being yourself.