Living
UCSB Women's Soccer Scores Big Breakthrough
Female Footballers Win Berth in NCAA Tournament
Two decades before men's soccer became a marquee sport at UCSB, the Gaucho women's team was a national noisemaker. With such players as Carin Jennings, Monica Hall, Karen Nance, and Laurie Hill, UCSB was a formidable West Coast challenger to the North Carolina dynasty. Jennings, who scored 102 goals in her Gaucho career, was named the outstanding player of the first Women's World Cup.
The Gauchos excelled despite a meager budget. Tad Bobak, their coach from 1987 to 1994, could not afford to rent in Santa Barbara because he kept a home in Orange County, where he coached club soccer. During the college season, Bobak slept in his VW or in his office and showered in the locker room. He took UCSB into the NCAA playoffs four times, three of them when there were just 12 berths available.
It was only a matter of time before the big-time football schools started pumping money into women's sports programs, and the Gauchos could not keep up. Despite the expansion of the women's soccer playoffs to 64 teams, UCSB's 1991 team was the last to receive an NCAA bid-until this week.
The Gauchos won the Big West Conference tournament championship by defeating Cal Poly and Long Beach State in pressure-packed penalty-kick shootouts, after 220 minutes of soccer failed to resolve a pair of 1-1 ties.
"I've aged a couple years in the last week," said Paul Stumpf, who's in his 10th year as head coach of the Gaucho women.
The NCAA has sent UCSB (12-6-3) to play top-seeded Stanford (18-1-1) in the opening round of the tournament at approximately 7 p.m., Friday, November 14.
The Gauchos have the confidence of youth on their side. They showed it in the conference tournament, displaying absolute nerves of steel when they stepped up to take their penalty kicks. Last Thursday at Harder Stadium, UCSB, shooting last, matched Cal Poly goal-for-goal through four tense rounds. The Mustangs missed their fifth attempt wide of the goal, and UCSB junior Sarah Stoltz stuck the deciding ball into the corner of the net.
"I'm not good at this," Stoltz said when she was besieged for a post-game interview. She had scored only one goal in her college career. But in practice the week before the match, she displayed a sure touch on the ball. "We had the Cal Poly goalie scouted, and she just reacts to the kick [rather than guessing which side of the goal to cover]," Stumpf said. "We found the kids who could pass the ball firmly into the corner and put them out there."
The shootout at Long Beach State last Sunday was a roller-coaster ride. Both teams made four of their first five shots, so it went into the do-or-die stage. Long Beach rejoiced prematurely when the Gauchos' seventh attempt missed. The 49ers, shooting last, missed their chance to win. UCSB's first-year player Alissa Sanchez then buried her shot, and Long Beach's attempt to stay alive sailed wide.
Rushing the field to celebrate with the soccer team were dozens of UCSB track and field athletes who filled a rooter bus to Long Beach. "I've always dreamed that we could be a better family and support each other," said Pete Dolan, longtime coach of the Gaucho runners. Genelle Ives, the leading scorer for Stumpf's team, is also a hurdler in track.
Other soccer standouts include sophomores Jacqui Simon and Kailyn Kugler and spunky senior Sami Svrcek, a 5ʹ2Ê° midfielder. Ali Cutler, a freshman, was UCSB's goalie in the tournament. "She doesn't seem fazed at all," Stumpf said.
The Gaucho coach had 99 wins to his credit at the end of the regular season, and he's still waiting for No. 100 because the shootout games go down as ties in the record book. He'll take another tie Friday if it means the Gauchos get to go toe-to-toe against Stanford in a shootout.
TOUCHDOWNS GALORE: There was an entertaining 60-minute shootout Saturday night at La Playa Stadium, where SBCC's football team won its fifth consecutive game, outlasting L.A. Valley by a mind-boggling 55-52 score.
After Jeremy Ybarra's field goal put SBCC ahead 48-38 with less than three minutes remaining, running back Trayone Harris preserved the lead. He recovered an onside kick after Valley made it 48-45, and he sprinted 38 yards for his third TD and a 55-45 lead. The quick-striking visitors scored again with 21 seconds remaining, but Harris secured another onside kick for the sweet victory.
"Unbelievable," said Coach Craig Moropoulos, whose Vaqs were 0-4 the first month of the season. "We never gave up." They travel to East L.A. on Saturday evening for their regular-season finale, with a possible community college bowl berth looming.
CHARGER CHAMPS: Dos Pueblos High has a big and strong girls volleyball team, and the Chargers also showed stamina last week when they prevailed in a five-game match (16-25, 25-17, 27-29, 25-21, 15-12) over Santa Barbara for the Channel League championship. DP, led by junior twins Carly and Sam Wopat, is the top-seeded team in the CIF Division 1A playoffs, and Santa Barbara's Dons are seeded second. The playoffs continue tonight (Thu., Nov. 13) and Saturday. Check the sports schedule at independent.com /sports.
WESTMONT ADVANCES: Undefeated in its last six games, the Westmont College men's soccer team upset Concordia 1-0 in the Golden State Athletic Conference semifinals last weekend and will face Azusa Pacific, the defending NAIA champion, for the title Saturday. Kickoff in Azusa is 2 p.m.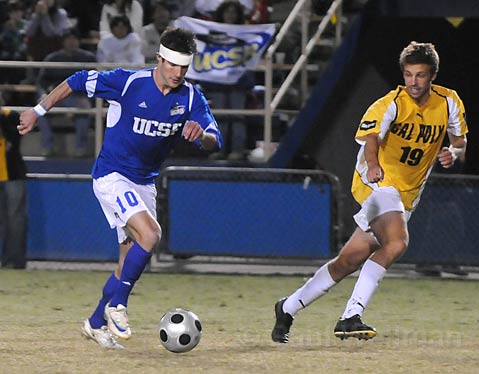 HOME FIELD DISADVANTAGE: The conventional wisdom is that UCSB's large, vocal crowds would benefit the men's soccer team. But the Gauchos have gone just 4-3-2 at Harder Stadium (prior to Wednesday night's Big West tournament semifinal against Cal Poly). Consider these outcomes against their primary opponents in the conference:
UC Irvine-Gauchos won on the road, lost at home.
Cal Poly-Won on the road, tied at home.
UC Davis-Tied on the road, lost at home.
Cal State Northridge-Won on the road, tied at home.
Perhaps the visiting teams, accustomed to moderate attendance at their own facilities, get really pumped up when they see the throngs at UCSB. The Gauchos, national champions in 2006, hope to make their seventh straight appearance in the NCAA tournament. The men's selection show will take place Monday (Nov. 17) at 2:30 p.m.
HOME POOL ADVANTAGE: The Gaucho water polo team has capitalized on a raucous atmosphere at Campus Pool by going 6-0 in home games. Last weekend, UCSB upset No. 2-ranked Stanford 5-4. The No. 7-ranked Gauchos wrap up their regular season with two more home contests, Saturday against No. 3 UCLA and Sunday against No. 5 Pepperdine. Both games start at noon.