News
Beware of Terrible Toys
Why You Need to Be Careful of What You Buy Kids This Holiday Shopping Season
Whether you're in the mood or need another few months, the holiday shopping season officially launched today. For many, that means heading to the toy store for something that will make a child's face light up during Hanukkah or on Christmas morning. But buying toys isn't so straightforward anymore. Lead paint was found on Thomas the Tank Engine cars last year, for instance, and hundreds of thousands of Mattel toys had to be recalled.
In a press conference Tuesday, November 25, at Kids World in Santa Barbara, CalPIRG spokesperson Jennifer Kim, Congressmember Lois Capps, and County Public Health Department medical director Peter Hasler urged consumers to use the utmost caution when buying toys this year because that cute little key chain could be 50 percent lead. According to CalPIRG, 30 million toys and 15 million children's products were pulled from stores, warehouses, and homes in 2007 – most of those were made in China. (The public interest group's annual report on dangerous toys "Trouble in Toy Land," as well as tips on toy safety, is available at toysafety.org.)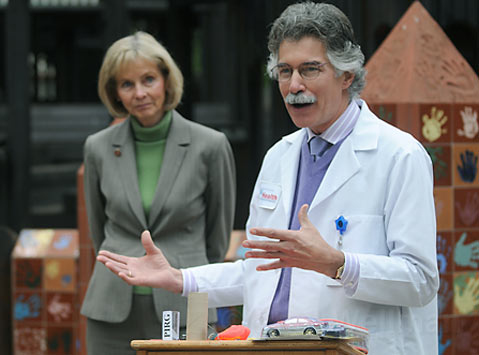 But those recalls weren't enough, because the Consumer Product Safety Commission (CPSC) said 80,000 children were seen in U.S. emergency rooms for toy-related injuries in 2007, and 18 kids died from toy injuries. And a two-year-old Santa Maria boy was hospitalized this year when a routine lead screening showed he had a lead blood level of 70, when zero is normal and 10 is considered dangerous. Hasler said because there was no lead paint in his house or in household cookware, more than likely it was a toy that poisoned him.
Standing at the entrance to the Kids World playground, Kim held up a small plastic fish bath toy, 40 percent of which is made of a plastic known as Phthalate DINP, an endocrine disruptor. Kim then displayed the cardboard middle of a roll of toilet paper which can be used as a simple test. If a toy or a toy part fits through the roll, it can choke a kid under three.
"Parents and grandparents should be able to have confidence when they go to the toy store that what they buy is going to be safe," Capps said. But the way things stand this shopping season, they don't and shouldn't have that confidence. If anything, they should be extremely skeptical.
In particular, according to Hasler, stay away from inexpensive children's jewelry, as it's often made of the cheapest form of metal: lead. Lead is a neurotoxin which can permanently damage the brain and lower a child's IQ among other things. "Think of a toy as being a developmental tool," Hasler said. "Read warning labels, look to see if a toy has detachable parts. If it does, don't give it to your young child."
Fortunately, the alarm created by last year's recalls got Congress's attention. In July, both the House and Senate passed the Consumer Product Safety Improvement Act, which increases funding for CPSC staff and enforcement, lowers acceptable levels of lead in paint, and bans lead as well as phthalates from children's toys and products. Plus, toy manufacturers will need to have products tested by a third party. President Bush signed the bill in August. But many of its provisions are being phased in, so the toys on shelves this shopping season are still suspect, Kim said. So suspect are they that CalPIRG investigators didn't have to search far to find a child's key ring that contained 45 percent lead by weight.
Just last week, a legal opinion released by CPSC attorneys said toy manufacturers could sell the existing toys on their shelves, even though they may not meet newly adopted safety standards. Kim said the decision was unfortunate, as manufacturers could have so many products in warehouses that it's unknown how long the public will be at risk from them.
Carla Abatie-Neufeldt, a former Independent intern and writer, came to the press conference with her 11-month-old son, Max, who impressed the gathering with his crawling skills. "I always thought plastics were clean and safe but now, I'm not so sure," Abatie-Neufeldt said. "I'd like toys to be better vetted."