Food & Drink
Who's Your Farmer?
Fairview Gardens' CSA Program Grows in Availability, Accessibility, and Flexibility
As recently as 2006, it was nearly impossible to get a share in Fairview Gardens' Community Supported Agriculture Program. There were 85 members and 300 on the waiting list. As the gardens' acting executive director Tiffany Cooper puts it, "You pretty much had to wait until someone died to get in."
That year, Fairview reduced its participation in farmers markets so enough produce became available for 150 member shares. The next year, Fairview brought another 10 acres under cultivation and was able to double the shares it offered. Even with little or no marketing, 250 families are signed up to begin picking up their weekly allotments of organic, locally grown produce from the farm in Goleta on January 19, the start of the winter season. The most memberships Fairview can offer are 300, and the remaining spots are going fast.
Community Supported Agriculture (CSA) creates opportunities to invest in local farms. CSA members make a commitment-and pay in advance-for a portion of the produce grown at the farm, typically on a yearly basis. Members know they will have a consistent supply of produce when they pick up their weekly shares, and farmers know ahead of time that they can count on selling a certain portion of their crop.
CSA appeals for many reasons. Many believe that locally grown, organic produce is fresher, healthier, tastes better, and has a lower carbon footprint than factory-farmed food trucked long distances to grocery stores. Those investing in local farms put their money where their values are, whether for political or environmental reasons. But those who join often find that there are unexpected pleasures of belonging to a CSA.
CSA members frequently discover that they have become more adventurous, better-educated cooks. Since the contents of a share are predetermined for any given week, members often are challenged to figure out what to do with the variety and with odd novelties like kohlrabi, kabu (Japanese turnip), or Hachiya persimmons. For those not adventurous enough to experiment, the CSA newsletter provides recipes and serving suggestions. Cooper said customers often comment how much they appreciate being exposed to "things they would not have thought of or did not even know about. In a supermarket, people end up buying the same things over and over. CSA helps them get out of their food rut."
Others value the CSA for its convenience. When you are a part of a CSA, you make a single stop for all your produce for the entire week. Member Stephanie Christoff is one who doesn't miss having to figure out things for herself. She explained, "I love the convenience of someone else selecting the week's bounty for me. It's one decision I don't have to make!" According to Cooper, members begin calling almost immediately after the season ends in November, asking when CSA is starting up again. "They get into a routine and they miss it," she said. "They don't want to have to go out and battle crowds to get their food."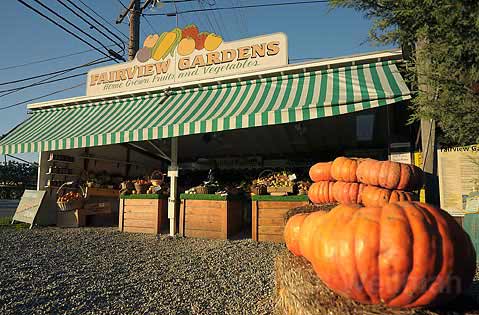 Fairview's CSA also appeals to families and those seeking community. Like other parents, Sloane Reali makes the effort to bring her children to the pick up, even though it would be easier to get in and out without them. She appreciates that "they are learning about where 'good' food comes from." Children are often recruited to mist vegetables or help weigh portions. They are especially enthusiastic during October, when members are entitled to weekly trips to the pumpkin patch to pick their own pumpkins. Pick-up days consistently are the busiest, most social times at the farm. While some enjoy getting to know others as they pick and weigh their produce, others use the CSA to create more community within their neighborhoods. Five families who live near each other, for example, joined the CSA together and trade off doing the pick-ups for everyone else in the group.
Affordability is also a selling point. Christoff, who has comparison shopped at grocery stores and farmers markets, insisted, "I really do believe I would spend more if I bought all my produce individually." Fairview has worked to lower prices on the smaller shares; this year, the price for a week's worth of produce works out to only $20. In addition, Fairview offers the option of one-time volunteering in exchange for credit toward your share.
Throughout the years, it has gotten easier to be a member. For one thing, you can now sign up for shares online. In addition, last year's experiment in adding a winter season was such a success that the length of the CSA year has expanded, from 37 weeks to 45. However, you no longer need to commit to an entire year. Instead, you can join for a single season or only those seasons out of the four offered that work for you. When making changes to the CSA during the last few years, Cooper said, "Affordability and flexibility have been the underlying theme."
4•1•1
To get fresh with Fairview Gardens, call 967-7369 or see fairviewgardens.org.