News
Juarez Sentenced to 17 Years in State Prison
15-Year-Old Given Medium Amount of Jail Time for 2007 Stabbing Death
Walking through a door in Judge Brian Hill's Santa Barbara Superior Courtroom on Wednesday, Ricardo Juarez – a short-statured 15-year-old wearing a white button-down shirt and shackles on his hands and feet – gave a quick smile at friends and family as he walked to the defense table. His three-year-old sister, sitting on her mother's lap, waved at the boy she may barely know as her brother when he is a free man.
Her brother, just three weeks shy of his 16th birthday, was sentenced on Friday to 17 years in state prison by Hill, making him the youngest person ever to be sentenced to such a term in Santa Barbara County and one of the youngest ever in the state. When Juarez emerges from prison almost 15 years from now – he received more than two years in credits for time served – he will have lived more than half of his life behind bars.
In October – 19 months after a gang brawl on State Street that left 15-year-old Luis Angel Linares lying bleeding to death behind Saks Fifth Avenue – Juarez was convicted by a Santa Barbara jury on counts of voluntary manslaughter, using a knife in the attack, and for committing the offense to benefit a criminal street gang.
The teen showed little emotion when the sentence was announced in court on Friday, but, in a handwritten note read by his attorney Karen Atkins, said he felt "angry because I made the wrong choice in life." In a probation report interview, he said he recognized the stupidity of choosing to fight people based on what neighborhood they live in. "Everything wasn't worth it," he was quoted as saying. "He died for nothing, for no reason. I wish I could take it back."
And while Friday's events no doubt altered Juarez's life in a significant way, the sentencing finally allows the family of Linares – after two preliminary hearings, an almost three-month-long trial, and dozens of hearings along the way – to put the events of the past behind them as well as they possibly can.
Linares's father, Humberto, addressed the court Friday, giving an emotional speech that left him and several others – including Juarez's parents – in tears. "There's no words for me to describe how the lives of my family have been destroyed," he said. In a statement read by prosecutor Hilary Dozer, he called March 14, 2007, the "most painful and devastating day of my life."
"My son Luis Angel meant the world to me," said Humberto Linares, who asked the court for the maximum possible sentence. Despite disappointment from the family that the maximum sentence was not imposed, Dozer said afterward that there was indeed a sense of closure with the sentencing. "It takes its toll," he said, "whether you're satisfied with the sentence or not."
The decision to charge Juarez as an adult – made in the week following the murder by District Attorney Christie Stanley – shocked many South Coast residents. Some defense lawyers said outright that they felt the decision was wrong. Objectors protested outside the District Attorney's office. And, meanwhile, some members of the community said the charge was justified. "That sends a message very clearly to the usual gangster that if kids do it they're going to serve a punishment," Dozer said Friday. "We've taken a position of zero tolerance."
Since 2001, when 62 percent of California voters in favor of Proposition 21, 14-year-olds can be tried in adult court for some serious crimes, including murder and attempted murder. At the time of the DA's decision, Juarez was the second youngest person in the state to be prosecuted in this manner. But since the murder of Linares, two other gang-related stabbing murders have occurred, and juveniles in those cases are being charges as adults as well. David Roldan, Victor Arroyo, and Daniel Cervantes – all between ages 15 and 17 years old – along with 21-year-old Miguel Marquez are alleged by authorities to have killed 15-year-old Emmanuel Roldan on July 4, 2008, just before the fireworks show began.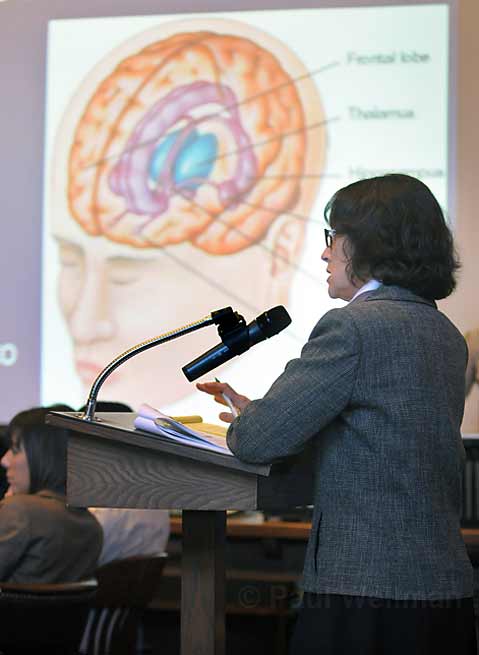 The alleged killers of then-16-year-old Lorenzo Carachure are now awaiting trial, expected to begin later this year in front of Judge Clifford Anderson.
Juarez's was the only case still lingering from the March 2007 incident. Several teens were charged with crimes – ranging from disturbing the peace to assault with a deadly weapon – stemming from the brawl that day, including Ricardo R., the teen alleged by Juarez's defense team to be the person who actually killed Linares. Ricardo R., 13 years old at the time of the incident, pled no contest to assault with a deadly weapon in Juvenile Court.
At court proceedings it was revealed that Ricardo R. admitted to others that he stabbed Linares, and gloves Ricardo R. wore that day were found to have Linares's blood on them. But because of his age, he couldn't have been charged as an adult. He was sentenced to nine years in a Department of Juvenile Justice facility, though he is not going to necessarily serve that entire time because of the different way cases work in the juvenile system.
The exact number of others involved in the assault is unknown, but several were also charged and prosecuted in Juvenile Court, where proceedings are confidential. Many were charged with felony offenses, and many were accompanied by gang enhancements, Dozer said. Many of the prosecuted both admitted their involvement and that it was gang related, he added.
Regardless, Dozer said, those other proceedings shouldn't factor into the judge's sentencing of Juarez, and his office was confident in their prosecution of Juarez as an adult. "We have felt from the beginning and continue to feel that the responsible party in the death of Luis Linares is Ricardo Juarez," Dozer said Wednesday.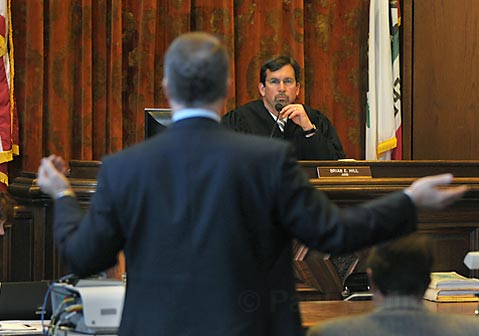 Key to the jury's October decision was an audio recording known as the "whisper tapes," which captured a conversation between Juarez and another youth in a holding room at the Police Department the evening following the murder. "I was sticking him and that fool was fucking bleeding from his mouth. : I killed someone," Juarez can be heard saying. "They'll know." Some jurors indicated the tape was "very helpful," while others said other evidence and testimony was enough for them to convict. Witnesses testified seeing Juarez attacking Linares, and a weapon with Linares's DNA was recovered at the scene.
Atkins began Friday detailing to the court why she thought a retrial was necessary, a common proceeding prior to sentencing. Her motion was denied by Hill after he heard arguments from both Atkins and Dozer and testimony from two doctors brought in by Atkins.
One, Dr. Elizabeth Cauffman, an associate professor at the UC Irvine, explained to the court scientifically how the juvenile brain was undeveloped, and that decision-making and consequences couldn't be fully realized by a boy of Juarez's age. Her testimony had originally not been allowed during the jury trial. After Wednesday's testimony, Atkins explained that "it's important for anybody making judgment in this case. The juvenile brain is underdeveloped and doesn't operate like an adult brain."
But Dozer noted the doctor did no studies relating to Juarez's case specifically. Dr. Rahn Minagawa, a San Diego-based clinical and forensic psychologist who works with children and parents, did have a chance to meet with Juarez on two occasions since the murder. He indicated that Juarez most likely was going through adolescent onset delinquency, and that his problems more than likely wouldn't extend beyond his adolescent years. He said Juarez would be a good candidate for probation.
Atkins underscored this analysis with the fact that Juarez had no prior record, and, aside from one instance at Juvenile Hall, had exhibited good behavior otherwise. "This was something very much out of his character," she told Hill."
With the gang enhancement, Juarez was facing 14 to 22 years behind bars in an adult prison, though Hill did have an option to sentence Juarez to probation. While Dozer asked Hill for the maximum and Atkins asked for the judge to take away the 10-year gang enhancement penalty, the decision was ultimately Hill's, with no room for him to opt out of sentencing Juarez as an adult. The sentence he opted for was the recommendation from the Probation Department, which issued an extensive report on Juarez's background. "Clearly there has to be some sense of retribution and justice for the Linares family," Hill said in rendering the sentence, which he explained as "commensurate with the crime that was done."
Hill called Juarez a major figure in the conflict that occurred, and said he clearly had associated with the Eastside gang prior to that day.
Juarez will be housed in a youth facility until his 18th birthday-a date that for Juarez is only two years and one month down the road from now. The book isn't officially closed, as Atkins said Friday she would file a notice of appeal, a common next-step after sentencing.