Food & Drink
Keeping the Cork (and Seagrass) Afloat
Mitchell Sjerven's Two Restaurants Sail through Troubled Times
A caperberry might be a mere 3/4 inch across, but it's a big part of the conversation. The fruit of the more common caper, it's larger and has edible seeds at its center, giving it a surprising crunch. It's the center, too, of a discussion about the new buffalo carpaccio appetizer going onto the menu at bouchon. The wait staff at the restaurant is getting schooled on the new items, learning background, tasting, trying out wines bouchon's owner Mitchell Sjerven has chosen to go with the dish. One waiter worries, "My first bite was great, but the second was a little bland as I didn't get any caperberry. Maybe you should try capers instead?"
"Capers tend to be just briny," Chef Brandon Hughes points out. "We'll just cut up the caperberries more."
"You could quarter them," says Sjerven, one of those people whose eyes always seem to be smiling. "But I like the halves-all the circles on the plate with the hard-boiled quail eggs and capers, it's cute. That buffalo is way more flavorful than I expected."
There's a pause for some more chewing and contemplating and the original waiter says, "I just had a third bite and it's fine. I'm not sure what I missed that second time."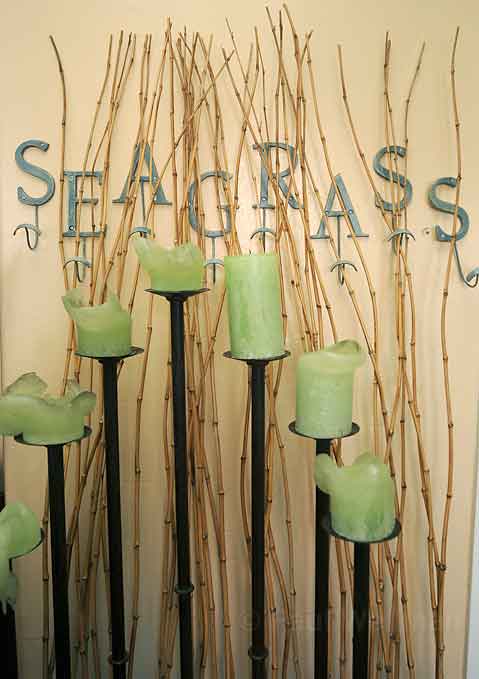 The group will work through three more new dishes-an escargot vol-au-vent, a pan-roasted skin-on salmon, and a blood orange and mint-marinated rack of lamb-then clear their 10-top to be ready for the evening's customers. Very ready, for that's what bouchon and its sister restaurant Seagrass are all about. When the first tables are sat at 5:30 p.m., two spiffily dressed women are going through the often arduous pantomime of the wine service with their waiter, but there's seemingly no anxiety, and while everything is very proper-bottle displayed, cork pulled and presented on the crisp linen, wine poured, glass swirled, sniffed, tasted-there's laughter through it all. These people are having a good time while fine dining. Imagine that. It's a big part of why Mitchell Sjerven can run two high-end restaurants in Santa Barbara and still survive, even with the current economy.
Hospitality Is Key
The night before-a Wednesday in January, when eating out at fancy restaurants usually doesn't mesh with people's New Year resolutions-Sjerven and I stand outside the Roosterfish Room, the private dining room at Seagrass. Eighteen people are inside, a company function. "I tell people hoping to open a restaurant that you have to have the passion and know what you want to do and not just want to make money," Sjerven says. "Taxes, payroll, rent, all the other impediments to keeping the money are so high. So you need a catering arm, or a wine store, or, for me, a private dining room to make it. Customers get a restaurant-quality dinner, plus no charge for the room, no set-up or breakdown fees. We had a party last weekend that only wanted to drink Foxen pinot noir magnums : okay. The private room alone can amount to an evening's receipts."
The Cork Room at bouchon is booked on average five nights a week, Seagrass's room a bit less, but the restaurant has only been open for 13 months. Still, Sjerven jokes, "We do use the angle: Be the first kid on your block to go to the Seagrass private room." While the food, wine, and fine service are the main draws, Sjerven also provides some shiny hooks: both locations have an LCD projector and screen, so you can rent those from him directly, and both offer Sonos, a high-tech music system (from a company based in Santa Barbara).
Still, people don't go out to dinner just to be able to hear their iPods broadcast through a restaurant's sound system. For Sjerven that means the focus is always on the food, and as much as possible the food is local. Even Seagrass's seafood-it's a charter member of the Sustainable Seafood Program through the Ty Warner Sea Center. It also offers "coastal cuisine" and isn't merely a seafood restaurant. "We noticed after we opened that we didn't get as many five- or seven-person reservations," Sjerven explains. "Customers said as their groups got larger, the likelihood someone didn't like fish increased." Hence the menu got adjusted: "We added foie gras, rack of lamb, we're just adding a roast pork chop. But we don't want to get too far from our focus for our pescetarian friends."
He was more than comfortable getting away from State Street, however. "This space [Seagrass] on State Street would be three to four times more expensive," he asserts. "You make it either based on check average or turn and burn. A place like Ca' Dario survives by turning tables, as people might come in and just have a bowl of pasta and a glass of Chianti. Our goal is to fill the restaurants once a night, and twice on weekends. On State Street, the rents are more, and you get more casual diners."
That's not the Sjerven establishment experience. He points out the ficus trees and lack of a sign on Victoria Street effectively hide bouchon-he doesn't mention the two fountains on the sidewalk aren't as much for looks as for sound, helping insulate the lovely little patio that twinkles in candlelight. Seagrass seems a bit more formal, with its high ceilings and leather chairs, but both stress comfort. Sjerven explained, "The chief Santa Barbara complaints are noise level and how close people have to be to the next table. We avoid both those problems."
Sjerven does admit seeing a dip in business because of the failing economy, but still realizes a little forward thinking can separate his restaurants from the pack. Both establishments have informational, attractive Web sites-there are even welcoming introductory videos on both sites-so when I point out how many Santa Barbara restaurants fail to take advantage of cyberspace, he says, "Thanks for making my job easier. It's the same thing with answering the phones during the day. I'm amazed how many places don't do that. We get 70-80 percent of our reservations during the day. Customers traveling from New York will call at 10 a.m."
Then, when the patrons do arrive, they won't just remember Seagrass's dynamically delicious trio of scallops or bouchon's knockout bourbon-and-maple-glazed duck. They'll remember the care of the service, especially when Sjerven is in the house (he tries to work one restaurant each night). "I like to be able to touch every table at least once," he said. "I like serving the food-people think that's special. If I bring the food I have a purpose for being at the table so it makes conversation easier. So I do that, or opening the wine."
Sjerven, a UC Santa Barbara grad in international relations, was convinced in college he was headed for law school. During an internship abroad, though, he had a realization: "It was too hard to see the despair. It wasn't for me. My personality was suited for hospitality." He had worked in restaurants since he was 15, washing dishes, bussing, waiting tables. He got into management, landing at Acacia on Coast Village Road, then moving on to open Meritage on De la Vina Street when Acacia closed. In 1999, he opened bouchon.
What he didn't know through all of this was his family's history. "I always thought my grandma worked in the post office and my grandfather was a blacksmith, but when they passed away, my dad gave me some photos," Sjerven says. Two of them hang in the Cork Room now, photos of his relatives in front of their Sweet Shop Cafe in Roslyn, South Dakota. They even ran a mobile kitchen for two years feeding the construction workers when the Lewis and Clark Highway was paved.
Turns out you can be a restaurateur by blood. But a lot of sweat and even more smiles won't hurt.
4•1•1
Savor wine country dining at bouchon and its private Cork Room (9 W. Victoria St., 730-1160, bouchonsantabarbara.com) or coastal cuisine at Seagrass and its private Roosterfish Room (30 E. Ortega St., 963-1012, seagrassrestaurant.com).