News
Community Answers Cottage's Call
Fundraising Efforts for Hospital Rebuild Surpass $100 Million Goal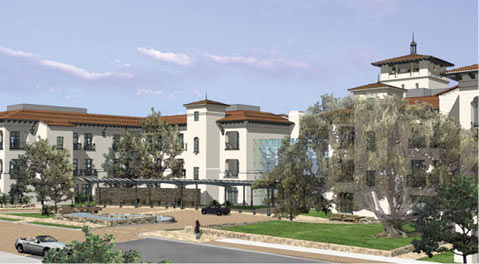 In 2004, the Cottage Health System launched a $100 million fundraising campaign toward rebuilding Santa Barbara Cottage Hospital. At the end of 2008, with the tremendous efforts of community support, the campaign surpassed its goal and raised a total of more than $110.8 million. The project is estimated to cost more than $700 million.
With no local, state, or federal funding provided to meet the seismic requirements that prompted the rebuild (due to the Northridge earthquake), the Cottage Health System reached out to more than 5,500 donors, individuals, corporations, businesses, and foundations who met the campaign's ambitious goal. The largest gift of $10 million was made by Paul and Leslie Ridley-Tree. Other donations included $1 million from Montecito resident Oprah Winfrey, $2.5 million from Thousand Oaks' SAGE publishing company (toward its new medical library, in addition to the hospital), and a $3 million gift from Montecito's Stephen and Toni Haselton, noted as being the "capstone" gift allowing Cottage to meet and surpass its campaign goal.
Construction for the Santa Barbara Cottage Hospital began in 2005 and is expected to be completed by 2011. The reconstruction is said to include natural light, environmentally sensitive elements, and the latest state-of-the-art technology. Other improvements include a helipad for air ambulance transport of patients, an expansion of the Surgery Department, and patient rooms with overnight guest accessibility. The overall design of Cottage Hospital will aim to create a "healing environment" with more gardens, meditation areas, and a spiritual center.
A significant improvement to the hospital will be the expansion of its Trauma Center. Currently, the Emergency Department accommodates 25,000 visits a year. However, in recent years, the number of visits has increased to 38,000. The rebuild will double the size of its Emergency Department and Level 2 Trauma Center to handle up to 80,000 visits. In addition, the children's medical services will be consolidated on one floor to create the Cottage Children's Hospital.
The Cottage Health System will be receiving funding from hospital operations, S.B. Cottage Hospital assets, and tax-exempt bonds to cover approximately $600 million of the total construction costs. Although the Campaign for Cottage Health System ended as of last year, it still hopes to receive continuing support from the community for its rebuild.