News
Police Look for Suspects in Fatal Assault of Ross Stiles
Homeless Man Dies After Attack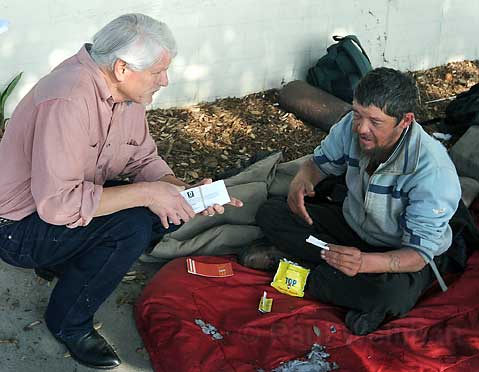 Ross Stiles, a homeless man living in Santa Barbara, died at Cottage Hospital from a massive head injury on Wednesday, February 4. Santa Barbara Police are investigating the death as a possible homicide. Street friends of the victim reported that they witnessed Stiles being hit over the head with a beer bottle the previous Sunday, February 1, and that he complained of a headache the following day. On the morning of Tuesday, February 3, when his symptoms progressed even further, a third friend with a cell phone called an ambulance.
Santa Barbara Police Department spokesperson Sergeant Lorenzo Duarte said police followed the ambulance Tuesday to the 600 block of Cabrillo Boulevard, where Stiles regularly camped, and found him complaining of a headache. He said nothing about the assault, but after being taken away in the ambulance, Stiles's friends told police he had been struck. Duarte said police then went to Cottage Hospital to question Stiles, but he was unresponsive. Doctors told police there was "massive swelling" in his brain and that he needed emergency surgery. Stiles died of his injuries the following night around 8:30 p.m.
During Thursday afternoon's downpour, a dozen or so homeless men and women were digesting the news while attempting to stay dry beneath a shelter by an East Beach playground. A blue-eyed man named Randall said he was one of the ones who saw Sunday's incident. "Ross was my friend," he said tearfully. He explained that he and a friend were on their way back from the store Sunday night and, when they got close to the Cabrillo restrooms, noticed "three people were standing up. Two of them looked like they were hugging. Then all of a sudden, I hear a pop and glass [was all around]." Randall did not give his last name but described two of the men as Hispanic-one around 5'8″ and skinny, the other heavyset and about 5'6″. The third man, the one who was struck, was 43-year-old Stiles.
Back at the Cabrillo Boulevard restrooms on Thursday, Santa Barbara Police investigators were interviewing an older-looking man named Rodney Ewing, Stiles's camping companion-or "road dog" in street lingo. Ewing and a few of the other homeless who hang out near the restrooms were taken to the Police Department Tuesday to answer more questions. "I'm always willing to offer information when somebody killed a friend of mine," said Ewing.
At Casa Esperanza on Thursday, Robert Evans, 52, said he camped with Stiles for several years. "He was a real nice guy," Evans said. "Always friendly, always had a smile." Homeless outreach worker Ken Williams said Stiles had been on the streets here around seven years. He suffered from severe depression and chronic pain resulting from a disability.
Nobody knows much about Stiles's background, but the case shares some similarities to last year's beating death of Gregory Ghan. On May 31, 2008, students found Ghan-also a longtime homeless resident-bloody and moaning in the doorway of the Isla Vista Medical Clinic. After arriving at Cottage, he lapsed into a coma from injuries sustained in a presumed beating, and was removed from life support 10 days later. No arrests have been made.
Meanwhile, two other Santa Barbara homeless people have been assaulted recently. From his hospital room at Cottage, John Chaltraw, 60, said he was walking on Haley Street near State on Thursday when three men came up from behind and hit him with their skateboards. He is being treated for contusions to the back of his head. Jerry Jones recalled a similar experience on Carrillo Street around 1 p.m. on Saturday. He was treated at Cottage and released.
Santa Barbara Police would not say whether the injuries from Stiles's alleged assault caused his death and said that an autopsy would be performed to gather more information. They asked anyone with information to call 897-2300.