Food & Drink
There Will Always Be Beer
Telegraph Brewing Company Believes Good Beer will Prevail, Even in Tough Times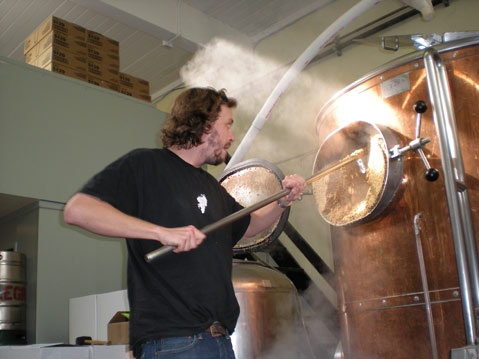 Work at Telegraph Brewing Company is all about balancing fun with toil. Brian Thompson and his fellow brewers Scott Baer and Will Durgin sweat all week amid the steam of boiling water and heavy machinery to brew batches of their craft beer. But on Saturdays when they open the tasting room to the public, it definitely feels like a social event. Strangers chat like old friends as their hosts pass out tasters and fill pints and half-gallon growlers.
The brewers' relaxed and dressed down manner betrays their industrious work ethic and respect for the subtle aspects of their craft. Their recipes take Belgian techniques and styles and give them a California spin. "What I like about Belgian beers and Belgian brewing is that there's lots of creativity," said Thompson, Telegraph's founder. "There's subtlety and there's nuance, and that doesn't take anything away from the beer."
Thompson's career path was not a particularly intuitive one. After earning a degree in English, he worked in publishing in San Francisco. He then went to business school in the late '90s, which led to a stint as a stock analyst in New York City that lasted all the way through the fateful dot.com era. After deciding that life wasn't for him, he chose to lose the white collar and do what he really wanted.
He became an assistant brewer at the central facility for Heartland Brewery in N.Y.C., a company with a Ben & Jerry's-esque affinity for creative product monikers ("Stumbling Buffalo Ale" and "Grateful Red Lager," for example). There, he did everything from clean barrels to brew beer. With limited formal training, it was a perfect way to learn the trade.
He eventually decided to create his own brewery in Santa Barbara, and Telegraph Brewing Company came to fruition. He chose Santa Barbara for several reasons: the relative lack of local competition, the proximity to L.A. and San Diego, and especially the culture. "It's a good food and drink culture in Santa Barbara," said Thompson. "You have a lot of people who are into interesting beers and wines and locally made products, too."
Telegraph began brewing in 2005 and distributed its first batch in January 2006. Their first creation was the California Ale, which is considered their flagship, a hoppy, amber-colored brew with a calm mix of fruity and tart flavors. They later added the mellow Golden Wheat Ale and the smoky, barrel-aged Stock Porter along with several seasonal beers like their Winter Ale. They opened the tasting room in April 2007, which now serves Thursday and Friday afternoons from 4-6 p.m. and Saturdays from 1-4 p.m.
The last few years have seen an explosion in the craft brewing industry, and nearly 1,500 craft breweries exist in the U.S. today. Many try to set themselves apart by adding unexpected ingredients to their recipes. Dogfish Head in Denver, for instance, makes its Chicory Stout with St. John's Wort and licorice root, among other things. But Telegraph has resisted this national trend toward "extreme" beer. "There's nothing wrong with it," said Thompson. "I mean, I'm all for experimentation, and some people really enjoy those sorts of beers. They're just not beers that I choose to drink. So we're looking for beers with an interesting, complex character but still relatively drinkable and well-balanced."
This is not to say that Telegraph shies away from experimentation. The Winter Ale, inspired by Mexican hot chocolate, kicks the alcohol to 7.5 percent and features the flavor of ancho chilies, along with the chocolaty taste of the roasted malts. It's a recipe that the brewers have been perfecting for the last two years, trying different levels of alcohol and spice. "We were looking for balance," Thompson explained. "We clearly wanted it to be a spiced beer. But we didn't want it to be overwhelmingly spiced."
Like most professional brewers, Thompson experimented with home-brewing in college. His first creation was a brown ale. "It wasn't great, but it was fine," he admitted. "My friends didn't object to drinking free beer." But Telegraph has already gained a robust reputation. Their Golden Wheat Ale was a gold medal winner at the 2006 Los Angeles International Beer Competition, and the Stock Porter garnered the silver at the same competition in 2008.
Never at a loss for creativity, Durgin and Baer are currently trying to perfect recipes for some new brews, including a rye wine, a particularly strong variety that commercial breweries rarely attempt. Like a barley wine, a rye wine traditionally boasts intense flavors and higher alcoholic content; Dugin predicts Telegraph's version will land somewhere between 9 and 9.5 percent.
With the current economic recession, there could be tough times on the way for Telegraph and other breweries. But Brian believes in his product and his community. "I think people are aware that your purchasing decisions make a difference," he said. "Santa Barbara is really good about that. : There is such a strong local identity that's missing in a lot of places." And because they have greatly increased their distribution by expanding their market to L.A. and San Francisco, Telegraph will likely see a significant growth in the next year.
"These are all affordable luxuries," Thompson said of Telegraph's ale, adding that people who would normally spend over $30 on a bottle of wine may chose to buy a $5 bottle of craft beer instead. "If it makes you feel good about life, then it's something that people are still going to do."
4•1•1
Telegraph Brewing Company is located at 416 North Salsipuedes Street. The tasting room is open Thursday and Friday, 4-6 p.m., and Saturday, 1-4 p.m. Call 963-5018 or see telegraphbrewing.com.