News
Strickland Names DA Woman of Year
Christine Stanley's Fight with Cancer Evident but Not Acknowledged
When District Attorney Christine Stanley accepted a plaque from State Senator Tony Strickland naming her the 19th Senate District's Woman of the Year, she was confined to a rolling office chair that served as the functional equivalent of a wheelchair. For much of the past year, Stanley has been fighting an intense battle against a recurrent bout of lung cancer that's left her substantially weaker and physically diminished by the intensity of the ordeal.
None of this, however, was alluded to during the brief event held Friday morning outside the District Attorney offices. A conservative Republican based out of Thousand Oaks, Strickland praised Stanley for her commitment to public safety and service. "I love this woman to death," he exclaimed.
Stanley, who did not offer an endorsement in the Strickland-Jackson election race, was gracious in her acceptance of the award and stressed the importance of making members of the public feel safe in their community. "I can do this job because of the support I have," Stanley said of her staff. "They share my goal."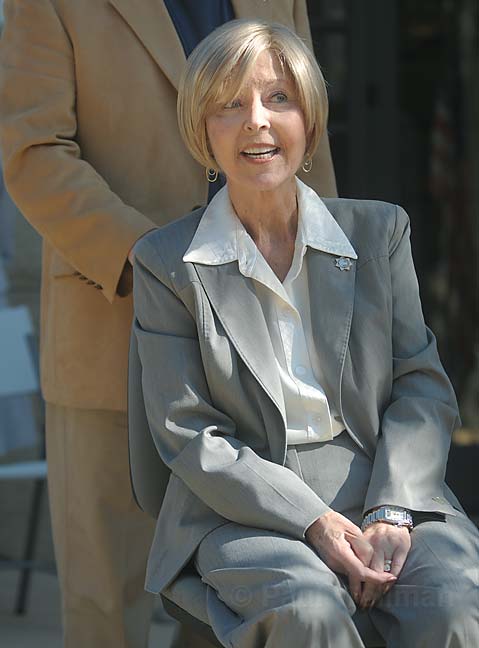 Strickland, who just opened his office in Santa Barbara a week earlier, noted he had "much to learn" from Stanley, who won election three years ago by more than 65 percent – a landslide. Strickland's race against Democrat Hannah-Beth Jackson was a genuine knuckle-biter and the final results – in which he won by roughly 900 votes – were not clear for several weeks after the election.
Strickland noted that Stanley began her career with the District Attorney's Office in 1980 and was named prosecuting attorney of the year in 1984. She rose through the ranks as the result of hard work and determination, and for many years she pretty much ran the Santa Maria District Attorney's Office, though under the supervision of Tom Sneddon, Santa Barbara longest-serving district attorney.
Upon taking the helm, Stanley soon found herself battling cancer. After a first round of treatments, it appeared she had prevailed. But the cancer returned, in her lungs, and she's been fighting for her life over the past year. While Stanley has maintained contact – mostly by telephone – with high-ranking managing prosecutors, she has not been a steady presence in the Santa Barbara office, where until Friday, she had not been seen since October 3.
According to some office sources, Stanley remains very much in charge, calling the shots on all key decisions – and even some minor ones. But according to other sources, sometimes it takes longer than expected for those decisions to get made. Others say that Stanley is sharply focused on vital office matters and stays current. But during the recent budget talks with the Board of Supervisors – held in Stanley's home turf of Santa Maria – the district attorney was not present. Three assistants appeared in her place. Given the county's massive fiscal shortfalls, all departments are being asked to cut 10 percent from their budgets. In recessions during the recent past, Stanley's predecessor Tom Sneddon proved a fierce and formidable defender of the department, intimidating the budget cutters by waving the flag of public safety. This year's performance by Stanleys's underlings, while professional, was not that.
Compounding matters, office sources suggest that budget pressures could exacerbate escalating tensions between the North County and South County offices, and especially between the newer prosecutors and senior deputies soon approaching retirement. Regardless of who is making decisions at the top, such tensions might be tough to navigate.
Likewise, Stanley was notably absent from the raging public discourse about the 10 City College students whom law enforcement initially thought started the recent Tea Fire. When Sheriff Bill Brown said he knew who started the fire, it took the DA's office by surprise – and several months to determine what kind of charges if any should be filed. Ultimately, the office filed misdemeanor charges against the 10, arguing that the evidence linking them to the Tea Fire could not meet the burden of proof "beyond a reasonable doubt."