Living
S.B. Designer Creates Eco-Couture for Brides-to-Be
How to Grow a Wedding Dress
Santa Barbara-based wedding dress designer Jessica Iverson decided one day last spring she could no longer ignore the ugly truths of the traditional wedding dress production industry. So the long-time vegan and environmental activist began doing her homework, and has spent the past year transforming her emerging wedding gown design company into an eco-savvy success.
When Iverson, 25, first began her eponymously named bridal gown company nearly four years ago, she initially focused on maternity wedding dresses. While she'd always been interested in couture gown design, she hadn't seriously considered starting her own line of dresses until she suddenly had one month to plan her own wedding while seven months pregnant. Iverson recalled it was a frustrating experience, especially when it came to finding a dress. "A maternity pantsuit literally was the only option, unless I wanted to wear a sarong," she remembered.
This lack of maternity bridal wear got Iverson thinking there had to be others in her shoes. After some research, she learned there was indeed a large demand for maternity gowns that was not being met. The timing was perfect. Iverson was at a transitional point in her life, ready to shift away from her career as a massage therapist, but still desiring to work from home.
Iverson decided to launch her own line of maternity bridal dresses to help pregnant brides have a better experience. Shortly thereafter, she began designing traditional wedding dresses as well, essentially starting two companies while also dealing with her pregnancy. "It was a busy time," Iverson laughed as she reminisced the birth of her business and her daughter, which are now both four years old.
Going Green
Business was going well when Iverson went to Northern California last April to visit a friend who owns a sustainable farm. "He began asking me about my wedding gowns-how they were produced and where the materials came from-and I realized that I didn't know as much about the process as I should," Iverson explained.
When she returned home, she started gathering information about the production process of her wedding line and was shocked by what she found. "I learned for the first time that a pound of silk requires boiling 2,600 silkworms alive. Not very friendly," Iverson said. In addition, she discovered that some of the dyes and finishing processes used to make the fabric for the dresses were toxic to the environment and that the working conditions at one of the factories where the dresses were made were unacceptable.
Iverson contacted her manufacturers in China to see what her options were. To her relief, at the larger of their two factories, the manufacturer and employees had worked together to create a Fair Labor Agreement that promoted "opportunity and satisfaction for the workers," Iverson said. The agreement included paying the workers a "living wage"; instituting a minimum working age of 18-years-old, an eight-hour work day, and a five-day work week; giving two weeks of paid vacation, paid holidays, and tuition reimbursement; and the opportunity to earn incentives and bonuses to keep employees passionate about their jobs. Iverson subsequently decided to have all of her garment production moved to that factory. "I believe a wedding gown should be made with love. It only seems fitting," she said about why she supports fair labor practices.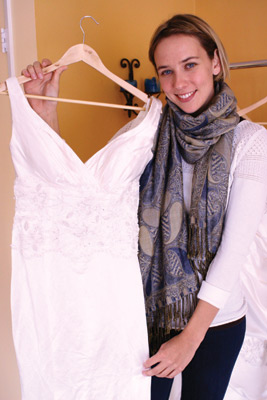 Satisfied with the humane treatment of the people making her product, Iverson turned her attention to solving the fabric dilemma. She started looking into different textiles on the market and various manufacturing techniques. After some research, she came across hemp silk and several other types of raw silk that were much friendlier to the silkworm and used no dyes. "I became really passionate about the hemp silk, because there are many different weights and sheens, and it's one of the most eco-friendly fibers ever," she explained.
Iverson also discovered "Amity peace silk," which is hand woven on antique looms in a small town in India, where members of a woman's cooperative create the fabric as a means to support and educate their families. Realizing the advantages of making gowns with these sustainable fabrics, Iverson decided to revolutionize her collection of bridal wear with a new Earth-friendly line. (She plans to incorporate bamboo satine and organic cotton in her line by fall of next year as well as organic cotton lace, which currently is made by only one manufacturer in the world.)
Iverson looked into what was already available on the eco-bridal fashion market and found a limited selection of alternative designs. "There was little for fashion-forward modern women who wanted something fresh, elegant, and timeless," Iverson said. "The modern fashionista might decide to buy a 'green' wedding gown, making a socially and environmentally responsible purchase, if it's available and of the same standard as the dresses she's perusing at Kleinfeld," said Iverson.
So far, the response to her eco-couture collection has been very positive. Iverson also set up an "eco-fund" in which 5-10 percent of all her profits go to, among other charities, Trees for the Future, a foundation that plants a tree for every dress sold.
When asked where she got the wherewithal to up and start her own business, she said, "I once got this great card that said, 'Leap and the net will appear.' You just have to do it and trust that you get those inspirations for a reason."
4•1•1
To learn more, visit jessicaiverson.com.