News
Cruel Cuts
S.B. Schools Slice Millions from Budget with the Potential for More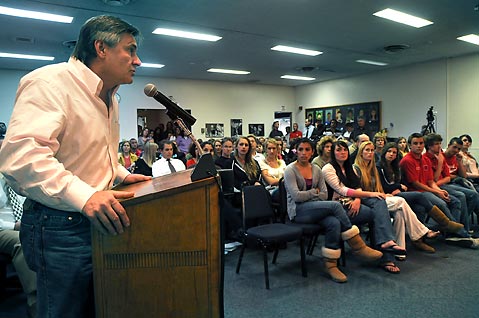 As bad as they were, things could have been much worse at the Santa Barbara School Board meeting this week. Staring down the barrel of $3 million in unavoidable budget cuts, boardmembers, after more than four hours of gut-wrenching debate and public testimony, reluctantly tore into their $120-million general fund, leaving, among other things, dozens of teaching jobs, class size reductions, and several college counselor positions on the cutting-room floor. Still, for a district that had already cleaved nearly $7 million from its budget in the past two years alone, the cuts stayed surprisingly distant from the classroom.
Months ago, eyeing the unresolved state budget woes, district bean counters knew that this April's budgetary blood bath was going to be a messy one. The board's decisions Tuesday night, April 28, delivered on that grim forecast. Boardmember Susan Deacon remarked at one point to no one in particular, "I'm sorry. This is just hard, I feel like I'm the hatchet person here." Yet thanks largely to the financial maneuverings of Deputy Superintendent Eric Smith, the district managed to find more than half the required dough in largely uncontroversial areas. By doing things like ramping up recycling efforts, better managing school-site energy use, disconnecting unused phone lines, starting Saturday school for truants, and tapping unused cash in certain areas, the board avoided three of the least popular of proposed cuts before public comment even began: freshman athletics at all high schools, athletic trainers, and 2nd grade Gifted and Talented Education (GATE) assessment tests (which would have meant the de facto termination of the 3rd grade GATE program).
Further, looking to keep the budgetary blade away from students and teachers, the board adopted a variety of unconventional and, in some cases, unpopular revenue-raising measures, such as a $25-per-semester parking fee for students who drive to school, charging for parking at sporting events, increasing by 15 percent the use fee for auditoriums and swimming pools, and requiring that Associated Student Body organizations pick up 25 percent of the bill for their bookkeeping costs.
The biggest money savings came from eliminating teachers. Boardmembers voted 4-1 (Annette Cordero dissenting) to eliminate the 9th grade English class-size reduction, employing a new ratio of 25 students per teacher. They cut seven of the 13 high school guidance counselor positions; there is now one counselor for every 378 students.
Class sizes in grades k-3 changed Tuesday night from 18 students per teacher-a ratio that has been enjoyed since 1996-to roughly 21.5 students per teacher.
Lastly and most critically, to net nearly half a million in savings, the board tentatively approved moving ever closer toward staffing all three high schools at parity. Currently, San Marcos High has slightly fewer students per teacher to facilitate its unique block scheduling. However, this economy measure depends on the San Marcos staff approving a deal currently being brokered between the district and the Santa Barbara Teachers Association. The board will be forced to find $430,000 in additional cuts if the school's staff shoots down the plan.
The district may be looking at additional cuts in coming months, since most signs point to the likelihood that two ballot measures to boost public school funding (Proposition 1A, which must win in order for the second, Prop. 1B, to be funded) will fail to win enough votes in California's May 19 special election. On the other hand, there is the likelihood of federal stimulus money coming through later this summer, which could, in theory, be used to stave off additional hacking. Smith said the district won't have estimates of how much federal cash the district is in line for until, at the very earliest, mid May. "We just don't know yet about those things," said Smith, "We are just going to have to wait and see."