Living
Life Cube Aims to Save Disaster Victims and the Earth
Rescue Technology Innovation Also Darling of Green Crowd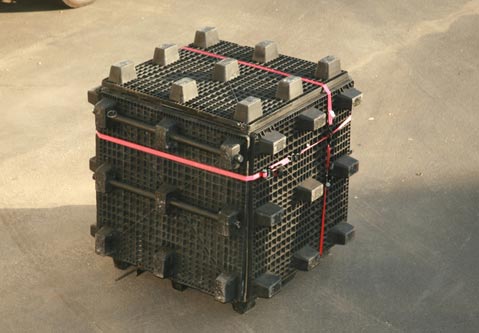 Children frolicked, couples cuddled in the grass, and bands filled the air with harmonious green glee at the Earth Day Festival in Santa Barbara's Alameda Park last month. Sorting through the many tents and exhibits, I came across an unlikely attraction.
There stood a disaster shelter, encircled by mobs of Earth Day goers seeking to get inside. The Life Cube, as it is called by inventor Michael Conner, is a huge inflatable tent that can deploy in under five minutes. The 140 square-foot shelter can be airdropped, dragged, trucked, or lifted to the site of an emergency, and is loaded with critical supplies such as food and 15 gallons of drinking water. What gives the Life Cube its name is that it begins as a sturdy cube and unfolds, quickly inflating its canopy. The original cube becomes the floor. It is expected to help save the earth as well as millions of lives.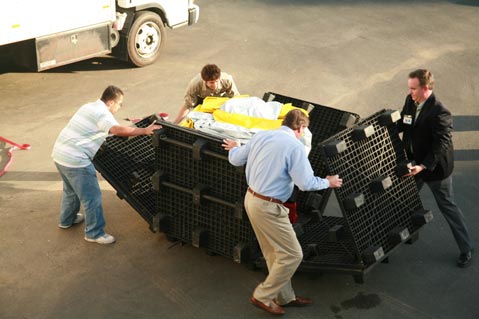 Michael Conner, owner of Santa Barbara Sandstone, said he has been inventing things throughout his life, though he has no more than a high school education. The Life Cube was created after the devastating 2005 Pakistani Earthquake. Conner describes watching, on television, while a rescue helicopter cut away leaving 300 to 400 refugees standing there without food, shelter, water, or help. "I noticed it was not the earthquakes, but exposure to the after-effects of the disaster that took so many lives," he said. "I want to be there that night when everyone is standing there in the cold." And with a small sketch four years ago, the Life Cube was born.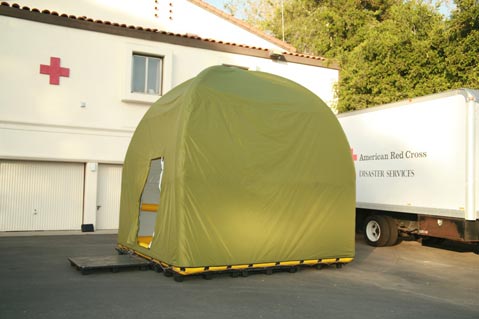 The shelter is composed of many green features including a floor made from 100 percent post-consumer material. As for the canopy fabric, Conner's idea is that the manufacturer will recycle it when the product is returned at the end of its life. Each Life Cube can be reused, providing emergency shelter for many families before it is retired. The emergency shelter is solar powered, notably the 12-volt electric pump that inflates the bed. Additionally, unlike the usual alternative, a towed trailer, the Life Cube does not contain toxic formaldehyde.
Conner currently works with enthusiastic University of California Santa Barbara students who herald a bright future for the Life Cube; they form a dynamic team of interns affiliated with Green2Gold. Managed by Alan Arthur Tratner, Green2Gold has helped the Life Cube team win competitions from San Francisco to Los Angeles. On Earth Day, Conner excitedly announced that the Life Cube had begun talks a few days earlier for a pilot program with the Red Cross. Conner, ecstatic, said, "There is no bigger name in relief agencies than the Red Cross."
The Red Cross will borrow the Life Cube to see how it performs in different environments, said Louise Kolbert, director of emergency services for the Red Cross in Santa Barbara. "The whole purpose is to have a temporary location for families to live until their home is rebuilt," she said. "Life Cube is a wonderful product and we want to see how it can be utilized in major disasters."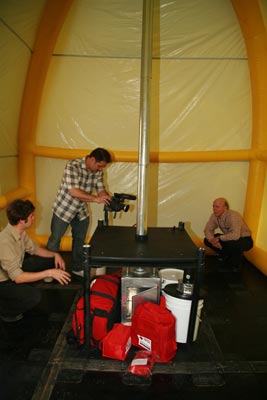 The team plans to have an assembly plant in Goleta, with all major components manufactured in America. The cubical floor will be produced by Rotational Molding of Utah, while the Patten Company is to make the inflatable canopy. Patten has provided life rafts for the Navy for over 50 years.
Given all this, Conner can perhaps be permitted a little boast. "Everybody can play the green game," he said, "but not everyone can walk the walk." In the future, Conner hopes to use Life Cube a springboard to generate money to invent more ways of helping others.
To get more information on the Life Cube and the inventors, visit the website: theinflatableworld.com