News
New Taxi Stands for State Street
City Moves to Better Accommodate Major Source of Nightlife Transportation
Soon after The Santa Barbara Independent detailed the plight of taxi cab drivers who work the State Street bar zone in a cover story titled "Taxi Timebomb", the cops, cabbies, and city councilmembers began discussing ways to make life easier and business better for downtown's major source of nightlife transportation. Less than a year later, this coalition is happy to announce the first results: nearly one dozen new cab stands, or legal stopping zones, in the lower State Street area, which will be open for parking as soon as the city's public works department can paint them. No one is claiming that this is a solution to all of the problems faced by cabbies, but everyone agrees it's a good first step and, hopefully, the sign of bigger things to come.
The new stands – which should be operational within three months, if not much sooner – are a response to complaints that the City of Santa Barbara is not doing enough to accommodate taxi services. The cabbies say that, while bars have proliferated in the downtown area, City Hall has not done enough to help the taxi drivers who shuttle the drunken hordes home safely. On top of that, the city makes business difficult by constantly approving even more cabbie permits, thereby creating a glut of taxis that must fight over the limited places to pick up and drop off. Since city traffic laws don't allow pick-ups in the middle of the road, this situation leads to a cat-and-mouse game between the cabbies and the Santa Barbara Police Department, whose cops repeatedly ticket cab drivers for stopping and driving illegally.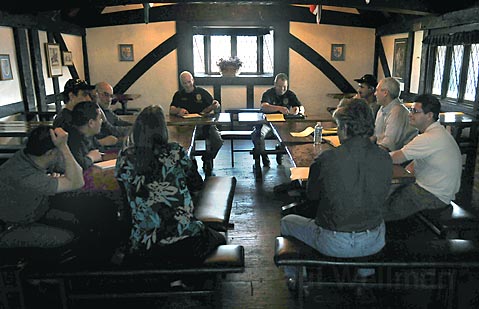 The cops and cabbies, who have started a loose affiliation, began talking officially on a February afternoon at the Rusty's Pizza Parlor on Carrillo Street. That's where Sgt. Riley Harwood and a colleague fielded complaints from the cabbies, and then explained what the cops could and could not do. "Some of those things are issues that the police department can assist with, and some frankly, we cannot," said Harwood. For instance, he explained, "We're not in the business of saying 'x' amount of taxi cabs can be in existence."
However, Harwood did see at least one opportunity where the police could bring relatively quick change. "They wanted more taxi stands in places where they can do their drop off and pick ups without running the risk of getting stopped or cited by the police," he said. "That's something I think we were able to work with them on."
So he and the city's transportation operations supervisor Drusilla van Hengel spent some time walking lower State Street and looking for new zones. "We identified about 10 other locations where we could potentially change them into nighttime taxi zones," said Harwood. Of the 11 new spots, one is on the 500 block of State Street. The others are all located on the first block of an adjacent sidestreet, specifically three spots on East Ortega, two spots on East Cota, one spot on East Haley, one spot on West Haley, one on East Gutierrez, and one on West Gutierrez. Van Hengel has since submitted the work request to the city's public works department, which completes projects on a priority basis. Harwood estimated that the new taxi stands would be completed within six weeks to three months.
"Hopefully, that will make things a little easier for the cabbies to pick up and drop off their fares," said Harwood. "Of course, it certainly won't be a cure-all kind of solution."
Cab driver and attorney Randy Rosenblatt, who drives the early '60s model taxi for Yellow Cab, was involved in mapping out the new stands. He's "very impressed" that Harwood and van Hengel actually walked the streets themselves. "Kudos to them for that," said Rosenblatt, who, like Harwood, recognizes the new parking zones as the first of many steps forward. "Of course, we have a whole agenda we're trying to deal with the city, not just a few parking lots," said Rosenblatt. "But it's a good start."
City councilmember Das Williams, who pledged his support of the cabbies last summer, has also personally met with a coalition of taxi cab members to assess their needs. "We can't stop enforcing the law," he said, "but I really understand that there are things we can do to help. This is the first step and, hopefully, we will continue to work together to ensure that they can operate effectively downtown. This probably shouldn't be the end of what the city does to help them, but it's a good first step."
On top of the cabbies' wish list would be the right to stop anywhere at anytime, a practice common in big cab-using cities such as Los Angeles, San Francisco, and New York City. But that's probably not going to happen in Santa Barbara. "We're a long way off from having the taxis simply be able to stop in front of any business they like and drop people off, but it's a step in the right direction," said Harwood, who's worried about the impacts such a law would have on public safety. "When a taxi slows down, a whole bunch of people start running out into the street. There's a lot of people competing for a finite number of taxis," he said. "From a broader public safety perspective, that's not a circumstance I can tolerate, especially with people who've been drinking."
With the new taxi stands, people may still have to walk around the corner to catch a cab, but at least there'll be more official places to reliably find a ride home. "Sometimes people have to walk a short distance for a cab, and I don't think half a block is too much to ask in most cases," said Harwood. "If you're so inebriated you can't make it that far, you've had too much to drink."