Sports
Vaqueros Football Stripped of Title
Investigation Finds Recruitment Violations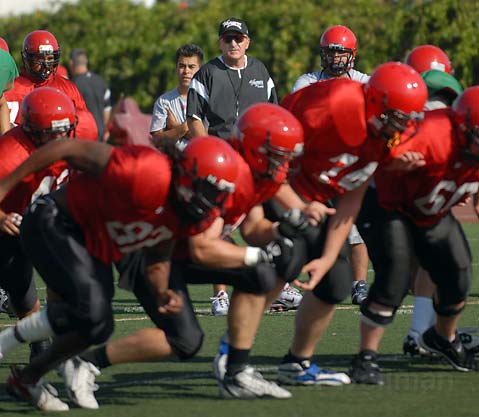 The Santa Barbara City College Vaqueros football team, once proud 2008 co-champions of the American Pacific Conference, have been stripped of their six winning games and their title as part of sanctions imposed by the California Community College Athletic Association Commission on Athletics (CCCAA/COA). SBCC announced the sanctions and penalties last week, concluding an investigation that college officials said was organized in-house. "Our investigation into allegations of recruitment violation in football this past season : found that there were recruitment violations," said Sue Ehrlich, SBCC's vice president of human resources and legal affairs.
The investigation came on the tail of controversy having to do with head coach Craig Moropoulos and his staff allegedly providing housing for out-of-town players, and rumors of apartment tenants in a Meridian Group-managed complex being evicted to accommodate athletes. However, neither Moropoulos nor SBCC's administration were able to comment on the matter, nor were student athletes and rental management companies. Ehrlich remained tight-lipped about personnel issues, so it is not clear whether disciplinary action will be taken. What is certain is that in addition to losing their 2008 title, the Vaqueros are denied entry into 2009 post-conference competition, and the football program will be on probation with CCCAA/COA until June 30, 2010. According to SBCC's statement, the sanctions will not affect individual athletes' academic standing, and they will continue to be eligible participants on the team.
Although Moropoulos said that there is no doubt that SBCC's investigation of its football program was a thorough one, CCCAA President Carlyle Carter said in an email that the matter remains open and has not yet been completely finalized.