News
Williams Makes It Official
Vows to Protect "Real People" from Budget Cuts
Braving excruciatingly blue skies, Santa Barbara City Councilmember Das Williams officially announced on Monday what many politicos had known for months: He's running for the Democratic nomination for the 35th Assembly seat, encompassing much of Ventura and Santa Barbara counties. Standing in front of the East Sola Street fire station, Williams noted that friends have cautioned him against getting sucked into "that madhouse in Sacramento." In response, Williams said, "I know all too well Sacramento is broken. But when Sacramento is broken, bad things happen to real people." If elected, Williams-a liberal Democrat with environmental and social justice connections-said his blend of passion, experience, and grassroots activism would be deployed to protect public education and working families from the brunt of budget cuts.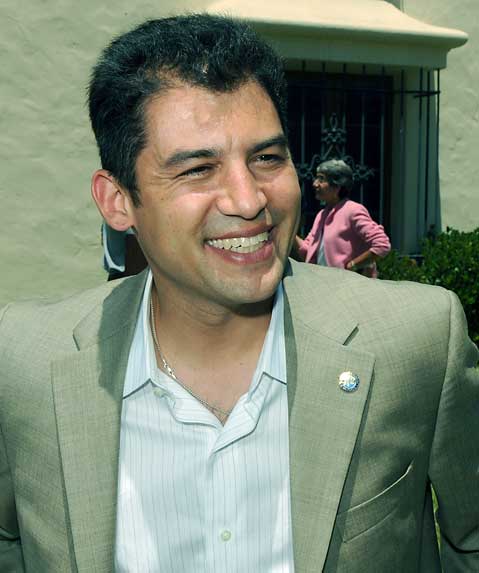 To get to Sacramento, however, two-term City Councilmember Williams must first confront candidate Susan Jordan-also a liberal Democrat with impressive environmental and feminist credentials-in next June's primary. Jordan's husband, Pedro Nava, now represents the 35th District, but is barred from seeking re-election by the state's term limits law.
Williams and Jordan are longtime political allies and friends. So too were Williams and Nava. All that soured early this year when Nava informed Williams that Jordan should run to fill his seat. Williams had long expected to get the nod. When Jordan and Nava alienated many Santa Barbara environmentalists this spring over a controversial offshore oil development proposal, Williams entered the race as well. He will face Jordan next June; the winner of that race will confront the Republican candidate. Thus far, only Mike Stoker-a former county supervisor and assistant to archconservative former state Senator Tom McClintock-has declared his intentions.
During his announcement speech, Williams described growing up poor in Isla Vista, the value of a quality education, and his parents' ecological values. But it was on a trip he took to South Africa, where he worked on behalf of Nelson Mandela's African National Congress, that Williams said he "experienced firsthand the transformative power of grassroots action." After visiting South Africa, Williams returned to Santa Barbara a social activist and political junkie, working to get likeminded candidates elected. In 2003, Williams ran for the Santa Barbara City Council and won. But when he ran for county supervisor-against Dan Secord and Democratic Party darling Janet Wolf-Williams found himself on the wrong side of many former supporters.
As a councilmember Williams champions such issues as the living wage, the greenification of City Hall, affordable housing, and neighborhood preservation. But he's also tried to establish himself as something of a fiscal conservative. When City Hall confronted a $10.5-million budget shortfall this year, Williams immersed himself into the process. Eventually the council passed a budget with no involuntary layoffs and no reduction in the number of police officers on patrol. Williams sought to redefine the traditional notions of "public safety" to include afterschool programs targeting at-risk kids. "The council provides free childcare for schools in the summer," he declared. To accomplish this, Williams led the charge to increase exactions on the city's waterfront department and parking districts to defray cuts elsewhere. If Santa Barbara could do it, Williams said, "There's no reason we can't get them done in Sacramento as well."
The challenges there are larger, and Williams was quick to fault both parties for the budget pain Sacramento is poised to inflict. "The Republican message is, 'We need to cut $26 billion to balance the budget.' The Democrats message is, 'We need to cut $26 billion but we feel bad about it.' That's not good enough." Williams claimed California could plug nearly half its shortfall without a single Republican vote. Much of that $11 billion, he said, could be raised by charging 10 cents extra on every drink poured in California bars and closing tax loopholes benefiting oil and tobacco. He disputed that the defeat of spending measures in May's special election means that voters oppose tax increases. "That's not what the election means," he said. "People don't want smoke and mirrors; they want the truth; they want something that's real."