Arts & Entertainment
Slightly Stoopid Blazes New Trail
San Diego Reggae Rockers Bring Blazed and Confused Tour to S.B.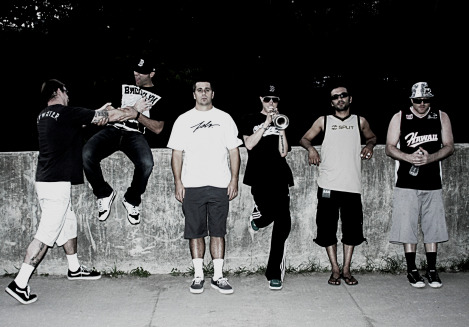 As major labels begin to crumble under the weight of MySpace, Facebook, and file sharing, it's easy to understand why so many bands are embracing the do-it-yourself music model. But back when self-made rock stars Slightly Stoopid got their start (circa 1995), such a model didn't really exist. Yet, through a combination of non-stop writing, gigging, and touring the country, the six-piece punk-meets-reggae-meets-hip-hop act from San Diego managed to not only make it work, but make it huge. Today, the band is selling out shows across the nation, hitting amphitheatres year-round, and playing for fans that are ever willing to show up and sing along.
This Sunday, Slightly Stoopid will headline the Santa Barbara Bowl as part of their summer-long Blazed and Confused Tour, which also boasts such big name acts as Snoop Dogg, Stephen Marley, Mickey Avalon, and reggae legend Half Pint. Recently we caught up with lead singer Miles Doughty to discuss the tour, the fans, and the slow road to success.
From what I've read, this tour was really hatched and constructed by you guys. We put a little message out for all the Stoopid fans to help name the tour, and we actually chose what one of the fans came up with. It's pretty cool just interacting with them like that and having someone else pick it. It kind of fit all of our profiles so well anyway; between Snoop and Stephen and Mickey and us they'll be plenty of herb smokin' going on.
Can you tell me about the vision behind Blazed and Confused bill? It's gonna be a little bit of madness. Between all four bands it's going to be kind of chaotic. I think it's going to be a cool show for the fans just because there's so many different styles, between the hip-hop, the reggae, there's going to be punk rock, there's going to be blues. It's basically taking off where Tailgate left off last year – the Tailgate Tour we did with Pepper and Sly & Robbie – this is just kind of taking it to the next level. With Snoop and Stephen Marley, we're just trying to get it crazier than it was the year before.
What lead you to bring Snoop, Mickey, and Stephen onto the bus? Basically, we were going to tour amphitheaters this summer regardless, and we put in our wish list of who we'd like to play with, then just left it up to our agents to contact Snoop's agent, Stephen's agent. You kind of have to create a good vibe for yourself too. We don't just go on tour with anybody. We go on tour with cats that we know are going to have a good time with us. When you spend as much time on the road as we do, you need to make it fun always. I wouldn't go out with someone just to go on tour; I'd want to be able to interact with 'em.
Am I correct in thinking Half Pint will also be playing with you guys? Yeah, he'll be on all of the dates. He'll sit in just like last year [when] he sat in with us on the Tailgate Tour. He'll do like three songs a night with us during our set. That guy is so awesome. He's such a cool individual as far as his whole outlook on life. He's a very humble man and very intelligent and just really cool. He's [had] a big influence on our music careers as just a reggae legend and lyricist.
You guys have toured with some other serious reggae legends over the years. Yeah, it's pretty crazy. We've been very blessed. We've played with Yellowman, Toots & the Maytals, all the Marley brothers – Damian, Stephen, Julian, Ziggy – Sly & Robbie. It's been a crazy ride. We obviously grew up listening to a lot of these cats, so it's just cool to be sharing a stage with them and having a creative process. Every tour we always do an encore with the bands we're playing with, so it was rad to even share the same breath with guys like Sly & Robbie and Half Pint. They're the guys that were really godfathers of this stuff.
Do you guys write from the road as a band, and are there additional collaborations going on outside of what we see onstage? Oh, of course. As a musician, you write always – you write when you're home, you write on the road, you write in the studio. Your mind is always kind of going 100 miles an hour.
I also noticed that this whole tour gets rolling in Vegas. That sounds like trouble. [Laughs.] Yeah, that might be the start and the end of the tour.
Any big plans to kick things off? I mean, I like to gamble. I don't go to Vegas all the time, but when I go I like to go huge. I'm a blackjack kind of cat and I'll sit at a table for five or six hours and drink cocktails. Win or lose, I'm just having fun.
I don't peg you guys as really pushing a new album or a new set of songs when you play. What does the set list look like for this go-round? It's just a mixture of everything. We always play something from every genre of our career, something from every record. Some records we'll play more songs [from], and then we also just play whatever the fans are calling out. Whatever we can hear from the stage, we'll throw it into the set. Honestly, we couldn't do this without the fans. We love to be on stage and it's awesome. We've been touring for so long that some of these cats have been following us around for over 10 years – they watch you grow up and you watch them grow up – it's pretty cool. That's how slightly Stoopid has become so successful; our fan base has been rad. They've supported a band that never had a major label, didn't have the MTV push or the radio push, and now people shake their heads and go, 'How the hell does Slightly Stoopid do this kind of stuff?' Our fans are just awesome and they love the music.
Your career path has certainly been an odd, almost Cinderella story amongst the mainstream music business model. I think what the people respect so much is that we've done it on our own and we've always just pushed the big wigs aside and said, 'We don't really want you to direct this band.' This band – for it to feed it has to go in its own direction.
Agreed. As odd as it is, you get the sense that Slightly Stoopid could not have worked any other way. Yeah, it wouldn't work at all. Major labels look for a band – they just look for a hit song from a band. That's the problem when you listen to the radio. We'd rather make records that we know the fans will enjoy. You make something that when you hit play you can just let it roll, rather than wondering, 'Hey, where's the single at?'
And you guys get radio play us here, but that probably has a lot to do with the fact that Santa Barbara houses a very strong Slightly Stoopid fanbase. Yeah, I love Santa Barbara. We've been playing there for maybe 12 years, 13 years because we used to do parties in Isla Vista. That was just out of control, doing the 12 keg parties. It was just madness.
Slightly Stoopid has definitely championed the idea of doing it yourself. What advice do you give to the up-and-coming rock bands out there who want to make it big? You've got to be willing to get out there and put yourself on the road; don't be lazy. So many people want the quick success. We've played in front of zero people and we've played in front of 20,000 people. We've been on stages where we were booed because we were playing with a band and [the audience] only went to see them. I think everyone needs to go through that process to understand what it is to be a performer and know that you really want to do that with your life. It's not easy work. I've been in the band 16 years and it's been a very gradual climb. The first eight years was a rocky, rocky road. We were sleeping on people's floors, making $50 bucks a show, or just driving wherever to play for the security guards and the bartenders. I think once kids realize that that's where it's at, that's the longevity of music, just putting yourself out there and interacting with the fans and kind of building it together.
4•1•1:
Slightly Stoopid headlines the Blazed and Confused Tour this Sunday, July 12 at the Santa Barbara Bowl. The show starts at 5 p.m. Call 962-7411 or visit sbbowl.com.