Outdoors
Illegal Trail-Cutting Efforts Continue to Concern Forest Officials
Mountain Biker Seriously Injured on Cold Spring Trail by Unauthorized Trail Work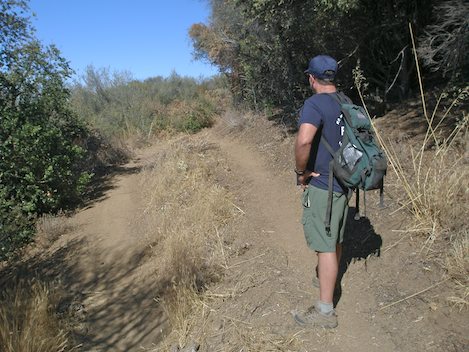 Just as fire officials were completing their report on the cause of the Jesusita Fire, believed to have been started during an unauthorized trail maintenance project last May, Los Padres Forest officials were notified last week that another incident involving what appears to be illegal work on the front country trails has caused serious injury to a trail user.
The victim, a young woman riding her mountain bike down the upper part of Cold Springs Trail, suffered a large gash on her leg that required a visit to the emergency room and nine stitches when she was forced off the trail and into the brush.
This past Wednesday I accompanied Kerry Kellogg, wilderness trail manager for the Santa Barbara District of Los Padres Forest, to examine a section of the upper Cold Springs Trail from the trailhead on East Camino Cielo down to Montecito Peak in an effort to determine where exactly the trail work was being done and, in fact, if it had been done outside the normal trail maintenance process.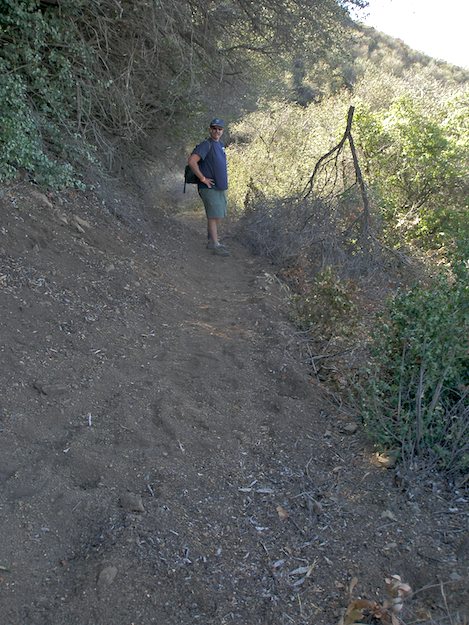 We hadn't gone more than a few hundred yards down Cold Springs Trail when Kellogg reached the first of what would be a number of locations where someone had re-routed the original trail along the upper hillside, creating in effect a parallel trail about three feet higher than the original trailbed and stretching for about 50 yards in length.
Kellogg stood silently surveying the work for a few moments, then clearly appalled by what he was seeing, said, "There's no rhyme or reason for this work. The trail here was very suitable. It just doesn't make any sense."
As we continued down the trail, the seriousness of the problem became even more apparent with section after section of the trail cut higher on the slope and the brush piled haphazardly on top of the old trail. About a quarter mile down from the top we came to one of the sections that Kellogg thought might be where the injury occurred. The new trail cut abruptly up and around a corner, the tread was narrow and the dirt loose. Beneath this was a three-foot-deep swatch of dead brush that continued on for more than a hundred yards. Much of it had sharp ends that could have easily inflicted a major injury.
"It's hard to get into the mind set of the person or persons who've been doing this," Kellogg commented. "We've got plenty of trail that needs to be reworked and lots of sections where the erosion-control features need to be improved, but this work was done along sections of trail that didn't need fixing."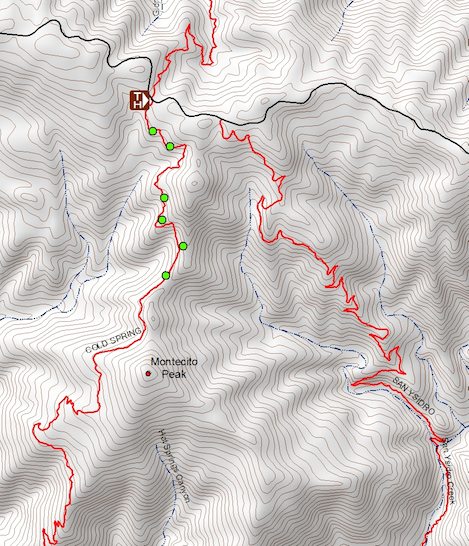 As we moved further down the trail, Kellogg began to tick off the problems that this illegal work had caused: huge amounts of brush that will need to be removed, some of it 15-foot sections of chaparral that will need chainsaws to cut up and get off the trail; new erosion issues caused by digging up the tread; future maintenance that will be needed to deal with the damage; and the liability to the trail users.
"We've got very limited resources when it comes to maintaining the trails as it is without having to use precious volunteer or staff time to deal with this," Kellogg added, estimating that the damage could cost close to $5,000 to fix and cost one of the front country's major trail volunteer days. "We'd planned on working on the San Ysidro Trail on National Public Lands Day [coming up on September 26] but now we're being forced to move the project to the Cold Springs Trail," Kellogg said.
Not a New Problem
Cutting what might be termed "rabbit trails" in the chaparral is not a new problem. Cold Spring Canyon, in particular, has seen a number of off-trail routes added over the past 10 years or so, particularly in the lower part of the canyon. In 2003, then Santa Barbara News-Press staff writer Melinda Burns explored the issue in depth in an article entitled Off the map; Outlaw hikers forge illegal trails in woods.
It is clear from Burns' article that despite the overwhelming disapproval of every public official, government agency, and most every trail organization leader, this underground trail-building movement not only still exists, but is being actively pursued by a few dedicated individuals.
Evidence of these efforts were clear to both Kellogg and I as we reached the foot of Montecito Peak where we discovered another of these new rabbit trails leading up onto the low saddle just north of the peak. Rough hewn and incredibly steep, the cut brush shows evidence of being cut in the last few months, perhaps even after the Jesusita Fire in early May that should have served as a warning to others about the disastrous impacts that illegal trail work can cause.
As we made our way up the ridge, it became clear to Kellogg that the time has finally come to deal with those who are doing the work. "This has got to stop," Kellogg said, as we looked back down at the trail work. "It's not just a matter now of cutting a route to get to a nice view point or a particularly spectacular rock formation – we've got people cutting trail most anywhere they feel like doing it and now they are impacting our main front country trails as well."
Currently, Kellogg has notified Forest Deputy Supervisor Ken Heffner of the problem and Los Padres Forest is actively pursuing an investigation into the illegal trail work. "We don't take issues like this lightly," Heffner said. "We've just come through a major community disaster that appears to be caused by unauthorized trail work and now we are dealing with a trail user who has been injured as a result of this type of work."
"There's only one way we can really stop this kind of activity," Kellogg concluded, as we headed back to our vehicle, "that's the public's help. I know there's some who think this type of work has a Robin Hood quality to it, but it is now beginning to have serious community impacts."
If you have any knowledge of illegal work being done on our local trails, Kellogg asks that you call him at 967-3481 ext. 231 or email him at kkellogg@fs.fed.us.
4•1•1
For those who would like to help rehabilitate the damage done to the Cold Springs Trail, please join us for Public Lands Day on Saturday, September 26. Meet at Skofield Park at 8a.m. We'll carpool from there. Wear long sleeves and long pants, have a helmet (bike helmet works), eye protection, and, if you have them, gloves. Bring snacks and water. BBQ afterward on top at Cold Springs Saddle.
Add yourself to the Santa Barbara Trails Council trail volunteer list to be notified about future projects.