S.B. Author
Sue Grafton
B Is for Best: Sue Grafton is now on her 21st installment of the saga of Kinsey Millhone (U Is for Undertow), a tough female detective tracing back the lineages of corruptible humanity on the mean streets of Santa Barbara. Grafton is now 69 years old and, we hope, ready to start in on the Cyrillic alphabet after she finishes with Z.
FINALIST: T.C. Boyle
S.B. TV Personality
John Palminteri
The Palm, as some of his friends now call him, has had a big workout in the tragedy reporting business this year. "More people saw me in my yellow Norco rain gear," he said, speaking of the clothes he wore to cover two major fires, "than saw me in a suit." It's not unusual for Palminteri to be everywhere working, as he does, for TV's KEYT and for at least three radio outlets at one point or another. He can spread himself thin at times, he admits; his job is uniquely self-directed, too. "Most of the time, it's just me out there; I have no writers or editors," he said. "It's just me talking into the camera. And all of you on the other side where I can't see you."
FINALIST: Paula Lopez
Radio Morning Show
Spencer and Adam, The KJEE Morning Show
Adam Lundquist has been paired with radio veteran Spencer in the 6-10 a.m. slot at KJEE since 2004. "They put me on when the Red Sox beat the Yankees," said the Massachusetts native. "I can't believe it's happening because I think I sound like a duck. I'm so grateful. I really want to thank my girlfriend and my family for supporting me through all of this. It's awesome, and I promise to continue doing great radio."
FINALIST: KTYD's The Early Show
S.B. Radio Station
92.9FM KJEE
Stephen Meade, who many old-time listeners remember as Stephen Jay, said it was a tough year, but the station held its own and then some. "A lot of media are laying off people, but we didn't," said the popular rock station's business manager. "I'm proud of the way we not only do great radio, but we try hard to stay a part of the community. We're out there with people every day."
FINALIST: 99.9FM KTYD
S.B. Web site
Sometimes edhat.com's news reports are almost unintentionally funny, like the recent posting about a giant manhunt conducted along Modoc, almost melodramatically warning people out of the area due to the reported sighting of a man prowling the streets with a rifle in his hand. Later, police confirmed it was just some suburban guy bringing his legally owned rifle from his car into his house. Small-town stuff. Other times it's intentionally funny, like the recent essay about the field of drains on Highway 192. "It's a grate place to live," wrote the intrepid essayist. But other times, when radio and television fail to keep us posted on real emergencies, it's not funny, especially when you consider how few people it takes to keep a city informed. It's kind of miraculous.
FINALIST: santabarbara.com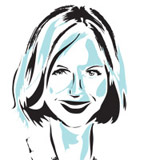 S.B. Columnist
Our intrepid reporter from the domestic front, Starshine Roshell, sent us this urgent missive: "I'm ashamed to tell you how giddy I am about the win. Based on the comments posted by online readers, I figured I was a shoe-in for Best Half-Brained Hack, Twit, and Beyotch. But this? It's too much. Also, this just in from Kanye West: 'Listen up, Nick Welsh has the best column of all time!'"
FINALIST: Barney Brantingham