Angry Poodle
Bitch in Heat
Poodle Barks at Randall Van Wolfswinkel
WHERE'S MINE? There are about 518,000 good reasons to be outraged by the ungodly sums of money now being spent on the City Council elections. What most chaps my hindquarters is that I'm not getting any. The way I figure, if Texas billionaire Randall Van Wolfswinkel keeps spending at his current pace and Santa Barbara voters show up-or don't-at their customary rate, he'll spend about $45 per voter. Why not eliminate the middle man? Just send us all checks. It's more direct, and we could all use the dough. If not that, what about those old-fashioned political pot-holders? Unlike TV ads, they actually serve a function. Perhaps if Van Wolfswinkel is half as exercised about gang-bangers and panhandlers as his ads indicate, he should spend his money buying them off instead. With the kind of cheese he's spreading around, I'm sure some kind of accommodation could be reached.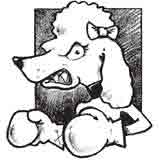 For those tuning in late, Van Wolfswinkel-the proud graduate of Santa Barbara High School who made a fortune building subdivisions in Texas-became suddenly and mysteriously obsessed with giving City Hall a massive political facelift. Liberals out; conservatives in. Accordingly, he formed his own political action committee, Preserve Our Santa Barbara, registered to an address on Wilshire Boulevard. Since then, he's been spending cash in quantities that would choke the entire equine population of Santa Barbara County. Directing this onslaught is a marquee firm of political hacks out of Sacramento, Santa Barbara's apparently not being mean or cynical enough. They, in turn, have been assisted by an untreated anger-management case-a quasi-transplant from San Luis Obispo-who'd have a serious bone to pick with City Hall if he could get it out of his throat. Adding to the Twilight Zone effect is the name itself-Van Wolfswinkel. As one self-described hobo correspondent wrote me, "Beware of winking wolves."
To date, Randall has spent in excess of $518,000 on behalf of his slate of candidates: Dale Francisco for mayor, and Michael Self, Frank Hotchkiss, and Cathie McCammon for council. Without Van Wolfie's largesse, there would be little gas in the tank for Measure B, the ballot initiative that would lower the maximum building heights in Santa Barbara to such an extent that anyone taller than six feet will become a walking zone violation. By next Tuesday-Election Day-Van Wolfswinkel will have dropped a cool $700,000 as a down payment for a new council majority. By comparison, the Santa Barbara Police Officers Association (POA)-the heaviest of hitters in most community campaigns-will spend about $60,000. (This has been a bad year for the cops. First, the only candidate they really cared about-mayoral contender Iya Falcone-dropped out early. Then, they endorsed two council candidates on the Van Wolfswinkel ticket. Michael Self-the anti bulb-out activist-insisted during a radio interview last week that the union that endorsed her was not really a union at all, nor did it bargain contracts, wages, or benefits with City Hall. In fact, the POA is by far the single most powerful union in the city, and contract negotiations between City Hall and the POA have emerged as a high-profile, high-stake, gladiator-style contact sport. That's something a candidate should know. They also endorsed Frank Hotchkiss, whom blogger Craig Smith dubbed the "Get-Off-My-Lawn" candidate, referring to how Hotchkiss forced his next-door neighbor, Marymount, to shut down the school's basketball courts to weekend warriors. Hotchkiss said the players came from outside the neighborhood, cussed, played loud music, and left broken glass in their wake. People involved with the school at the time, however, insisted that happened only once, and that most of the dispossessed were neighborhood kids. Some people have objected that Randall's ads are poisonous, toxic, noxious, unfair, misleading, and deceitful. What I find offensive is their utter artlessness. Isn't Santa Barbara renowned for its fussy aesthetic standards? Van Wolfie's hit pieces are drearily generic, designed to work anywhere, anytime. If you're going to trash someone's reputation, it should at least be personal.
What bugs is Van Wolfie's total lack of accountability. If he wants to rearrange the furniture on which we're now perched, fine. But it would be neighborly if he discussed it with us. But he's just another billionaire who thinks he's the Wizard of Oz. He doesn't talk to anyone, least of all reporters; he doesn't return phone calls. He doesn't answer questions. Instead, he remains comfortably above the fray he started. Van Wolfie's one and only contact with the S.B. press was with Daily Sound columnist Cheri Rae in what appeared to be a well-manicured email Q&A. It was like diving into a sea of cotton candy. In it, Van Wolfswinkel explained he was just a humble, hardworking man lucky enough to make a few billion building subdivisions in Texas and who wanted to save his beloved hometown from being plundered by people just like himself. "We should all treat Santa Barbara almost like a national park," he stated. That's where he's dead wrong. We are not a national park. Or a museum piece. Or a monument. Or a mausoleum. Or a waxed apple, for that matter. We're a living, breathing city. A small one, yes, but a city nonetheless. And not a small town, either. We sport one of the best universities and best city colleges in the state, an airport, a harbor, a pocketful of billionaires, three serious performing arts theaters, a regional shopping mall, and some of the best tacos north of the border. People like Van Wolfswinkel-and the whole well-meaning crowd supporting Measure B-would like to keep Santa Barbara the way it was, only more so. I sympathize. But municipal mummification is not the answer. We are not dead yet. Do not go quietly into Van Wolfswinkel's good night; we still have asses to kick before we sleep. And the first one, I'd say, should be Randall's.
In the meantime, don't be stupid. Vote!