News
Whole New Ballgame
Schneider New Mayor; Grant, White, Hotchkiss, Self Win; B Loses in Big Upset
Culminating a bruising, go-for-the-throat Santa Barbara City Council campaign that saw all previous spending records obliterated, Councilmember Helene Schneider decisively beat both of her closest rivals-Councilmember Dale Francisco and Chamber of Commerce president Steve Cushman-in the race for mayor. "Tonight we celebrate," said an ebullient Schneider while standing atop a chair at Dargan's Pub & Restaurant. "Tomorrow we figure out the next major thing. We're going to move forward, and we're going to make things happen in Santa Barbara." The council over which Schneider presides, however, will be a far different creature than the solidly Democratic, left-leaning body on which she's served for the past six years.
True, incumbent Councilmember Grant House will be back, emerging as the top vote recipient despite a blistering attack by Preserve Our Santa Barbara-the political action committee bankrolled by part-time Santa Barbara resident and Texas housing developer Randall Van Wolfswinkel. Likewise, Planning Commissioner Bendy White, who came in second, survived Van Wolfswinkel's wrath relatively unscathed. But Dianne Channing, part of the de facto liberal slate, came in fifth, fighting for votes with populist-enviro David Pritchett. There will be two new and decidedly more conservative faces on the council: Michael Self-the dogged antibulb-out activist-came in fourth, and Frank Hotchkiss-making his second bid for office-came in third in the wake of the Pritchett-Channing split.
Francisco lost in his mayoral bid, but he was hardly dejected by the night's outcome. "Even though I entered the race three months late, I showed you can come this close to beating the political machine," he said, referring to the strong support Schneider received from the Democratic Party and all three major public employee unions. "I now have two people I supported on council who share my beliefs. It's going to be a whole new council."
Schneider acknowledged the shift in council composition-"I hope we can find common ground," she said-but focused instead on House and White's victory. "This shows that $700,000 worth of negative campaigning didn't work in Santa Barbara," she said, referring to Van Wolfswinkel's record-setting support for the slate of Francisco, Self, Hotchkiss, and Cathie McCammon. Likewise, House added, "Santa Barbara cannot be bought."
Van Wolfswinkel was by far the biggest spender-roughly $600,000-in a race marked by infusions of campaign cash like none before. In all, roughly $1.8 million was spent by all candidates and political action committees combined, bringing the per-vote cost to roughly $90.
While the current council can, at times, be testy and acrimonious even with an overwhelming liberal-Democratic slant, the new council promises to be far more balanced and far more divided. The new arrivals bring with them the righteous sense of aggrievement of outsiders who've been made to wait too long. "It's nice to see that the citizens-and not just the ideologues-now have a voice on the council," said Michael Self. "We're tired of being treated like 3rd graders and told to sit down." The new council will confront such intractable zero-sum issues as budget woes, public safety, and growth.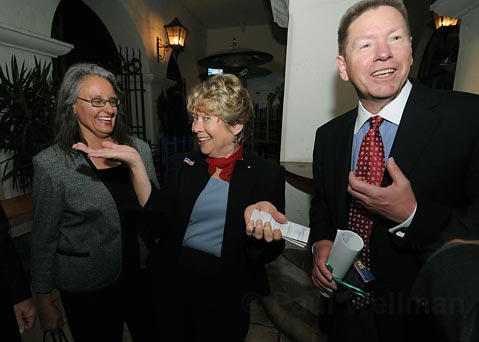 The biggest upset was the defeat of Measure B, which would lower the maximum allowable building heights. Supported by most candidates and widely regarded as a shoo-in by many, Measure B lost by more than 1,500 votes. Van Wolfswinkel spent heavily on behalf of Measure B, and perhaps that, in the long run, hurt the measure. House openly opposed it, arguing that it turned out not to be the overwhelming issue that many, even his campaign manager, thought it was. "There are more important issues, like what's going to happen to our young people," he said. Schneider declined to take an official position on the matter throughout the campaign, despite having voiced clear reservations. Measure B foes charged that Cottage Hospital could not be rebuilt under Measure B in the event of an earthquake. Francisco termed the opposition campaign "silly"; Self termed it "a lie" and "a dishonorable win." Measure B was vehemently opposed by a coalition of the Democratic Party, PUEBLO, architects, developers, Community Environmental Council, and affordable housing advocates. PUEBLO volunteers targeted 3,000 occasional voters in an aggressive get-out-the-vote effort.
This year marked the first time city voters cast their ballots exclusively by mail. Early concerns about low voter turnout proved unfounded, with 22,869-or 49 percent of all 46,000 registered voters-casting ballots. By contrast, 16,500-37 percent-voted in the city's last election two years ago.
Election Results
Mayoral Candidates
Helene Schneider 10,254 45.8%
Dale Francisco 7,602 33.9%
Steve Cushman 3,644 16.3%
Isaac Garrett 481 2.1%
Bob Hansen 412 1.8%
City Council Candidates
Grant House 8,806 38.5%
Harwood "Bendy" White 8,112 35.5%
Frank Hotchkiss 6,803 29.74%
Michael Self 6,788 29.68%
Dianne Channing 6,061 26.5%
David Pritchett 5,113 22.4%
Cathie McCammon 3,532 15.4%
John Thyne 3,361 14.7%
Justin Tevis 2,475 10.8%
Cruzito Cruz 1,890 8.3%
John Gibbs 1,861 8.1%
Lane Anderson 1,286 5.6%
Bonnie Raisin 839 3.7%
Measure B (lower allowable building heights): FAILED
Yes 10,343 46.3%
No 12,009 53.7%
Measure C (combine Parks and Recreation commissions): PASSED
Yes 16,766 78.6%
No 4,564 21.4%
Measure D (expand Harbor Commission): PASSED
Yes 10,944 57.2%
No 8,203 42.8%
Measure E (reduce Architectural Board of Review): PASSED
Yes 12,844 65.6%
No 6,724 34.4%
Measure D (expand Harbor Commission): PASSED
Yes 10,944 57.2%
No 8,203 42.8%
Measure E (reduce Architectural Board of Review): PASSED
Yes 12,844 65.6%
No 6,724 34.4%