Food & Drink
A Reopened, Relaxed Wine Cask
Doug Margerum and Mitchell Sjerven Team Up to Bring Back the Santa Barbara Institution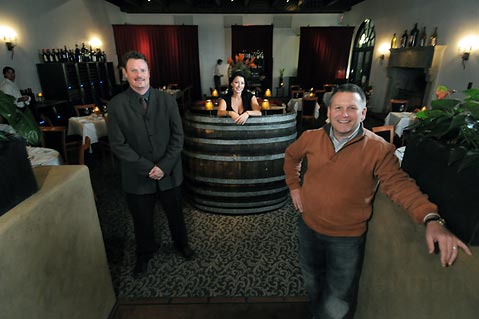 This story begins with a tale of two waters. Water one: It's November 16, opening night at the Wine Cask-or perhaps that's Wine Cask III, now that original owner Doug Margerum and Mitchell Sjerven, owner of bouchon and Seagrass, are reopening the storied downtown location after a spectacular flameout that was the Bernard Rosenson era. The place already seems abuzz, filled with happily chatting diners and softly piped-in surprising musical choices like Regina Spektor and Feist (this isn't your parents' Wine Cask). A member of our group requests no ice in her water. A different server delivers our waters-three iced, one not, the one not placed in front of the requestee. Impressive, to say the least, on any night, let alone an opening.
Water two: I arrive midday to interview Sjerven and his chef David Sundeen. Sundeen is available first, and asks if I'd like something to drink. I ask for water, and he goes to get it. A server then asks if I need anything, seeing me alone. Then Sjerven comes to the table and asks the same. Simply put, we're talking service-first folks. It's not surprising, then, when Sjerven claims, "We're trying to find a new word for fine dining. On purpose we put our staff in jeans-there's no dress code here. We want people to eat here on a regular basis, and we serve more comfort food."
Sjerven is also pleased he can offer, as he puts it, "The either/or question, not the yes/no question. When people in the tasting room ask where to eat, we can say, 'Do you want something lighter and more informal? Go to the Bar/Cafe. If you want something more substantial, go to the Gold Room.' Now they have their dinner plans." The Bar/Cafe menu features nothing priced higher than $15 (which gets you a spectacular-sounding duck leg confit, wild mushroom, braised greens, and smoke mozzarella flatbread) and also has to live up to Sjerven's seven-minute rule. "Everything has to be able to be served seven minutes after the ticket arrives in the kitchen," he explained. "Look at the appeal of fast casual spots like Panino and Los Arroyos for lunch-they have lines out the door. With our killer pizza oven, making artisanal flatbreads, and our chopped salads, we're kind of like a sexy CPK."
As for the restaurant, prices top out at $30 for an entree; not inexpensive, but less dear than the previous incarnation. The space is also cleverly redesigned: You now enter from the El Paseo passageway, not through the patio (that's an extension of Bar/Cafe), so get a full view of the room upon entrance; the white walls hold no art beyond terrific iron-light sconces made by Steven Handelman; and the back wall features red curtains that add not just color but a bit of drama. Though Sjerven shies away from the term fine dining, this Wine Cask is a bit of a show. That's particularly true if one orders what's already becoming a signature dish for Sundeen: a deconstructed cassoulet, wonderfully firm white beans and smoked tomato surrounded by braised pork cheeks and homemade sausage (rabbit, one night) to the left and a hearty duck confit leg to the right.
Sundeen, who had worked as executive chef for Sjerven at bouchon three years ago, returned to town after opening a restaurant in South Carolina. "I hadn't heard from him in a long time, nine months," Sjerven explained. "He emailed out of the blue and said that he and [his wife] Susan wanted to come back to Santa Barbara. I emailed him back and told him to call me the next day. He has that blend of creativity and production that are sometimes mutually exclusive skill sets in a chef."
That Sundeen called at that moment was more than fortuitous. "No fewer than five previous chefs at Wine Cask called about the job," said Sjerven. "That was one fork we had to decide: Do you go back to an old chef, to old menu items? Doug and I decided we didn't want to hold on to the old things just to hold on to the old things."
The most dramatic change is that the new Wine Cask will not attempt to win a Wine Spectator Grand Award for its wine list. "Doug estimated the Grand Award required $300,000-$400,000 of what you call dead inventory, wines that no one's ever going to order," Sjerven explained. Instead, the wine store/tasting room and both restaurants now share one inventory, which is about 85 percent Santa Barbara County product fueled by a wine alliance of 100-120 producers. That way, said Sjerven, "Everything that goes out of that shop, we can stand behind. It's people we know and want to work with, same as the chef and the people at the Farmers Market."
4•1•1
Celebrate the resurrected Wine Cask and Wine Cask Bar/Cafe at 813 Anacapa Street. Call 966-9463 or see winecask.com.