News
Pot Crack-Down Commences
Cease and Desist Letters Sent to Dispensaries
Santa Barbara City Attorney Steve Wiley sent cease-and-desist letters to the owners of four medical marijuana dispensaries that he contends are operating illegally, in the same week that a City Council committee adopted tough new restrictions on medical marijuana dispensaries. And California State Assembly member Pedro Nava, now campaigning to become California's next attorney general, dispatched a blistering letter to Santa Barbara Mayor Marty Blum and members of the City Council, contending that the proliferation of medical marijuana dispensaries "has spiraled out of control and threatens the fabric and quality of life for Santa Barbara families, as well as public safety and neighborhood integrity."
As with everything involving medical marijuana, where there's even a little fire, there's a ton of smoke. Nothing is as simple as it might seem. The confusion starts with the actual number of dispensaries. Claims ranged from eight to 22 throughout the many hours of public debate that have consumed the City Council's Ordinance Committee the past several months. Dispensary critics-of whom there are many-have routinely cited the higher figures; supporters the lower figure. But according to Santa Barbara Police Captain Armando Martel, there are only eight dispensaries now in business, and another eight possible dispensaries somewhere in the application process.
"They're vacant lots. They're doing business as something else. They may have been a dispensary once, but not now."
Martel said he's routinely checking addresses of other alleged dispensaries, and that his investigators have routinely come back empty-handed. "A lot of these places have ceased to exist," he said. "They're vacant lots. They're doing business as something else. They may have been a dispensary once, but not now."
During the public hearings on the matter, Martel heard much impatience expressed over the notion of scoff-law dispensaries run by rogue operators. "But it's a little bit more complicated than that," he said. For example, four of the city's eight dispensaries pre-dated the city's first effort at regulating medical marijuana storefronts nearly two years ago. These had been designated as "legal, non-conforming" operations and given until March 2011 to comply with ordinances since adopted by City Hall.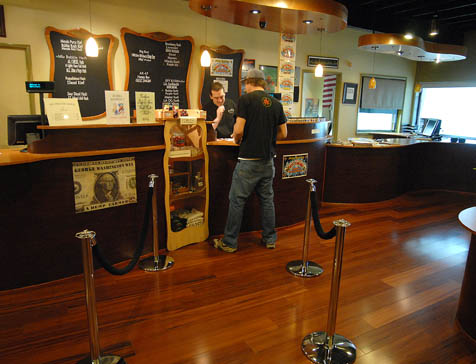 Now it appears that City Hall has determined that these "non-conforming" operations are no longer legal. City attorney Steve Wiley said he mailed cease-and-desist letters to four operators: Compassionate Care, Hortipharm, Alternative Medical Group, and Sacred Mountain. These include some of the best known and longest running dispensaries in town.
Wiley contended these four effectively forfeited their legal status because they ceased operating for a period in excess of 30 days in response to threats issued by the federal Drug Enforcement Agency (DEA) last summer. The DEA had threatened, among other things, to seize the real estate holdings of landlords renting store space to these and other marijuana dispensaries. The federal government-which outlaws marijuana cultivation, sale, or possession-was then aggressively challenging the many California dispensaries that sprang up in the wake of Prop 215, approved overwhelmingly by California voters in 1996.
But according to Joe Allen, the attorney representing three of the four dispensaries in question, the facts are otherwise: None of his clients shut down in the face of federal threats, Allen stated, they merely changed their mode of operation. Rather than customers going to their pot shop, the pot shops went to their customers, delivering cannabis to customers' homes. Allen said his clients have the bank receipts to prove they never went out of business.
Allen suggested Wiley was taking a pre-emptive action to prevent the city from being sued by any pot shop owners who might be forced out of business by the dispensary ordinance just adopted by the council's ordinance committee. That ordinance, among other things, limits the total number of dispensaries to seven and decrees that they be geographically dispersed throughout the city. It also reduces the amount of time legal non-conforming operations have to comply with the new ordinance.
If any of the four dispensaries in question had been operating in a criminal fashion, Allen said, city police would have already arrested them, as they did the two men selling marijuana under the business name "Temple of Higher Consciousness"-or "THC" for short-at an eastside trailer park. Police Captain Martel stated that's the only criminal action yet to be processed against a bogus medical marijuana purveyor.
"I'm glad that after all the work has already been done, Pedro is now stepping forward to support our efforts," Williams said.
In the meantime, Assemblymember Nava has jumped into the fray feet first. He lambasted City hall for being one of just 35 cities statewide to allow pot dispensaries to operate, surrendering the Central Coast to pot profiteers over whom no quality control was exerted. Among his many claims, Nava suggested it was possible that dispensary owners could sell product with 400 times the legal limit for pesticides and other toxins, and no one would ever know. Calling for an immediate moratorium, Nava concluded, "It's way past time to roll up the Santa Barbara welcome mat."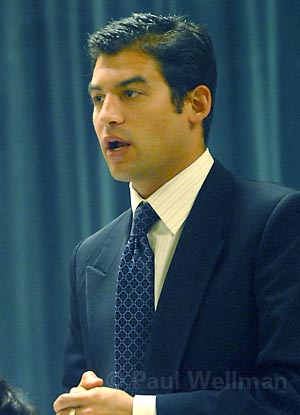 For Nava, it was an uncharacteristic foray into city council matters. None of the city staff working the issue had received any prior communication from Nava or his staff, and Councilmember Das Williams, chairperson of the ordinance committee that just adopted the new dispensary rules, noted that Nava had never asked him about the ordinance. Williams is now running against Nava's wife-Susan Jordan-for the Democratic nomination for the assembly seat that Nava is forced to vacate because of term limits. Nava and Williams once were close, but now there's little love left to be lost. "I'm glad that after all the work has already been done, Pedro is now stepping forward to support our efforts," Williams said.