News
Foxy Fruit Flies Suffer
Those Carrying Optimal Genes May Not Get to Pass Them On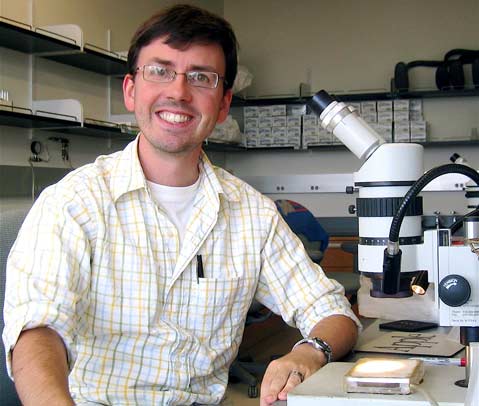 Being the prettiest girl in the room isn't necessarily an easy job – if you're a fruit fly. The most attractive female members of the species Drosophila melanogaster may actually suffer as a result of their physical appearance and may have more trouble reproducing than their homelier counterparts. This information appears in the December 8 issue of Public Library of Science Biology, in an article authored by UCSB biology professor William Rice, post-doctoral grad student Tristan Long, PhD student Alison Pischedda and post-doctoral researcher Andrew Stewart.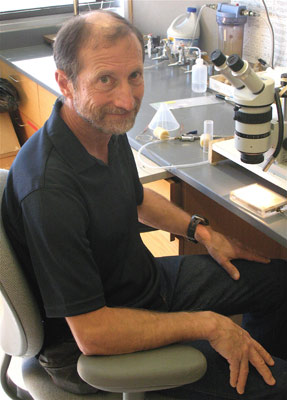 Rice and Long examined the mating habits of the fruit fly. For males, this behavior entails "singing" and "dancing" by vibrating their wings together. As Rice explained in a press statement from UCSB, "They dance and sing at the same time. This might sound romantic, and it would be if it only happened once. But males are doing it all the time: The males are so persistent that they get them to mate almost every day." And it doesn't stop there. "With fruit flies, the males transfer a whole cocktail of proteins and byproducts in their ejaculate," said Long, who explained that this toxic fluid can ultimately harm a female's ability to reproduce offspring.
Therein lies the plight of the fruit fly knockout. Though she may possess good genes – specifically, ones that make her large and therefore more appealing to male fruit flies – she may not get as much opportunity to pass on those genes for the benefit of the fruit fly community. Long offered a hypothetical scenario to explain the implications of the study: "If the environment gets drier and a new [genetic] mutation appears which gives a female fruit fly a competitive advantage – to get more resources, or to be better able to withstand the harsher conditions of the environment – natural selection should let that gene spread: because the individuals who carry it are of undeniable advantage. But if you [also] end up being more attractive, those females would suffer and be at a disadvantage. And that might mean that populations would be less able to adapt to changing conditions."
Long noted that although this sort of behavior didn't necessarily portend anything about the mating behaviors of humans, it has been observed in other animal species. Sexually attractive female orangutans, for example, will be chased and harmed by males, and the female members of species like guppies will often swim to areas that have higher rates of predation to escape the harassment of their suitors.