Voices
We Need More College Grads, Not Fewer
Student Fee Increases Will Hurt Our Economy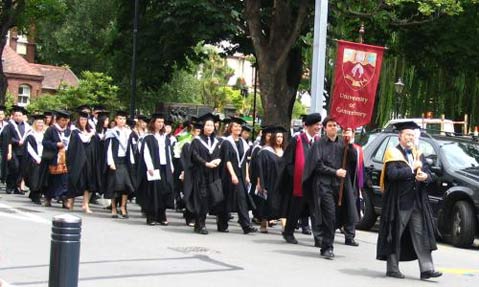 We are all painfully aware that times are tough and that difficult decisions must be made about the funding of various public programs and services. But I ask, are California's colleges and universities really the smartest place to look for savings and cost cutting? Aren't our students-the future leaders of America-the key to our long-term prosperity and our path out of this fiscal crisis? Apparently not, at least if one looks at the recent actions of our state's policymakers.
The University of California Board of Regents' recent decision to raise student fees by 32% comes on the heels of what has been our governor's and legislature's complete failure to protect or prioritize higher education, or, for that matter, education at any level. Now, after almost a decade of fee increases (300% to be exact) and cutbacks, California students are seeing some of the biggest hurdles to college admission and graduation they have ever faced: higher tuition, less aid, fewer grants, and more years to graduate.
Our state's production, job market, and overall fiscal outlook are certain to suffer. Our higher education system is California's economic engine. And California's role as a global economic leader has always been due to its world-class education system and its investments in high quality, accessible academic institutions that encourage innovation, stimulate job growth, and create new industries.
In order to make an economic recovery and continue to compete in the global economy of the 21st Century, it's clear that California is going to need more college graduates, not fewer. Now is not the time for actions that put the dream of a college education out of reach for thousands and make it harder for current students to stay in and graduate. Now is the time to embrace education and embolden the students in our colleges and universities.
The UC Regents have argued that they had no other options but to raise student fees.Yet students and workers have come forward with a variety of viable alternatives to student fee hikes, program cuts and staff furloughs. Some options included cutting the $350 million in bonuses to executives; applying salary reductions to the top 2% of earners-saving over $220 million; utilizing a portion of the millions in profits from medical centers; and using the $7.2 billion Short Term Investment Pool.
As a Santa Barbara Councilmember and local school board member, I have grappled with budget deficits and helped balance the city's books. I know what it's like to have to make choices in the face of minimal resources and maximum obligations. As a teacher and UC graduate, I also understand the negative effects that fee increases, program cuts and staff furloughs will have on our higher education system as a whole. But in the midst of challenging economic times, decision makers need to share in the sacrifice while prioritizing the protection of a high quality and affordable education system.
Maintaining access to this system for all Californians is one of the most important responsibilities of our state government. We must work towards more equitable and innovative solutions that protect students and workers, while also ensuring our higher education system remains the envy of the world.