News
Model Pot Shop Opens
The Green Well Strives to be an Example for Local, Nonprofit Dispensaries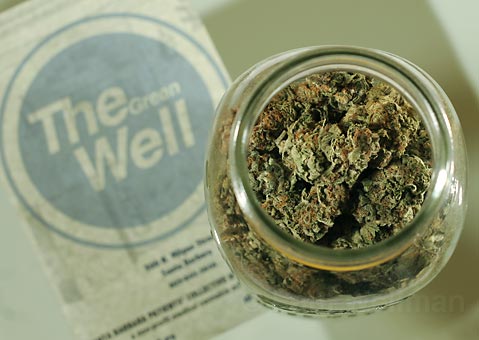 As the City of Santa Barbara struggles to figure out which way is up in the ongoing and contentious debate over medical marijuana dispensaries, one recently opened pot shop – the Green Well, located at 500 N. Milpas Street – is striving to embody the positive elements of a dispensary with full state and local sanction. Its owner-operators, James Lee and Nat Reinke, say they have the background and knowledge to run the brand new facility with a level of professionalism and accountability that many feel is lacking within the industry, and hope their collective may one day act as the model of a true and successful nonprofit.
The decision to open a dispensary within Santa Barbara was not made on a whim by Lee and Reinke. They opted to launch their venture here mainly because of the city's marijuana laws. "We looked through the ordinance, thought it was comprehensive and well written, and we believed it would provide a good foundation for regulation," said Reinke. With knowledge gained in the day-to-day operation of dispensary management from his time working in the famously well-run dispensaries of Oakland and Berkeley, Reinke teamed up with Lee last February. Lee was a financial analyst for close to 10 years and has recently been consulting in business operation.
Together, they were able to successfully navigate the red-taped waters of the city's Planning Commission before the recent moratorium on new dispensaries was enacted – taking painstaking care, they said, to address and adhere to each and every subset of the ordinance – ultimately receiving the final stamp of approval from the staff hearing officer after their dispensary's initial approval was appealed. Their proposal was so flawless, Lee and Reinke said, that the owners of another dispensary right down the street, Aloha Spirits, poached their hard work by simply inserting its company name into the already written Green Well application, which had become public information once it was submitted; Aloha Spirits was subsequently approved.
"The current council and planning department have really trusted us based on the application we submitted," said Lee. "We just hope the new council inherits the same sense of trust."
Reinke and Lee appeared unconcerned that the City Council is considering lowering the number of approved dispensaries within the city from seven to just two or three. "Santa Barbara, like other cities, runs the risk of helping out the black market if it over-regulates," said Lee, confident that the council has enough foresight to not adopt such significantly stricter regulations. Both men were also were quick to point out that the Green Well, compared to other dispensaries in the community, is supposedly operating as a nonprofit in all respects. "No one else in the community is operating according state law which says you have to operate as a nonprofit," Reinke claimed.
The decision to open up shop on Milpas Street was made based on the collective's mission and goals, the two men said. "What we want to do is provide for patients and give back to the community," said Reinke. The Green Well, he indicated, plans to contribute a percentage of its gross income toward community projects and organizations, specifically within the North Milpas neighborhood. "There's a lot of need on this side," said Reinke. "You don't see a lot of Milpas beatification projects." The partners intend to create an advisory committee that will take into account feedback from patients and neighbors to determine where cash is most needed. Recently, they contacted nearby schools with the hope of potentially subsidizing school counselors' salaries with Green Well profits.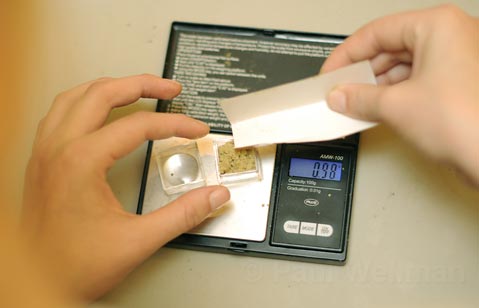 Said Lee of the motivation behind starting the nonprofit, "It was a real interesting opportunity to do a proof-of-concept model where theoretically we can take a piece of this market – that pretty much everyone agrees generates significant income – and determine whether or not it keeps feeding the black market, or is something we can capture and do some public good," he said. In order to accomplish this, the owners determined that they need to run the Green Well in an efficient, conscientious manner reflective of the amount of money and energy that flows in and out of the collective. Recently, said Lee, they invested in a point-of-sale system that that tracks inventory and ties into the accounting system. "Everything has bar code, everything is prepackaged," Lee said.
The business plan they came up with, said Lee, centers around a cost-reimbursement strategy. "Given the need for price engineering to combat the black-market effects, we have to offer patient-cultivators a decent enough reimbursement policy where they feel like they shouldn't go dump it on the black market," Lee explained, in reference to buying marijuana from approved, local patient growers. "At the same time, we also need to offer it at a reasonable cost so that [patients] don't feel they need to go to the black market instead or buy from us and sell to others." They intend to establish a "decentralized, closed-loop network" of patient-cultivators, Lee said, keeping the marijuana they buy and sell within that community.
The space itself was designed, said the owners, with safety as the main consideration. "Security was the driving force behind how we did the buildup for the space," explained Reinke, who also mentioned that they consulted with a security firm that normally does work for bank branches. For instance, he went on, the Green Well incorporates a one-directional flow layout, meaning there is only one entrance and one exit (both controlled by employees). This, he asserted, is to cut down on the overlap of people coming and going at the same time and to help manage the foot traffic throughout the building. A grid of security cameras has also been installed, said Reinke, and a security guard will patrol the premises whenever the collective is open. The two also invested in a thumbprint identification system at the reception area to verify patients' identities.
As word of mouth continues to spread about the city's newest dispensary, both Lee and Reinke continue to reach out to neighbors, recently scrubbing the graffiti off a nearby resident's fence. It's their hope that their project will promote a sense of community and local support in addition to aiding patients who rely on medical marijuana for pain management, or for other health issues. "We want people to feel welcomed here," said Reinke. "We want this to be a place where locals can come."